The 2022 season is now in the books and all the screens relating to the 47th
season of Tampa Bay NFL football have been updated. Game reports, video
highlights, statistics and much more.
All of the profiles from the players involved in the 2022 season have not just
been updated but given a complete make-over in terms of appearance. You
can also find picture galleries for each player with images from their careers
with the Buccaneers.
Click here for the 2022 season link
The Buccaneers announced that the team has parted ways with Offensive Coordinator Byron
Leftwich, Specialists Coach Chris Boniol, Wide Receivers Coach Kevin Garver, Offensive Quality
Control Coach Jeff Kastl, Assistant Defensive Line Coach Lori Locust and Running Backs Coach
Todd McNair. In addition, Quarterbacks Coach Clyde Christensen, Senior Offensive Assistant Rick
Christophel and Outside Linebackers Coach Bob Sanders have decided to retire.
The Buccaneers announced the signing of 15 players to Futures' contracts. T Dylan Cook, CB Don Gardner, WR
Kaylon Geiger, DT Mike Greene, T Grant Hermanns, RB Patrick Laird, DB Duron Lowe, T Michael Niese, DT
Willington Previlon, OLB Hamilcar Rashed, LB JJ Russell, T Justin Skule, OLB Charles Snowden, DB Nolan Turner
and TE David Wells. The majority of them were on the Bucs' practice squad during the 2022 season.
The end of the regular season means all the franchise statistics
have been updated to include 2022. They are all now sortable
so you can check franchise listings across the 12 metrics from
passing to passes defensed, tackles to punting. All 47 seasons
of Buccaneer football are listed. Click on the link above to go
to the BUCPOWER stats section.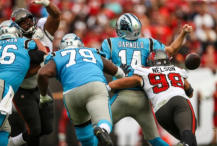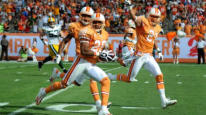 A new episode of the No Quarter Given podcast is now available. Peter Blake and Jason
Powers take a look back at the 2022 season and then look ahead to free agency period in
early March. They talk about the major coaching changes at One Buc Place, candidates to
be the next OC and how Tom Brady's 2023 play-or-retire decision is looming over the
franchise. The duo of potential GMs look at the position groups that need attention, which
free agents should be brought back and the salary cap issues affecting the Buccaneers.
Click on the logo to listen or available on

iTunes

,

Spotify

and other podcast networks