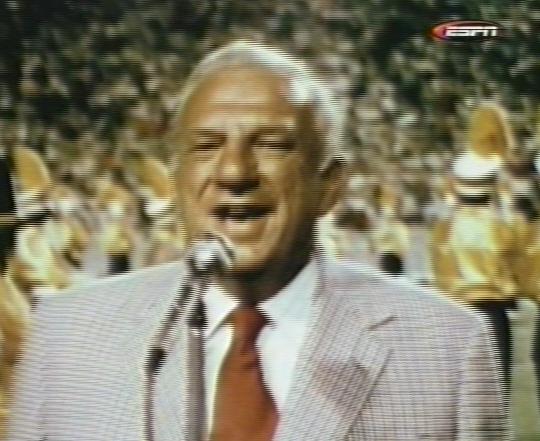 Some of the best stories from the 1976 season
And you think that the Bucs were just bad on the field?

The worst prediction of the season
Hugh Culverhouse – addressing the crowd at the first home pre-season game. "We are here for one reason and one reason only – to bring to the fans great professional football"

Stick with us - we're going to win one day
Hoping to capitalize on this influx of big-name talent, the Buccaneers' brass took turns addressing various civic groups, drumming up support for the fledgling club. Charlie Dayton, then the team's young assistant director of public relations, remembers visiting a local retirement home. Dayton had developed a fairly reliable speech that emphasized patience. "We're going to try to do this the right way," he told the seniors. "Yes, it may take a while, but we're going to build a firm foundation for this franchise." To which one elderly gentlemen shot back, "That's great for you, sonny. But some of us don't have that much time." He had no idea.

Cutting ticket prices didn't help
It was 1976, and this was all new to John McKay. Also, to Tampa Bay. The Bucs were brand new back then, but already they had gotten old. After two home games, there had been an average of 30,000 empty seats, and owner Hugh Culverhouse cut the price of end zone seats to $5. On the field, the Bucs were no better. They had just lost to a strong Baltimore Colts team for their fourth straight loss, and McKay had no trouble in summing up what he saw. "Field position hurt us badly," McKay said. "Dropped passes hurt us badly, no blocking hurt us badly, injuries hurt us badly and penalties hurt us badly. Otherwise, it was a perfect afternoon. But we'll be back. Maybe not in this century, though."

A total lack of offense
A rookie quarterback, Parnell Dickinson, replaced Steve Spurrier during the loss, and the following week, rumors began that the team was interested in signing free agent QB Terry Hanratty. McKay couldn't help but notice how many players had been hurt. There had been a lack of poise. Sound familiar? After four games, the Bucs had totaled only 662 yards. It took 15 quarters before the offense scored its first touchdown, a 1-yard plunge by Charlie Davis. "You can't live by just playing defense and not getting any more offense than we've been getting," McKay said.


Lee Roy - welcome to what it's like to lose a game
In four seasons at Oklahoma, Selmon lost two games. His professional team raced past that figure in its first month, losing its second, third, and fourth straight.

No celebrations in Cincinnati
The Bengals were so unimpressed with their victory over the struggling Buccaneers in Week 5 that they elected not to hand out game balls.

Spurrier hits the nail on the head
Steve Spurrier was asked by a local beat reporter for a comment after the fifth defeat of the season. "We're pretty close to being a good team but right now, we're terrible".

A key penalty against Miami
The Dolphins' Garo Yepremian kicked a field goal in the second quarter. But 6-foot 8-inch lineman Steve Young was whistled for an obscure violation, climbing on a teammate or receiving a boost while attempting to block a kick. Miami took the points off the board and, with a first down at the 4-yard line, proceeded to score an important touchdown.

The day John McKay really lost his rag
McKay's thermometer entered the Red Zone at Denver, where the Broncos scored three defensive touchdowns in the second half to turn a 10-10 halftime tie into a rout. Afterward, Denver coach John Ralston ran across the field to shake McKay's hand. But McKay turned away and lobbed a volley of expletives over his shoulder, complaining that Ralston had run up the score, among other slights. It seems McKay still carried grudges from his days in the Pac-8 Conference against both Ralston (who had coached at Stanford) and Denver offensive coordinator Max Coley (from Oregon).

The day they left the owner behind
When the Buccaneers' team buses finally pulled away from Mile High Stadium, they left behind one agitated member of the organization: owner Hugh Culverhouse. The Bucs' owner threw rocks at the departing coach trying to get it to stop and wound up grabbing a lift to the airport from a Broncos' official. "And then we got the worst chewing-out we'd ever heard" remembered one member of the Buccaneers' front office staff on the story.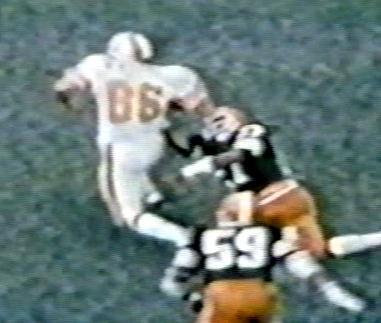 Sinking feeling
Days before the warm-blooded Buccaneers ventured to frigid, blustery Shea Stadium, a Time magazine reporter phoned Bob Moore for an assessment of the situation in Tampa. "It's like being on the aft deck of the Lusitania," the tight end replied.

Anyone want a job?
Tampa Bay, talent-thin from the outset, faced emergency conditions after a wave of injuries. "By the end, we were signing guys who had been cut by the Canadian Football League," says Ron Wolf, the club's original vice president of operations.

The player who blitzed on every play
One late-season acquisition was Jimmy (Psycho) Sims, a 190-pound linebacker who had played for McKay at USC. After signing a contract, Sims quickly found himself on the field. He faced two major hurdles. One was the Steelers, considered among the great teams in NFL history. The other was that he didn't know the Buccaneers' defensive plays. "What should I do?" Sims asked safety Curtis Jordan as the first huddle broke. "Just rush every play," Jordan told him.

The 14th and final loss of 1976
"It was the only instance ever where you pulled up to the parking lot before the game, and every player's car had a U-Haul trailer attached," Pat Toomay remembered. "We played the game in the afternoon. We were across the state line by midnight."