Quick with a comment, McKay left his son fond memories
Nobody at Super Bowl XXVII had a greater appreciation for how far the once-lowly Tampa Bay Buccaneers had travelled to get here than the team's then-general manager, Rich McKay. And we mean nobody.

The youngest son of the team's first head coach -- the legendary John McKay -- Rich was the Bucs' 17-year-old ball boy in 1976, when Tampa Bay turned in the worst record of any NFL expansion team ever, going 0-14. "Seventy-six? Seventy-six was the longest 17 years of my life," quipped Rich at Tuesday's Super Bowl media day. "Seventy-six in a nutshell is this: Monday was the best day of the week, and every day gets worse. That's really true. "Because I remember Saturdays sitting in my dad's room, and we'd be at the one-story Holiday Inn in Green Bay, or wherever we were, saying, 'It's going to be ugly.'"

Hyperbole? Hardly. In retrospect, McKay might have been understating the situation. Tampa Bay lost its first 26 regular-season games in 1976-77, sending shock waves through a McKay family that had grown use to the perennial success of the University of Southern California program that John built before moving to the NFL. "We were just so unaccustomed to it growing up," Rich said of the Bucs' losing ways. "Usually at USC, you don't say it in a cocky way, but it was just a matter of what the score was going to be. And now it was the same thing, just in a totally different direction. I remember playing those ['76 Pittsburgh] Steelers, and my God, when they walked out, we said, 'Are you kidding me?'"

Those two-time defending Super Bowl champion Steelers squeaked past Tampa Bay 42-0 at Three Rivers Stadium that day in December 1976. On the season, the Bucs were outscored 412-125, becoming the first AFL or NFL expansion team to roll through their inaugural season without a win or a tie.

And things got worse before they got better. The Bucs in 1977 dropped their first 12 games of the NFL's final 14-game regular-season. In that span, Tampa Bay's offense set a standard for futility that will never be matched in NFL history. The Bucs scored 53 points in those 12 losses, including 23 of those in one game against fellow '76 expansionist Seattle. Do the math. That's 30 points in 11 losses against established teams. Or less than three per game.

Impossible? Not really. In the Bucs' first six home games that season, they scored three points. Total. Five shutouts, and one field goal. In 24 long quarters of football. To call it staggering doesn't do it

justice. Improbably, the Bucs finally busted loose in their final two games of '77, scoring a combined 50 points -- almost half their season total -- in wins at New Orleans and home against the St. Louis Cardinals. Unsurprisingly, both head coaches, the Saints' Hank Stram, and the Cardinals' Don Coryell, were fired after those losses. Executions were briefly considered. Lo and behold, after a scant 27 seasons of existence, the Bucs are in the Super Bowl. Will wonders ever cease?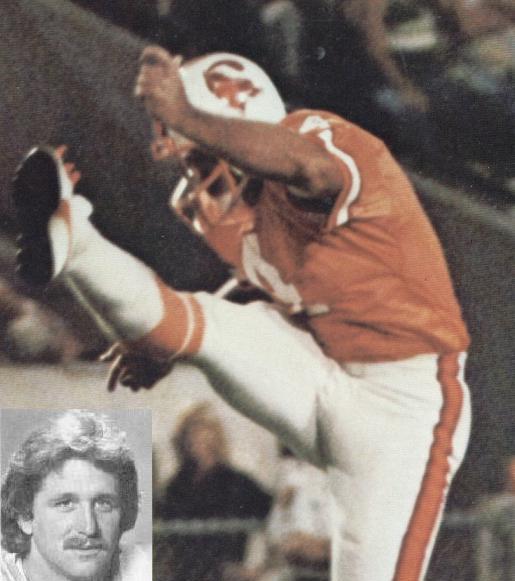 "My favorite story, I think, was in '77, when Dave Green, our punter, drops a snap in the end zone," Rich said Tuesday. "He picks it up and makes eight guys miss. It's one of the greatest runs of all time, and then he gets tackled at the 1. He comes jogging off and says, 'I did it. I avoided the safety.' I heard my dad look over, saying, 'You dumbass.' So it was a hell of a time. Whew, even going through drive-throughs got tough."

Rich's memory is pitch perfect. I was 14, growing up in St. Petersburg, Fla., and a die-hard Bucs fan in 1976. The state's NFL fans had been spoiled rotten in recent years by the Dolphins' unparalleled success. Like everyone in Florida, I was crazy for Miami from 1970-75. Then came the Bucs. I always considered them our penance for the excesses of the Dolphins' glory era. From Miami's 17-0 and 32-2 in 1972-73, to Tampa Bay's 0-14 and 2-26 in 1976-77. Short of legalizing torture, you can't pay any more than that.

Even in the worst of times, which were plentiful, John's razor-sharp wit made us laugh. Later, when I covered the Bucs for the St. Petersburg Times from 1990 through mid-1996, I often exchanged my favorite McKay quotes with Rich, who knew them all by heart.

I was always partial to McKay's classic in late training camp in 1976, when he was asked about the team's left-footed, German-born placekicker named Pete Rajecki. "Rajecki says I make him nervous when I watch him kick," John said, setting up his punch line, "which could be a problem since I plan on attending most of our games."

Rich always was partial to a zinger from an earlier vintage, when John's Trojans were beaten 51-0 by Notre Dame at the Los Angeles Coliseum in 1966. "Gentlemen," said McKay, addressing his humiliated team in the USC locker room. "Those of you who need showers, take them."

With five playoff trips in their past six seasons, and now their first Super Bowl appearance safely secured, the Bucs' desultory past is far, far removed. How far? "You can't see it from here," Rich said from Qualcomm Stadium. "You cannot see it from here. That's Hawaii. Take a look over that Pacific Ocean. Do you see it? You don't see it from here. That's a long time ago. But it was really hard on the fans. Here's a new franchise, a new team, everybody's jacked and then, whack, these guys aren't even competitive. It was very difficult."

Rich has choked up in recent days reflecting on what the Bucs' long road to the Super Bowl means to his family's history, and his father's legacy. John died just before the 2001 season. "There were not many days in recent years when he didn't wear his USC sweatshirt," Rich said. "He cared very much about two things: the USC Trojans and the Tampa Bay Buccaneers. He didn't like that with the Bucs, there wasn't a positive reputation there. He wanted to see it turned around. He wanted to see the loop closed. After our [NFC title game loss in St. Louis three years ago], I talked to him as soon as I got back that night. I think he was more disappointed than I was, for me and for the fans. But he'd be very happy this week."

Don Banks, Sports Illustrated