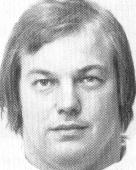 Fred Pagac
Fred played tight end for the expansion Buccaneers having been signed as a free agent before the 1976 season started. It was his only year in Tampa Bay and his last season in the NFL. He went on to coach in the college and NFL ranks and went on to become the linebackers' coach of the Minnesota Vikings.

Any initial recollections from that first season
Some good memories and some good friendships. Everyone was going through a transition period in being part of that team and it was a really new experience for everyone involved. Looking back, we didn't have much success but in hindsight, it was good to be part of.

You were going to switch to linebacker for 1977. Did you play any defense there in 1976?
No I just played tight end in 1976. The change to linebacker was for training camp in 1977 but I didn't make the team.

How did you get into coaching?
From Woody Hayes who I played for at Ohio State. He was the reason I'm doing what I do now.

What was John McKay like as a coach?
A little different, at least from Woody Hayes. He was a great football coach and had enjoyed a lot of success at USC and ultimately too with the Buccaneers.

Which of your team-mates from 1976 do you remember well?
Definitely the Selmon brothers, Lee Roy and Dewey. Richard Wood was another good friend, as was Steve Spurrier. And also Bob Moore who started at tight end for that team. Also a couple of linebackers, Calvin Peterson and Larry Ball.