The Birth of the Bucs
Almost immediately, the new football franchise was digging out of a hole. Five journalists gathered at a Tampa radio station to pick a name for the new club, and after some deliberation and a gnashing of teeth came up with Buccaneers. The NFL team planned to have its own contest but somehow latched on to the selection by the writers.

After all these years, I'm still looking for a residual check, though if the truth be told, the winning name got just one first place vote and two thirds, which was better than anything else. This is a team that could have been called The Coastal Tides.

Welcome to the 1976 Tampa Bay Bucs, where mirth and merry collided with reality and ridicule. "We will be going to the playoffs this year, I know it," insisted 245-pound center Dan Ryczek.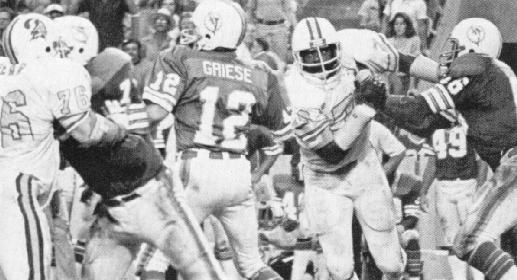 After a 28-21 preseason loss to the Miami Dolphins, defensive end Council Rudolph got so caught up in the closeness of the game, he uttered this piece of nonsense: "I thought we'd win two or three games this season, and now I see there is no reason we can't go 7-7."

Who was to blame him? Certainly not John McKay, the most recognizable cigar smoker this side of George Burns, the guy who left the security of the athletic digs at Southern Cal to turn the NFL upside down. "What is it they do in the pros they don't do in college?" he asked the second day of training camp. "I coached against the pros in all-star games. They threw the football, they caught the football, they ran with the football. I couldn't see that much difference."

No, he didn't envision an 0-14 season. Or much of anything else. A preseason scrimmage with New Orleans in Orlando went so well, he was heard to say the Bucs were as physically strong as the Saints, and Steve Spurrier was a much better quarterback than anything New Orleans showed.

When logic failed, a quip or two worked, such as the one he told shortly after he was hired. McKay left USC, he said, because he was tired of going to conference meetings and listening to arguments whether the hammer throw would be part of the conference track meet. And when it got down to numbers, he had an answer for those who wondered if his contract was as much as $2.5 million as reported. "That's ridiculous," he said. "I wouldn't pay that kind of money for five coaches with Jim Brown thrown in."

A hustling reporter for a local daily unveiled what he thought was another clause in the contract. In addition to that land grant base salary, McKay would get a $350,000 home (valued at $1 million plus today). "I imagine when I get my $350,000 house," he said, never breaking stride, "I'll find a cigar factory in it."

All he wanted was a team. And a little respect. When you win four national championships as McKay did at USC, a reputation can absorb plenty of hits before it is tarnished. Genius takes more than soap and water to wash away. You see, it was a honeymoon for everyone.

Even for a newspaper. At the St. Petersburg Evening Independent, we covered games at Florida, FSU, Miami and the Miami Dolphins. We wrote about the Daytona 500 and the Masters. But provide daily coverage of a professional team? This was a first. We conducted a nationwide search for a Bucs beat writer and received 160 applications.

Make that 161. One arrived via a phone call from a very young voice. "How old are you?" I asked. "Fourteen," the voice said proudly. "You're a bit young. You'll have to go through our personnel department." "What's a personnel department?"

Three years later Bradenton Herald managing editor Jim Smith, who then covered outdoors for the Evening Independent, was offered the Bucs beat. Actually, we begged him to take it. But Smith - who had covered Miami Dolphins home games for us - didn't like what he saw and opted to stay on his waterfront beat. How could he have known that in 1979 the Bucs would come within one victory of the Super Bowl?

But we're getting ahead of ourselves. In 1976, there was no Tampa Bay Super Bowl. No goalposts on the practice field early on. No seats for spectators, 20 dancing SwashBuclers and all but unreadable orange numbers on white home jerseys. Still, there were plenty of characters. Such as defensive end Brad Watson. Signed and cut by Washington twice, he told how he used to go into town and tell all the ladies he was a professional football player. "Then by day I'd wear my sunglasses, pick up paper and mow the lawn at a motel and hope no one recognized me." Watson was waived.

NFL record-holder Steve Broussard was asked to step up, and in the end he stepped out. Broussard was a punter, and two days before the Bucs played the Rams in Los Angeles in the first exhibition game, he was given this vote of confidence by McKay. "We've got a punter. I'm not sure when he kicks the ball whether he'll slice it off his foot, or the thing will go backward."

Broussard's NFL record? He had three punts blocked in a game the year before in Green Bay. Bart Starr exonerated him; McKay just showed the kid from Southern Mississippi the way home.


A Warren Sapp talk-alike didn't last through September. Ira Gordon, who spent five years with the San Diego Chargers, was released by the Bucs after he spoke up about two-a-day drills that lasted until the start of the season. "I'm the meanest and baddest guy on the team and maybe in the NFL," he said shortly after his arrival. Silence would have been a better option. Line coach Abe Gibron yelled at him to get an 8-to-5 job. And he probably did.

With his size-50 waist and weighing 350 pounds, Gibron was lured back into football by McKay after he was fired by the Bears following a 4-10 season in 1974. He authored one of the best lines of 1976. During an early practice when roster positions were falling in place, he grabbed a lineman by his jersey, pulled him close and offered a little advice. "You've got a chance to make this team," Gibron said. ""You're built like Tarzan, but you run like Jane."

Tickets that year were scaled at $8, $10 and $12 and there were arguments the prices were too high. Hugh Culverhouse, whose status as owner of the team would go from hero in the early years to zero later on, made $5 end zone seats available. "We want to make it affordable for young people and college students to see professional football games," he said.

A former college boxer at Alabama, the law firm wheeler-dealer was as much a fan as the next guy. "When I saw the team come out for the first time (in the opening exhibition against the L.A. Rams), my whole body felt like floating," Culverhouse said. "My feet didn't touch the ground until 20 minutes later. I haven't been that excited about anything since we won the war and it was V-J Day."

McKay wasn't quite as excited after the game, a 26-3 waxing. "It was totally unacceptable to me. Some of the players went out there and played as though they had the team made. When they leave, they'll see that is different."

That was the other side of McKay, the side that would tell a reporter he asked a stupid question and then move on to someone else. Or the time I asked McKay how he could cut former FSU record holder Bill Capplemann without seeing him throw a pass in a game. Replied McKay: "My contract is longer than your contract. I'll be here longer than you."

Although that line has been passed down to reporters through the years, he was the right man at the right time for the right job, even if it humbled him. In the end, he probably should have listened to one of football's best-ever linemen, the Rams' Merlin Olsen, who put everything in perspective during that exhibition opener. "The only way a new team such as Tampa Bay will win in the NFL is to sneak up on a club. It is not going to beat a team player-for-player. But when it wins, you will know it has done it on enthusiasm. It has caught the other club down. The club has to be enthusiastic."

A year later when Tampa Bay finally defeated New Orleans for its first victory (33-14) after 26 consecutive losses, it did so with enthusiasm and not necessarily better talent. Oh, yes, that victory might have come earlier. Tampa Bay had a chance to tie Seattle that first year but muffed a 35-yard field goal in the closing seconds (13-10). It blew chances against Miami (23-20) and held O.J. Simpson to 39 yards on 20 carries in a 14-9 loss to the Bills. It is all part of the legend. No one should tinker with a legend.

Bob Chick The St.Petersburg Times, 11 August 2004