Bucs win the NFC South, clinch playoff spot by beating Panthers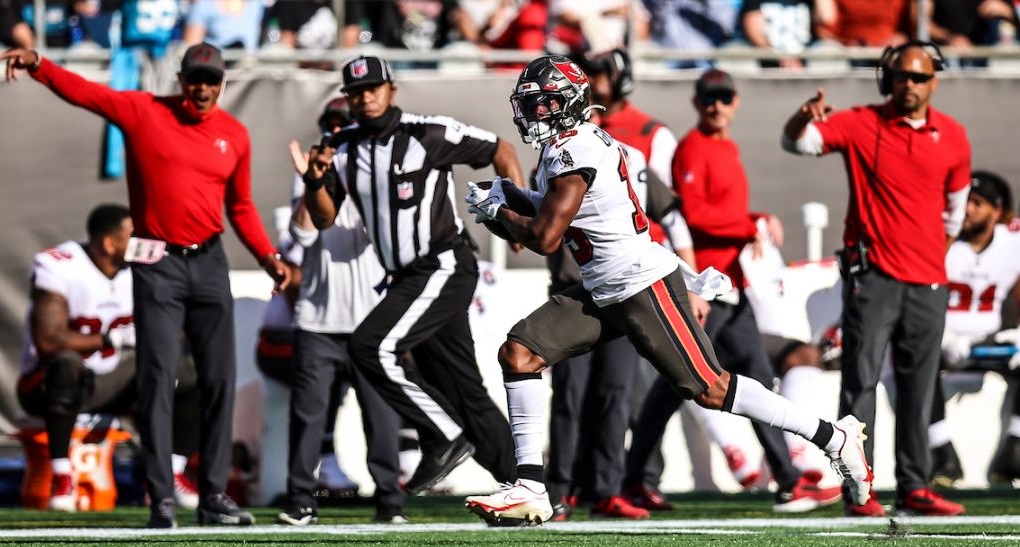 The play was over. The 55-yard run by Ke'Shawn Vaughn, in which he made one Carolina tackler miss and stiff-armed another to the ground, resulted in the Bucs' first touchdown. It was time for handshakes and hugs.

Tom Brady jogged to the end zone to congratulate the guy who made it happen. He ran right past Vaughn for a congratulatory helmet tap with receiver Cyril Grayson, a former LSU track star whose NFL career had undergone a few false starts until Sunday's 32-6 win over the Panthers.

"That was a great block," Brady said. "You know, that's why I'm happy. It's a team game, you know? Nothing is accomplished without everybody doing their job. It was a great effort by Cyril. (Vaughn) wouldn't have scored without Cyril's effort. I love seeing that. That's what great team football is all about and that's what we've got to become. We've all got to fight for each other."

Nobody fought harder Sunday than Grayson, who had only two career receptions before he was elevated from the practice squad and told he would be replacing injured starter Chris Godwin as the Bucs' slot receiver.

"Cyril is a ferocious blocker," coach Bruce Arians said. "He's a speed guy but he will block. And that position, you've got to be able to block. I mean, he's gotten so much better. If there was a most improved player the last two years, he's worked harder than anybody on our practice squad and every time he's gotten an opportunity, he's flashed with it."

Grayson wasn't done. Before the first half ended, he added a 62-yard catch and run that set up Brady's 4-yard touchdown pass to tight end Cameron Brate. Grayson finished with three catches for 81 yards, had an end around for 14 yards and blocked well enough to help the team rush for 159 yards.

The Bucs are Grayson's seventh NFL team since 2020, a list that includes the Seahawks (twice), Colts, Texans, Bears, Saints and Cowboys. His story should be a familiar one. He never played college football because NCAA rules wouldn't allow him to do that and have a professional track career. In fact, the 28-year-old Grayson hadn't played as many snaps as he did Sunday since high school. Earlier this season, his only catch was a 50-yard touchdown reception in a loss at New Orleans on Oct. 31.


But that's what needs to happen when a team loses a player like Godwin for the season. Mike Evans was out with a hamstring injury while running back Leonard Fournette is done for the regular season with the same ailment. Breshad Perriman, who won the Bills game in overtime with a 58-yard TD reception, missed his second game while in COVID-19 protocol.

"He came to me early in the week and said, 'I have you up so you can block,'" Grayson said of Arians. "And that's the first thing. That's what it was about. With (Vaughn's) block, I said I can see how it feels for offensive linemen when they run back scores. They probably feel good because when I was able to run down and give such an effort to help him get in the end zone, I felt like I scored. That was really dope."

The Bucs faced a big challenge Sunday, trying to rebound from a 9-0 loss to the Saints that also cost them their three biggest stars on offense not named Brady as well as linebackers Lavonte David, Jason Pierre-Paul and Antoine Winfield Jr. Shaquil Barrett left Sunday's game with a mild MCL sprain.

They got a huge lift with the return of receiver Antonio Brown, who led the Bucs with 10 catches for 101 yards on 15 targets. Brown, coming off a three-game suspension for using a fake COVID-19 vaccination card, showed a lot of endurance for not having played since Oct. 14, when he injured his foot. For the second straight game, the defense did not allow a touchdown to help clinch the NFC South for the first time in 14 years, earning at least one home playoff game.

Brady, who passed for 232 yards and a touchdown, was still beaming after the game about the first of three banners they hope to earn this year. "I'm not taking anything for granted," Brady said. "Winning the division is hard to do. We've earned it. We're 11-4. It's not the greatest record in the world but it's certainly not the worst either so we'll take it. Eleven and four, I'll take it. We've lost some tough games. I think we've learned from each of those tough losses, but everything is ahead of us."

Outside of Brown and Grayson, only three other Bucs players caught passes - Ronald Jones, Brate and Rob Gronkowski. Ironically, on his 62-yard reception, Grayson broke free of a hold off the line of scrimmage by Keith Taylor Jr., but was caught from behind by the Panthers cornerback. "Unfortunately, I guess I'm not a track guy no more because I let him catch me," Grayson said. Nope, he's an NFL receiver and one the Bucs desperately needed to step in and step up Sunday.

Rick Stroud, The Tampa Times, published 27 December 2021