There is an alternate universe where Tom is not Tampa's biggest star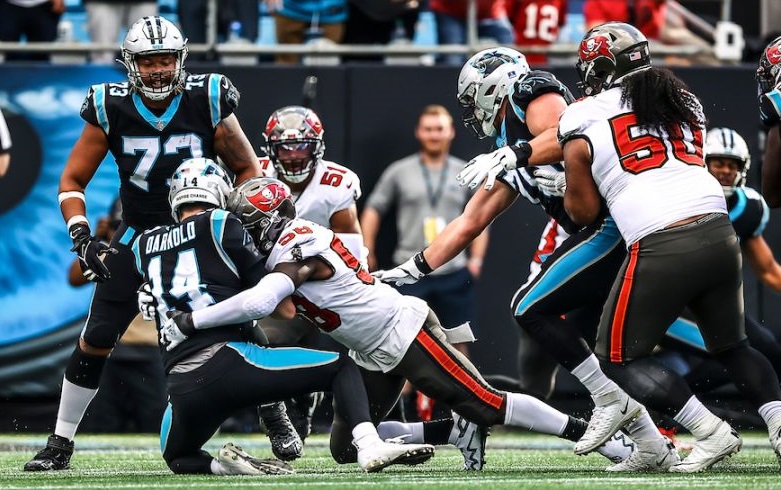 What if it was up to the defense? After searching for new superlatives to describe Tom Brady, after fretting over the health of Mike Evans and Chris Godwin, after claiming the moral low ground to reactivate Antonio Brown, what if Tampa Bay's quest for another Super Bowl came down to the defense? Would you be comfortable with that?

Because it feels like the Bucs are trending in that direction. The offense is being held together with Band-Aids while the defense is beginning to find its lost mojo. Of course, it's entirely possible this is a fluke of scheduling. The Bucs have faced Taysom Hill and Sam Darnold the past two weeks, so it's not as if the defense is excelling against Pro Bowl quarterbacks.

But there is also a slight sense of déjà vu going on here. It was right around this time last season that the Tampa Bay defense found its groove against some lesser opponents and carried that confidence and momentum into the postseason.

Following Sunday's 32-6 win at Carolina, the Bucs have gone back-to-back games without yielding a touchdown. And, after giving up almost exactly the league median number of points for the first three months, the Bucs have now moved into the NFL's top 10 in scoring defense.

And, no, I'm not discounting the offense. Brady is Brady and the Bucs still put up three touchdowns Sunday without breaking a sweat. But expecting the offense to continue averaging close to 30 points a game without Godwin, and against playoff-caliber teams, might be a stretch.

Brady is averaging slightly more than 42 passes a game, which is the highest rate of his career. Considering the depleted state of the receiving group, it wasn't surprising that he dialed back to 30 passes against the Panthers and leaned more on the running game. If Evans and Leonard Fournette come back at less than 100 percent, the Bucs may continue to tweak that ratio going into the playoffs.

And that's why the defense should be your new best friend. This isn't an outlandish proposition. Brady and Co. may get the bulk of headlines and accolades, but the Tampa Bay defense has a pretty stellar group of names, too.

Ndamukong Suh is approaching Hall of Fame numbers. Vita Vea is as good an interior lineman as any in the NFL. Jason Pierre-Paul, Shaquil Barrett and Lavonte David all have Pro Bowls on their resumes. Devin White is still on the cusp of stardom, even if he hasn't made an expected leap forward in 2021.


And that means, much like last season, Tampa Bay's fortunes could depend on its young secondary. Surely, you haven't forgotten the role that precocious group of defensive backs played in January and February. Sean Murphy-Bunting got interceptions in three consecutive games. Mike Edwards got one, Antoine Winfield got another and Jordan Whitehead forced two fumbles.

"Last year we just started coming together as a defense during our playoff stretch, during our last couple of games. We really challenged the defensive backs … to lock down all the receivers," Whitehead said Sunday. "We've got great corners and great safeties. And we've got the best front seven in the league."

It didn't always look that way earlier in the season. With cornerbacks and safeties lined up outside the trainer's room, the Bucs were giving up more than 300 passing yards a game in September.

But as the secondary has gotten healthier in recent weeks, it has allowed defensive coordinator Todd Bowles to be more aggressive with his play-calling. Instead of worrying about leaving untested cornerbacks in one-on-on situations, the Bucs have taken more chances with blitz packages. And now, with seven sacks at Carolina, the Bucs have 44 in 2021 and a shot at their second 50-plus sack season in franchise history.

The truth is, since Bowles' arrival three years ago, the Bucs have been among the NFL's best in forcing turnovers. Tampa Bay is tied for third in takeaways since 2019, and they're currently the only team in the league to have forced at least 25 turnovers in each of the past three seasons.

As much as Brady was brought in to manage the offense and reduce the ridiculous number of interceptions Jameis Winston had in 2019, Bowles has had a parallel effect on the defense. And if you think I'm overstating the defense's role, consider this: Tampa Bay has had three games without a takeaway this season, losing all three. If you don't want to do the math, that means the Bucs are 11-1 when forcing at least one turnover.

So, what if it was up to the defense? Are you comfortable with that?

John Romano, The Tampa Times, published 27 December 2021