For second week in a row, Bucs buoyed by fiery halftime address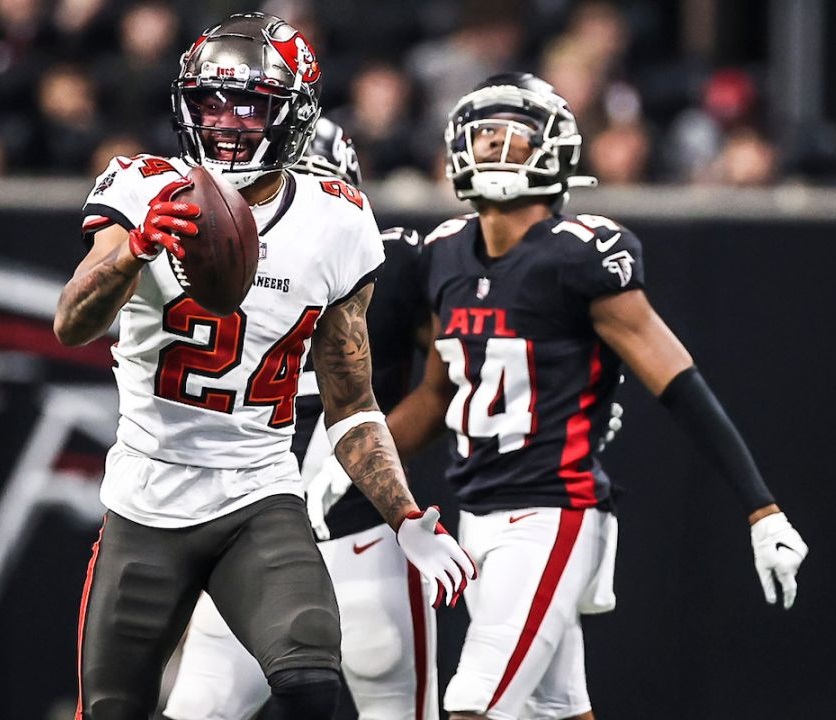 He was receiving an IV in the visitors' locker room at halftime even as his coordinator's juices were percolating. Bucs cornerback Carlton Davis couldn't see Todd Bowles, which may have been just as well.

"All I heard was him yelling about the runs, and I knew what time it was," said Davis, whose unit surrendered 101 rushing yards on only 13 carries to the Falcons in the first half. "I was like, 'He's pissed off, just leave him alone, just go play.' I didn't get too close to him after that."

Perhaps the Bucs should bottle up some of this halftime brimstone and market it to the masses. Seven days after tailback Leonard Fournette's halftime address stoked his teammates in Indianapolis, Bowles' bombast produced a similar result Sunday at Mercedes-Benz Stadium.

Gashed for 63 rushing yards on the Falcons' first drive, the defense held Atlanta (5-7) to only 58 the rest of the game, setting the edge - and some of the tone - for the Bucs' 30-17 triumph. "I thought (the defense) was better in the second half," coach Bruce Arians said. "The pass rush got better and set the run down a bit better."

After allowing 10 points over the Falcons' first three possessions, Bowles' unit pitched a shutout the rest of the day. And while third-down effectiveness remained an eyesore (the Falcons were 9 of 17), Davis and his peers made stops at critical junctures.

Three of their five sacks of Falcons veteran Matt Ryan occurred on third down. Four sacks were produced by interior behemoths Ndamukong Suh and Vita Vea, who had two each. "I thought the inside games were really good," Arians said. "Especially when the linebackers were hitting gaps and opening those guys up, but they both got some on their own, too. When we can get that internal pressure, it's tough to block those guys."


Back to the game's outset. Preceding Bowles' fits were run fits - or a lack thereof. On his second handoff of the day, Falcons 227-pound force of nature, Cordarrelle Patterson, burst off left tackle for a 39-yard gain. The next play, 220-pound veteran Mike Davis ran off the same side for a 17-yard touchdown, tying the score at 7.

On their first nine carries, Atlanta had 91 yards. "I think some guys probably got out of their gap, but we're Tampa Bay, so we don't allow anybody to really run on us," said Davis, who had three pass deflections and a fumble recovery in his first game since tearing his quad on Oct. 3. "And even if you do get off a big run, it will be corrected ... and eventually we'll shut it down."

Bowles' diatribe still ringing in their ears, the Bucs stuffed Patterson for no gain on his first carry of the second half, though cornerback Jamel Dean suffered an apparent concussion on the play. Two plays later, his replacement, veteran Pierre Desir, popped the ball from receiver Russell Gage after a 19-yard pickup, and Davis recovered.

On the next Falcons series, Patterson had 4 yards on three carries. He finished with 12 yards on seven second-half carries. "We knew when (Patterson) is back there as well as their other back that they wanted to try and get outside and make our corners tackle, and also get to our edge," Suh said. "Also, really more importantly, they wanted to cut it back and we have to be gap-sound and continue to do that because that's where they found ways to make plays. But as we got into the game, the more and more we understood exactly what they were trying to do. We shut that down."

Which is to say, the Bucs made their adjustments. Question now is, who makes the next halftime address? "We always want to carry out our jobs for (Bowles), because he's just such a good coach and he's passionate about it," Davis said. "And we know the standard."

Joey Knight, The Tampa Times, published 6 December 2021