Days after father's death, Devin White honors him with his best game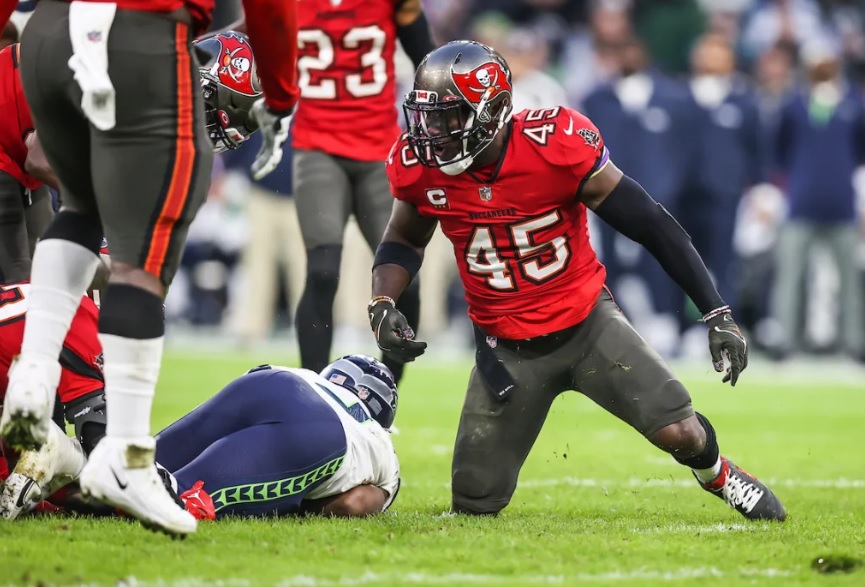 After Devin White sacked Seahawks quarterback Geno Smith late in the first half Sunday, he folded his hands in prayer, made the sign of the cross on his chest and blew a kiss to the sky. It was the kind of play that doesn't surprise his Bucs coaches and teammates. That White played at all did.

On Thursday, White was on the team bus to the airport to fly to Germany for the game when he got a call that his father, Carlos Thomas, had died unexpectedly at age 45. "We're still trying to find out (why)," White said following the Bucs' 21-16 win.

White honored his father's memory and then some, playing one of the best games of his career. He recorded nine tackles, two sacks, a forced fumble and three quarterback hits. The turnover was the first forced by the Bucs' defense in the past six games. Coach Todd Bowles presented White with a game ball.

"(White got the call about his father) right before we were leaving, and he still got on the plane to play the ballgame," Bowles said. "(You) lose your dad right before you're getting ready to go to Germany, and to come out and still play says a lot about the guy."

White said preparing for the game helped him focus on something other than his father's death. Being around his teammates in meetings and practice made him feel as if he were with family. It was when he was alone in his hotel room that he struggled to process what had happened.

White, 24, is no stranger to family tragedy. His brother, J'Marco "Jae Jae" Greenard, died in a car accident in 2011 at age 19. White was 13 at the time and still struggles to understand why a church van blew a tire that caused him such loss.

White channeled his grief about his father into a sharp focus Sunday. The second-quarter sack was noteworthy, but a play he made late in the third quarter may have saved the game for the Bucs.

The Bucs were leading 14-3 when a disastrous trick play nearly doomed them. Running back Leonard Fournette attempted a halfback pass to quarterback Tom Brady, but Brady slipped and the pass was intercepted by Seahawks cornerback Tariq Woolen.


Smith moved the Seahawks to the Bucs 9-yard line and threatened to make it a one-score game. But when Smith tried to flee the pocket on a play, White outran him, recording his second sack of the game and punching the ball free. The Bucs' Anthony Nelson recovered to end the threat.

"It was very hard to play," White said. "Just a lot of emotions, and I tried to turn them into good emotions. Just to keep a great spirit, that's the relationship we had. It's all about going out there to be the best and just getting this thing turned around. … Being out there with my brothers, that kind of put everything at ease."

After being named NFC Defensive Player of the Month for September, White struggled. He disappeared for long stretches of games. He was called out by Pro Football Hall of Fame defensive tackle Warren Sapp for loafing on a play and several other blown assignments two weeks ago in a loss to the Ravens.

But White was better last week in a win over the Rams, and on Sunday he played like the linebacker who led the Bucs to the Super Bowl 55 championship. "At the end of the day, I knew I had a job to do," White said. "I wasn't going to accept any pats on the back and stuff, so I just put my head down and just kept going forward. I knew I was going to honor (his father). I had my head straight."

White's teammates and coaches were impressed by his performance, especially considering he did it with a heavy heart. "That's an amazing testament to him," receiver Julio Jones said. "Prayers for him and his family. I don't know what he's going through. I can't really talk about how he is, what he's doing, but the brotherhood here is family here. We support him. We're glad he made the trip."

Rick Stroud, The Tampa Bay Times, published 14 November 2022