Brady leads Bucs over Rams with late TD pass to Cade Otton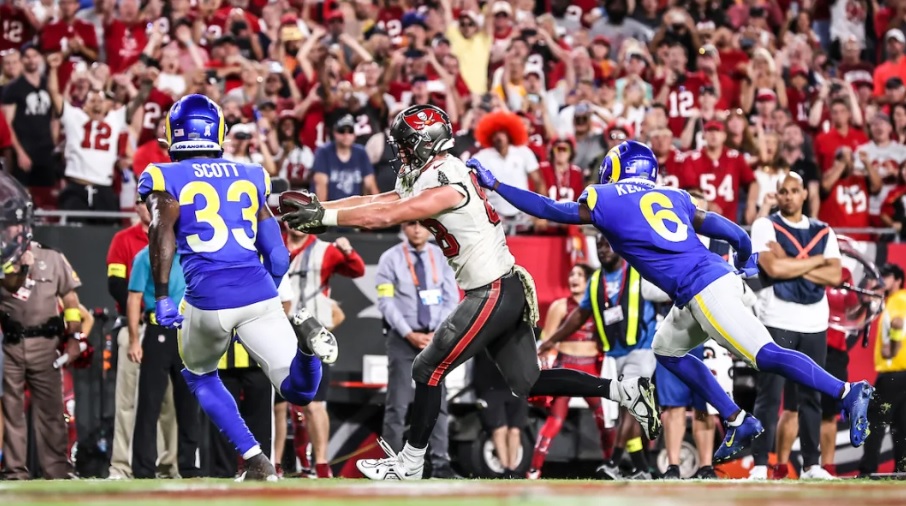 Cade Otton will never forget his first NFL touchdown. Not because it was the winner with nine seconds remaining in the Bucs' 16-13 victory over the Rams on Sunday at Raymond James Stadium. Not because it was thrown by Tom Brady or was the first by a Tampa Bay tight end this season.

That it capped a 60-yard drive with no timeouts in 35 seconds are just details that will be forgotten in time. The 69,019 fans who erupted in pandemonium will have their keepsake moment as well. Otton will never forget it because he says the woman he loves most saw him play the game of his life, too, if only from a celestial level.

"Obviously, I miss my mom and was thinking about her right away," Otton said of his mother, Sally. "I know she'd be so proud of me and just so happy to do this and that she got to watch me do it."

Sally Otton, the mother of three and a wife of 28 years to husband Tim, died Sept. 20 at age 50. The death was sudden and unexpected, though she had Parkinson's disease. Cade is the second of Sally and Tim's kids. They were cheering from Tampa to Tumwater, Washington, where the rookie once played for his father and his grandfather Sid.

It was the best way to honor Sally, the ultimate sports mom who was a great cook and loving parent who drove her children to practices, games and awards banquets. What Sally watched Sunday was Otton make the play that saved the game for the Bucs, and maybe their season.

The Bucs needed a hero Sunday. They had lost three games in a row and four of their last five. Offensive coordinator Byron Leftwich was under fire, and his seat was getting only hotter after the Bucs managed just three Ryan Succop field goals heading into the game's final eight minutes.

Trailing 13-9, Brady drove the Bucs to the Rams 6-yard line with two minutes remaining. Wide receiver Scotty Miller dropped a pass in the back of the end zone, and on the next play, Otton was unable to secure one on the goal line. It looked as if all was lost for the Bucs when Rams cornerback Jalen Ramsey nearly intercepted a fourth-down pass for receiver Mike Evans in the end zone that fell incomplete, forcing a turnover on downs.

Fortunately for the Bucs, their defense had one more stop in it and Brady got the ball back at the Tampa Bay 40-yard line needing a touchdown with no timeouts and 44 seconds left.

"Immediately, you're bummed you didn't make the play, but you've got to clear your mind and just have confidence you're going to make the next one," Otton said of his goal-line miss on the previous series. "You can't dwell on plays like that. Thankfully, we got another opportunity thanks to the defense and special teams."

Otton the last drive started. He ran a deep seam route, and Brady put the ball on him for a 28-yard completion. A pass to running back Leonard Fournette and two more to Miller moved the Bucs to the Rams 7. Los Angeles cornerback Derion Kendrick was called for pass interference on a pass for Evans in the end zone, setting up Otton's heroics.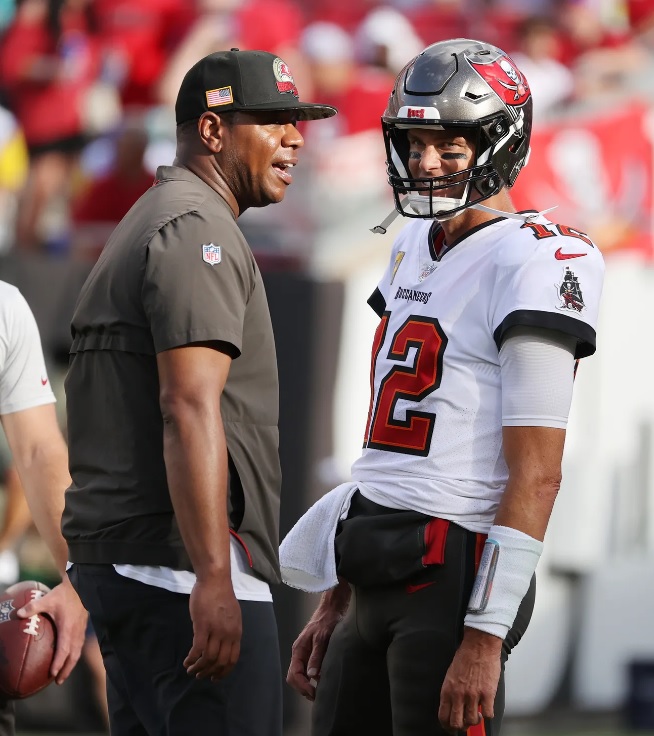 Brady's confidence in Otton has grown each week, and Otton finished with five catches for 68 yards on six targets. "I always tell them, I don't care about dropped balls. I really don't," Brady said. "I'd be more concerned if you don't get open than if you drop the ball. I miss passes. They drop balls. I always go back to them. I have confidence in them."

After the interference penalty, Brady yelled the play he wanted to Leftwich. "We talked about it a lot, and I thought I liked that play and went over and told (Leftwich), and he was like 'Yes! Go for it' " Brady said.

The Bucs lined up with a bunch formation to the right. Otton was next to right tackle Tristan Wirfs. Wide receiver Chris Godwin lined up to his right in the slot. Miller was split tight as the outside receiver on the right.

Brady gave a hard fake to the left to Fournette. Otton blocked down on Rams outside linebacker Leonard Floyd and slipped out into the flat. Kendrick and defensive back Nick Scott bit hard on the run fake and couldn't pivot in time to cover Otton, who caught the pass at the 3 and beat Kendrick to the end zone.

"We all have got to sell run really hard on that play, and the receivers did a great job of doing that as well," Otton said. "And whoever had me in coverage got stuck in the box, and I was able to get out in the flat and get a touchdown."

After the game, players said coach Todd Bowles was hyped and linebacker Devin White ran around the locker room screaming. Brady raised two fingers in the air as he left the field and was still smiling when he arrived in the postgame interview room. "That was awesome," Brady said.

One locker over, tight end Ko Kieft smiled as he watched the crowd of reporters around Otton. "The way he played (Sunday), that can't happen to a better person," Kieft said. "I mean, my whole life, I've not met a nicer person, a more down-to-earth person. But I knew it. I heard the play call. He's making all those plays. I just knew it was going to happen for him. Good things happen to good people."

Sally was there to see it. She was there above the south end zone when Otton looked up after the touchdown. He said she immediately came to his mind. "Yeah," he said. "She did."

Rick Stroud, The Tampa Bay Times, published 7 November 2022