If the Bucs survive the regular season, you'll want to remember this
This is how you rescue a lost football season. One unexpected marvel at a time. You take a legendary quarterback having the most exasperating autumn of his career, you add a soft-spoken rookie coming off the tragedy of his life and you toss in 69,000 or so non-believers in the bleachers.

What you come away with is something more stirring than the final numbers on a scoreboard. Abruptly, amazingly, astoundingly, the 2022 season is still in play for the Bucs after Sunday's 16-13 comeback win against the Rams.

How improbable was this? The Bucs had lost three consecutive games and had trailed Los Angeles for most of the night. After scoring just two touchdowns in their previous 33 possessions, they had to cover 60 yards in 44 seconds with no timeouts.

How screwy was this? Never before had Tom Brady thrown so many passes in a game without a touchdown before coming up with the game-winner on a rollout with nine seconds remaining. It was the 55th game-winning drive of his career, which is an NFL record.

How touching was this? Less than two months ago, 23-year-old tight end Cade Otton left the team for a week after his mother Sally passed away unexpectedly back home in Washington at age 50. He said he immediately thought of her after the first touchdown of his NFL career put the Bucs back in first place in the NFC South.

Following a live interview on the field for the NFL Network, but before team officials arranged his phone interviews with Sports Illustrated, SiriusXM's NFL Radio and Peter King of NBC Sports at his locker, Otton sent a text message to his wife. "Praise God," he wrote to Sierra.

How many times had they imagined a night such as this? How many conversations had they shared? How much faith was required to reach a moment so perfect and pure? "I can't wait to see you," he finished typing on his phone.

Who knows where it goes from here? Could this be the beginning of a turnaround for Tampa Bay, or is it a final exhilarating tease from a team that has dramatically underachieved?

Only time will tell, but there was something immensely satisfying about the sheepish young man with the smudged eye-black on his cheeks accepting congratulations from his more famous teammates.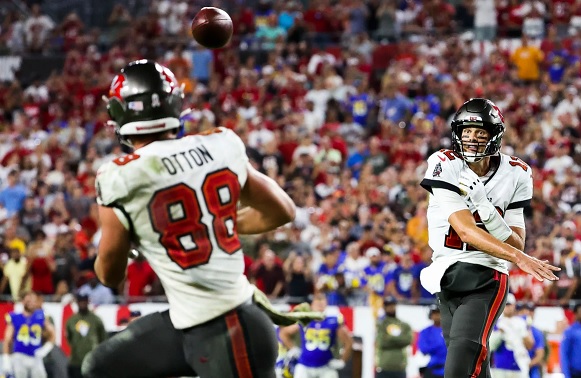 "You could not find a better guy in here," said tight end Cameron Brate, who missed the game with a sprained neck, but raced down the sideline to embrace Otton in the end zone after the touchdown. "Oh my gosh, to see him have success with his ability, his unselfishness, it's just awesome. He deserves everything he gets, and I'm just super proud after everything he's gone through."

In its own way, the pressures of a rookie season in the NFL have kept Otton from slipping too far into the abyss after his mother's passing. There's practice, there's film work, there's games and there's recovery and so there is not a lot of time to ponder the more unfair turns of life.

"It's been good to be busy, but I also think it's been healthy to take some time to think about her, to look at pictures, and pray and reflect on her life," Otton said. "I feel so blessed to have had her as a mom and to have the years I had with her."

His mother got to see his first two games in the NFL, and his first reception against New Orleans on Sept. 18, but the season has turned into a rush since he returned from Washington after spending time with his father, brother and sister. With Brate on the sideline, Otton's playing time has increased in the past few weeks.

He had a career-high six receptions against the Falcons, and a career-high 68 receiving yards Sunday. With the Bucs at the 1-yard line with 13 seconds remaining in the game, Brady specifically suggested a play designed to go to Otton.

Otton lined up on the right side of the line, with Chris Godwin and Scotty Miller flanking him, and he briefly sold a block on linebacker Leonard Floyd when the ball was snapped. Nine Bucs players were moving left as if it were a running play, while Brady and Otton began running right.

The pass was softly launched and Otton walked into the end zone practically untouched. And now he has a small role in Brady's legacy, which is remarkable when you consider Otton was celebrating his first birthday on the same weekend that Brady was drafted in New England.

"The running backs, quarterback, O-line all had to sell their parts," Otton said. "It was just like we had practiced a ton of times and everyone did their job to perfection and I was lucky enough to slip into the flat. I'm just thankful they put me in that spot."

John Romano, The Tampa Bay Times, published 7 November 2022