Washington silences Tom Brady and Bucs in upset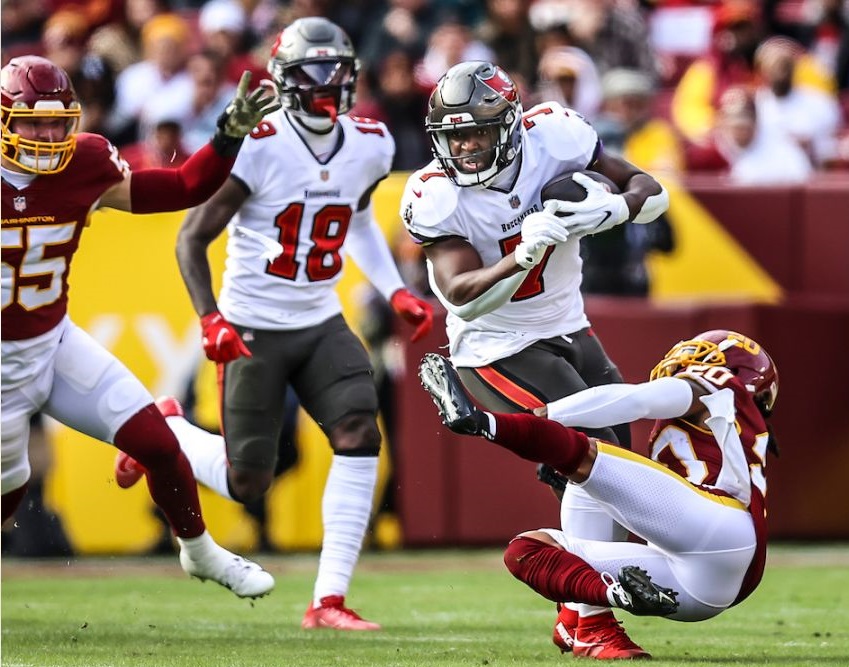 Following the Bucs' embarrassing 29-19 loss to the Washington Football Team, Brady spoke for less than a minute at his postgame news conference, tried to excuse himself after three questions and was gone 43 seconds later after fielding three more. It was in keeping with the theme of the day.

Washington already had limited Brady's appearances in the game with a ball-control offense that carved out a two-to-one advantage in time of possession. But after Brady got the Bucs to within one score with his longest pass play - a 40-yard touchdown strike to Mike Evans - Washington made sure the Bucs quarterback would have no fourth-quarter comeback to discuss afterward.

Washington quarterback Taylor Heinicke executed a 19-play drive - tying for the longest in the NFL this season - for 80 yards that resulted in a clinching 1-yard TD run by Antonio Gibson. It melted 10:26 off the clock, burned all three of Tampa Bay's timeouts and saw Washington convert four times on third down and once on fourth down.

Brady didn't get the ball back until only 29 seconds remained. The drive was completely emblematic of the game. There was the frustration of not being able to stop an inferior 3-6 Washington team. There was the brilliance of Heinicke, who saves his best ball for the Bucs and finished them off this time after coming close last year in an NFC wild-card game. There were missed tackles, self-inflicted mistakes and even a potentially devastating injury when defensive tackle Vita Vea had to be carted off the field after hurting his knee on Gibson's TD.

"I was hoping I wouldn't say I was embarrassed again, but that display was very reminiscent of the last one," Bucs coach Bruce Arians said, referring to the penalty-marred loss to the Saints two weeks ago. They don't even run a play and we jump offsides. It's stupidity. ... It has nothing to do with ability. It's about execution and being a smart football team. We're a very dumb football team, and that's a reflection of the coaches."

There are several things that can be taken from the game, and for that matter, a similar loss to the Saints before the bye week. Start with the fact that nobody in the NFL is afraid of playing the defending Super Bowl champions. Whatever aura Brady and the Bucs built in 2020 didn't make it to Halloween. He threw two more INTs Sunday, one bouncing off Jaelon Darden's hands.

Who knows why Heinicke turns into Joe Theismann whenever he sees Tampa Bay? He passed for 256 yards with a touchdown and no interceptions, extending plays and absorbing a pretty good beating as the Bucs sacked him five times (two by Devin White) and hit him eight other times. But the Bucs defense couldn't get off the field.


"Bad football," linebacker Lavonte David said. "We had an opportunity to get off the field, but we didn't. We talk a lot of stuff, but we didn't play like it. That was a moment to put our stamp on the field and we didn't."

The other thing to note on defense is they're running out of players. Before the game even started, Richard Sherman suffered a calf injury. Dee Delaney started in his place and finished in concussion protocol.

"It's very alarming to watch the energy level of practice and show up with the lack of execution and energy that it takes to win in this league and on Sunday," Arians said. "We've got a lot of soul-searching to do."

Start with why Brady didn't feel comfortable pulling the trigger down the field. He connected with Darden on a busted coverage for 29 yards and hit Evans for the 40-yarder. Take away those two throws, and Brady averaged 4.87 yards per attempt against the NFL's worst pass defense. Leonard Fournette led the Bucs with eight catches for 45 yards. "Tom was just getting it out of his hand," Arians said. "There were a couple times I thought he could've held on a little longer versus some coverage."

A year ago, the Bucs entered the bye week 7-5, having lost three of four to playoff teams such as the Saints, Rams and Chiefs. They were gassed. They regrouped and won eight straight, including Super Bowl 55. It's definitely a new year when you begin the second half losing to a Washington team that had lost four in a row.

Maybe the Bucs just need to get healthier. Cornerback Sean Murphy-Bunting could come off injured reserve this week. Carlton Davis is getting closer. Offensively, Brady still is several weeks from getting tight and Rob Gronkowski and wide receiver Antonio Brown back. Brady was asked how he was feeling. "You know, I like to win," he said.

What happened on the interceptions? "We started with the ball, they came away with it," he said. "Thank you guys. Have a good day."

At this point, maybe the less said the better. Tom Brady's responses, like most of his pass attempts Sunday, were cautiously short and largely unproductive.

Rick Stroud, The Tampa Times, published 15 November 2021