Bucs continue their free fall against undermanned Panthers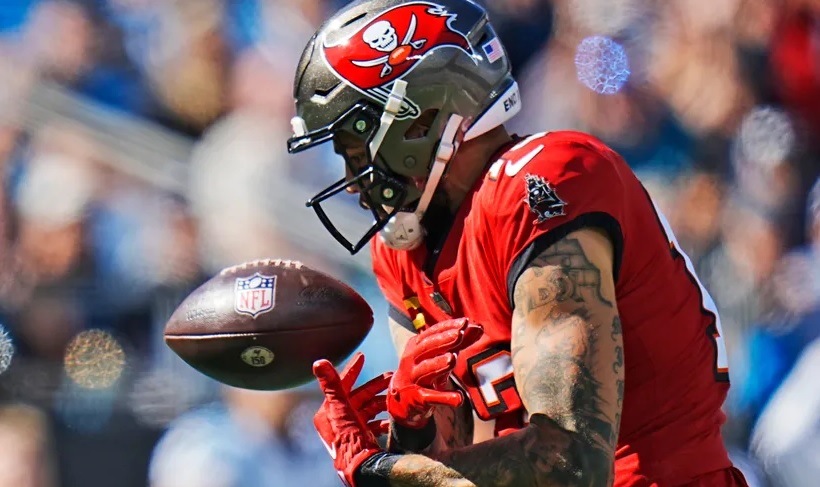 On the third play from scrimmage, Mike Evans ran past the Panthers defense and was all alone, waiting to catch a perfect pass from Tom Brady with some of the surest hands in the league.

What hung in the air with that ball was the hope that the Bucs offense finally would break out on top on the scoreboard, a boost of momentum needed to not only carry it to victory Sunday but to finally jump-start a stalled season.

But inexplicably, Evans bobbled the ball. He tried to run it down before it hit the ground, but by then it was out of reach - a potential 64-yard touchdown pass erased. When the ball bounced off the turf at Bank of America Stadium, Evans fielded it cleanly and threw a bullet to the wall behind the end zone.

He looked at his hands in disbelief, like a nervous groom watching an engagement ring fall into an outgoing tide. All that excitement and promise gone.

Evans went on to catch nine passes for 96 yards, but the Bucs did not threaten to score a touchdown again until the fourth quarter of a 21-3 loss to the swap shop that is the Panthers.

"No one play is the sole reason you lose, but that was definitely the biggest reason," Evans said. "I seen the light go out of us. It took me awhile to get back playing. We're taught to play the next play, but it was tough. You know, (I was) wide open. One of the best in the game, I've got to catch that."

Evans was one of the last players to leave another sullen Bucs locker room. As the losses pile up for the Bucs - four in the last five games, with Baltimore coming to Raymond James Stadium on Thursday night - they are now being measured in degrees.

Was losing to a Panthers team that traded its best player, running back Christian McCaffrey, to the 49ers on Thursday and its best receiver, Robbie Anderson, to the Cardinals on Monday, and started quarterback PJ Walker, who was fourth on Carolina's depth chart in the preseason, worse than losing last weekend to an injury-riddled Steelers squad that started rookie quarterback Kenny Pickett?

Todd Bowles spoke sternly after the game, acknowledging his team is in a dark place. "We're not playing well as individuals. We're not playing well enough as a team. We're not coaching well," he said. "All the way around. We're not scoring enough on offense. We're not stopping them enough on defense, and as a result, we have to wear this on our sleeves."

Bowles vowed to determine how many people on his team can handle adversity. "Either you can or you can't," he said. "We're going to see what we have going forward. See how many people crumble when it's dark, see how many people step up and start playing."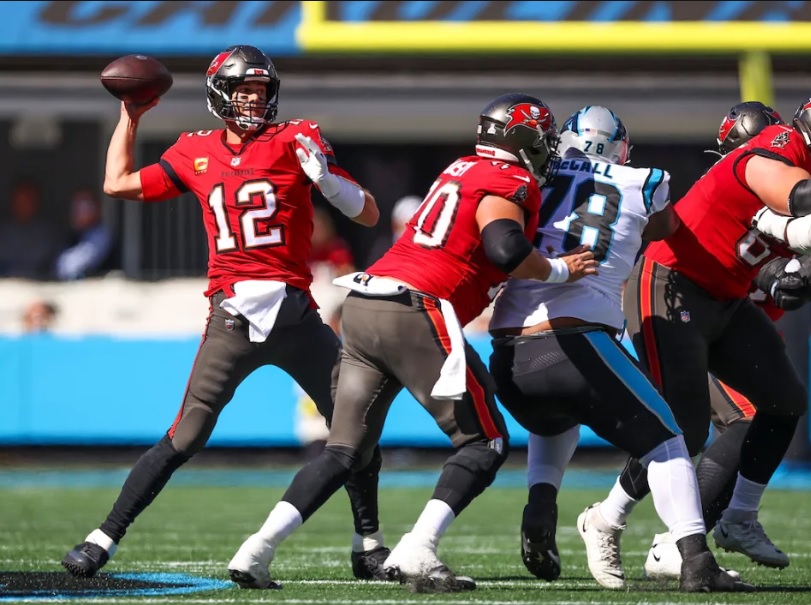 One coach who seemingly doesn't have to worry about a pink slip is offensive coordinator Byron Leftwich. The Bucs rushed for only 46 yards and 2.9 per attempt. Trailing only 7-0 until late in the third quarter, they faced third and fourth downs needing only 1 yard from the Carolina 25-yard line to sustain a drive. Running back Leonard Fournette was stuffed for no gain both times.

Asked if he might change the offensive play-caller, Bowles said he "will not consider changing coaching. We need to consider changing some of the things we're doing. We've definitely been discussing that," he said. "It can't happen overnight."

At this point, it's hard to know whether the offense is any more rudderless than the defense that Bowles calls. Though McCaffrey was 2,700 miles away on the West Coast, Panthers running backs D'Onta Foreman (15 carries, 118 yards) and Chuba Hubbard (nine for 63 and a touchdown) combined to rush for 181 yards and a score. The total included runs of 60 yards by Foreman and 17 by Hubbard on consecutive plays to put the game away.

With quarterbacks Baker Mayfield inactive and Sam Darnold on injured reserve, Walker passed for 177 yards and two touchdowns. Wide receiver DJ Moore had seven receptions for 69 yards and a score.

"The defense cannot play well and then have two busted coverages put in from Day One and two busted running plays and expect to win the ballgame," Bowles said.

Unless Brady can throw the ball and catch it, there's not much else the Bucs' 45-year-old quarterback can do. He passed for 290 yards, but the Bucs were 2-of-12 on third down, including 0-for-6 in the second half. "We're plenty capable of making plays," Brady said. "We're just not consistently making them enough to score points."

Brady and Bowles said Evans' drop didn't cost the Bucs the game. They had 63 more plays, and none of them resulted in a touchdown. But at 3-4 and still tied for the lead in the NFC South, Bowles said the Bucs' season comes down to how mentally tough his team can be.

"Older guys have got to prove they can still play," Bowles said. "Younger guys have got to prove they belong, and the coaches have got to get better every day. That's really it. Toughness. Mental toughness."

Rick Stroud, The Tampa Bay Times, published 24 October 2022