Two more Bucs cornerbacks step up, then go down
The NFL's most snake-bitten secondary exited Sunday's 38-3 romp of the Bears with a few fresh bite marks.

Neither starting cornerback, Dee Delaney nor Jamel Dean, finished the game. Delaney was flourishing in his first NFL start — recording a first-half interception — before sustaining an ankle injury early in the second half. Dean injured his shoulder midway through the fourth.

Afterward, Delaney said he's "good to go." Dean wasn't made available to reporters, but coach Bruce Arians said he believes the third-year veteran will be fine.

Both the Bucs' opening-night starting corners, Sean Murphy-Bunting (elbow) and Carlton Davis (quad), remain on the injured list. Additionally, veteran Richard Sherman (hamstring) was inactive Sunday, serving as a de facto extra coach.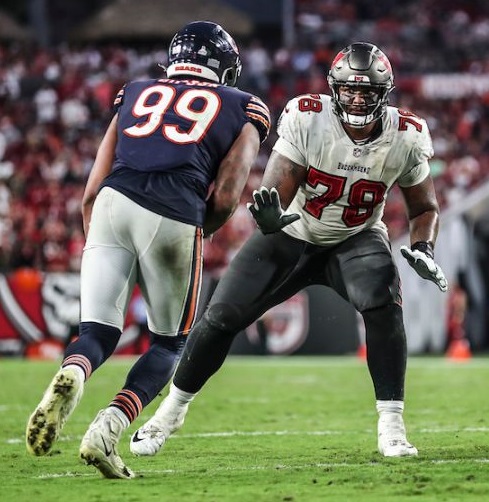 A man without a team a year ago, Delaney, 26, was coaching at his tiny high school alma mater in South Carolina. A surprise survivor of the Bucs' final roster cuts at the end of training camp, he also recorded five tackles and a pass deflection while doubling on special teams.

He essentially was playing centerfield when Bears quarterback Justin Fields was flushed from his collapsing pocket and threw downfield while rolling right. "Coaches just told us to make sure we (stay on) our receivers all week, because it's a running quarterback," Delaney said. "So I just kind of plastered to my guy and he just threw to me."

No sacks, or grief
Since giving up the lone sack of his NFL career to Bears all-pro Khalil Mack last October, Bucs second-year right tackle Tristan Wirfs has been tormented by gifs of the play, which ended with Mack taking Wirfs to the ground with a hip toss-type maneuver.

In Sunday's rematch, the Bucs surrendered no sacks. "Hopefully the gifs can stop now," Wirfs said with a broad smile. "It was cool just to see, watching film last year, how much of a different player I am. I was so tentative and kind of intimidated last year. And I just wanted to go out there and do what I know how to do."

Joey Knight, The Tampa Times, published 25 October 2021