Bucs stuck in neutral in loss - were they also stuck in the past?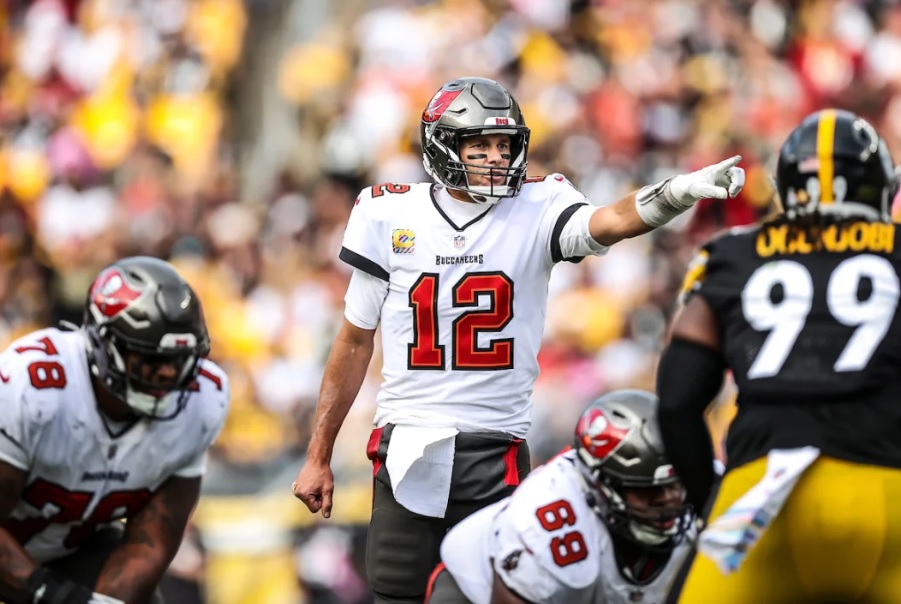 It's a place steeped in winning tradition, with a proud franchise that celebrates its previous glory and trots out reminders of its famed history.

As the Terrible Towels waved Sunday at Acrisure Stadium, images of Franco Harris, "Mean" Joe Greene, Lynn Swann and Ben Roethlisberger played on the videoboard. But only one team was living in its past Sunday, and it wasn't the Steelers.

Following the Bucs' 20-18 loss to an undermanned Steelers team that had dropped four in a row, started a rookie quarterback and dominated with a defense decimated by injuries, Bucs coach Todd Bowles said his players had received too many pats on the back for winning Super Bowl 55 two seasons ago.

"We didn't take (the Steelers) lightly, No. 1," Bowles said after watching his team fall to 3-3 with its third loss in four games. "No. 2, I think guys that are living off the Super Bowl are living in a fantasyland.

"You've got to get your hands dirty and go to work just like everybody else. We've been working hard. We've got to work harder. Nobody is going to give us anything or feel sorry (for us). We've got to go back as coaches, as players, and the time for talking is over. You've either got to put up or shut up."

The Bucs followed a script familiar from losses to the Packers and Chiefs. They failed in short-yardage situations, melted down in the red zone and, until the fourth quarter, relied on Ryan Succop field goals to score, this time four of them.

When the Bucs did get back in the game on Tom Brady's only touchdown pass - an 11-yard catch-and-run by Leonard Fournette with 4:38 left in the game - they failed on a pass to Chris Godwin for a two-point conversion that would have tied the score at 20.

After that, Tampa Bay's defense failed to get off the field, allowing the Steelers to convert on third and 15 and third and 11, and run out the clock. After starting the game 3-of-11 on third down, the Steelers went 4-for-4. They did it to ice the game with backup quarterback Mitch Trubisky completing passes of 17 and 26 yards to receiver Chase Claypool.


Trubisky entered the game in the third quarter after Kenny Pickett left with a concussion suffered on a hit by Bucs linebacker Devin White. By then, Pickett had staked the Steelers to a 13-12 lead.

After the game, Bucs players spoke in hushed tones in the locker room and appeared stunned by the loss. It was a team effort. Once again, the offense failed in short-yardage situations despite a 240-pound running back in Fournette.

In the second quarter, the Bucs faced second and 1 at the Steelers' 1-yard line. But Fournette was dropped for a 3-yard loss and Brady was sacked by tackle Cameron Heyward on the next play, forcing them to settle for a Succop 27-yard field goal that made it 7-6 Steelers.

"We could not get 1 yard on third and fourth and short," Bowles said. "We had stalls in the red zone. I don't think we coached it well, and I don't think we played it well."

Brady, who skipped the Bucs' walk-through practice and meetings Saturday morning to attend the wedding of Patriots owner Robert Kraft on Friday in New York City, was at less than his best against a secondary that was missing four starters. "It's just execution, you know?" Brady said. "We've just all got to do a better job. We'll go back, watch the tape. Obviously, a lot to correct.

"We didn't earn it. We didn't earn the win. It's a game of earning it, and it's a game of playing well and performing well, and we're just not doing a good job of that. I don't think we've done it for six weeks. We're all playing less than we're capable of, and we've all got to look at ourselves in the mirror and figure out why."


Bowles said Brady attending the wedding didn't affect his performance. "No, he didn't miss anything," the coach said. "He had a full week of practice."

Asked specifically if it affected Brady's lack of production in the red zone, Bowles said, "Absolutely not."

Brady finished 25 of 40 passing for 243 yards and the touchdown. But he failed to connect on five of his first six targets to Godwin, who led the Bucs with six catches for 95 yards on 12 targets.

"It doesn't matter what guys you have on your team, how good they are, if you're not on the same page, if your chemistry is not there, it's not going to matter," Godwin said. "How you fix those things is, you go to practice. It's the first time this team has been together, and we can't rely on anything in the past to fix things for us now. We've got to put in the work every day, and that's what we're going to do."

Bowles, who this season inherited from Bruce Arians what the Bucs claimed was a Super Bowl contender with Brady back, said his "living off the Super Bowl" comment was not meant to suggest that players are living off their reputations.

"I didn't say we were," Bowles said. "I'm just saying you get patted on the back so much. … Every year and every week, you've got to go out there and earn your pay and earn your keep. And if you don't live like that, then there's going to be a result like (Sunday's)."

Rick Stroud, The Tampa Bay Times, published 17 October 2022