They ain't looking pretty yet, but the Bucs are getting the job done
THERE! You saw it, right? I'm not imagining this. If you turned your head to the left, squinted out of one eye and tried not to blink, I'm almost certain the Buccaneers looked like a Super Bowl team once again.

It happened sometime in the first half against the Eagles on Thursday night. The offense was dialing up one sharp play after another, and the defense was chasing Jalen Hurts from sideline to sideline.

The Bucs had a running game, the depleted secondary was knocking down passes and you could see the road all the way to Super Bowl 56 near Los Angeles without having to ask Siri. Then, the Bucs invited doubt back into the conversation.

Oh, they finished off Philadelphia 28-22 for their third prime-time victory of the season. In the end, the Eagles never even had a chance to go ahead in the fourth quarter because the Tampa Bay offense held on to the ball for the final six minutes or so. But the Bucs stumbled around just enough in the second half to remind you that the journey to the NFL's final game is never easy. Not even for a roster with plenty of Hall of Fame blazers in its future.

For six weeks, the Bucs have been a team stuck in a funhouse mirror. You recognize them easily enough, but they seem just a little warped. Stretched in some ways, and bloated in others. Now, the simple explanation is that the Bucs are banged up. The offense has been Gronk-less for two weeks, and the defense can't keep its cornerbacks out of traction.

But it's not just that. They seem to forget who they are, or maybe who they can be. They've lacked the attention to detail and focus that you saw in the Super Bowl against Kansas City and the division round against New Orleans. They've lacked the killer instinct.

"We know we're not playing to the best of our standards. We have a long way to go," linebacker Devin White said on the Fox postgame show. "But it's a long season. It's 17 games for a reason. In the end, we're all going to be back. We're all going to get better, and we're going to start dominating soon."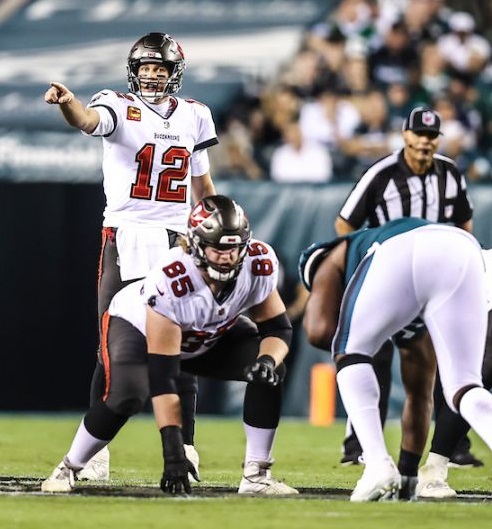 The good news is the Bucs have mostly taken care of business. They've had close calls against the Cowboys, Patriots and now the Eagles, but they are 5-1 and sitting atop the NFC South.

You can point out that they've had a fairly easy schedule through the first third of the season, but that's not their fault. The Bucs are 4-0 against teams with losing records, and that's exactly what a contender is supposed to do. You don't drop the sure pass, you don't give away the freebies.

And if you're still feeling skeptical, just remember the Bucs followed up their first Super Bowl victory by starting the next season at 3-3. The point is the Bucs are in an excellent position in the standings, and they've shown enough glimpses of 2020′s glory to convince that there are even better days ahead.

The running game showed up Thursday night for the first time, although Philadelphia's sagging defense had a lot to do with that. Tight end O.J. Howard got acquainted with Tom Brady for the first time, and Antonio Brown seems to be getting more and more comfortable in the offense.

Vita Vea and Shaq Barrett were the two best players on the field, and there's no reason to believe they will not continue to dominate going into November and December.

There are still things that need to be cleaned up. The excessive number of penalties are a problem, although 95 yards worth of pass interference calls could be partially attributed to the banged-up secondary. And there are times when the offense seems to lose its bearing, throwing too many screens and sideline passes and ignoring the middle of the field.

But that's the kind of whining you only hear for teams with high expectations. Even if the games have been closer than the point spread, even if the offense occasionally makes you shout, the Bucs have proven through the first six weeks that they are still among the NFL's elite. In case you were wondering, the Super Bowl is 121 days away.

John Romano, The Tampa Times, published 15 October 2021