Bucs build lead, then hold on to beat Falcons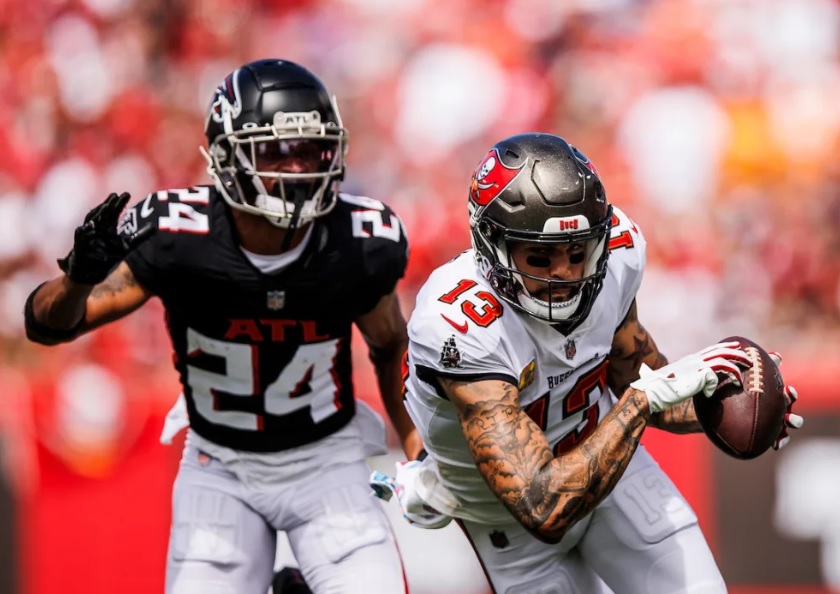 He's thrown the football for more yards than any quarterback in the history of the game. He throws touchdowns and sometimes a tantrum, which may lead to him occasionally throwing a tablet.

But Tom Brady wanted everyone to know following Sunday's win over the Atlanta Falcons why he had nothing to do with the roughing-the-passer penalty on defensive lineman Grady Jarrett after a third-down sack that preserved the 21-15 victory. "I don't throw the flags," Brady said defiantly when asked about the flag that will be debated on all the NFL shows.

Referee Jerome Boger does determine penalties, and the flag he tossed on Jarrett may not have cost the Falcons the game, but it prevented them another opportunity to win it.

Here's what happened. The Bucs built a 21-0 lead but allowed 15 unanswered points in the second half. Facing third-and-5 at the Atlanta 47-yard line with 3:03 remaining, Brady dropped back to pass and Jarrett looped around to the outside, beating rookie guard Luke Goedeke to corral Brady. He spun the Bucs quarterback down, then rolled over top of him.

Jarrett celebrated until he realized Boger had dropped a flag for roughing the passer. "What I had was the defender grabbed the quarterback while he was still in the pocket and unnecessarily threw him to the ground is what I was making my decision based on," Boger said in an NFL pool report.

The Falcons reacted the way you would expect. Coach Arthur Smith held his head in his hands. Then he placed them over his mouth. Jarrett declined to talk about the play immediately following the game.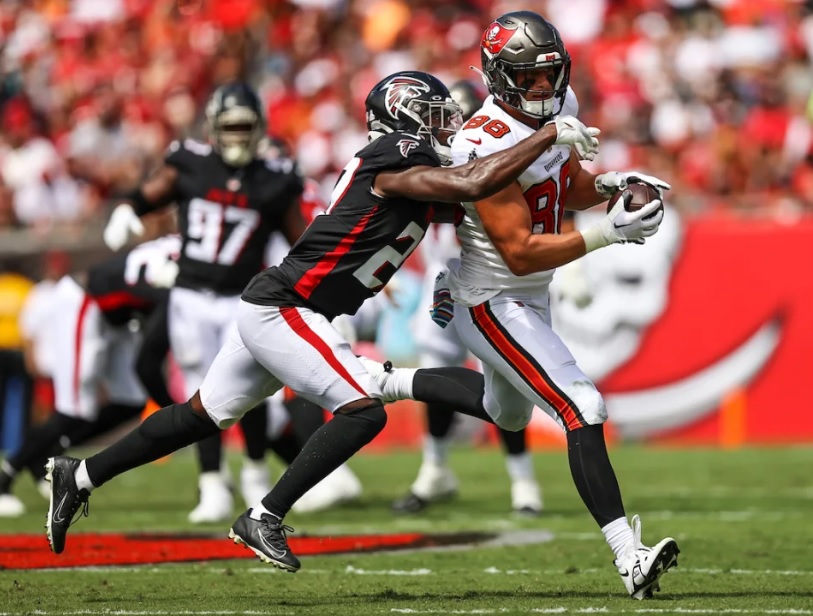 Todd Bowles said the recent concussion suffered by Dolphins quarterback Tua Tagovailoa on a similar play against the Bengals last Thursday has put an even greater emphasis on preventing such outcomes. Bowles was asked after the game if any quarterback besides Brady gets that call.

"I don't know. I saw that one being called," Bowles said. "I saw it against Tua (Tagovailoa), since he got it. I saw it in the London game (Packers-Giants Sunday) morning. So, you know, I think they're trying to crack down on some of the things and slinging backs. I don't know, the way they're calling it, I think a lot of people would've got that call."

Of course, it should never have come down to that penalty. The Bucs built a 21-0 lead entering the fourth quarter. Brady, who passed for 351 yards and a touchdown, wasn't sacked despite dropping back 52 times Sunday.

Leonard Fournette was a workhorse. Not only did he rush 14 times for 56 yards, he caught a career-best 10 passes for 83 yards and a TD. "Obviously, when he gets a head of steam, he's tough to take down," Brady said. "Catches the ball well. Loved his effort out there."

Unfortunately, the Bucs never got anything going on offense in the second half and Tampa Bay's defense wilted. Atlanta quarterback Marcus Mariota was sacked five times and only passed for 147 yards, but he escaped for 61 on the ground as part of the Falcons' 151 yards rushing.


The win snapped a two-game home losing streak and gave the Bucs (3-2) sole possession of first place in the NFC South. Evans was huge again in the passing game, with four catches for 81 yards. His diving 25-yard reception in the second quarter set up Fournette's 1-yard TD run. His 40-yard reception in the third quarter led to Fournette's TD reception and a two-point conversion pass to Russell Gage.

"That's two weeks in a row Mike has come up with the plays," Bowles said. "He's a warrior. Like I said, he's the heart and soul of our offense right now, and he's doing a lot of good things for us."

But the Bucs struggled to close out the game. In the end, Boger's yellow flag did it for them. "Obviously, from my vantage point it looked like a bad call," Falcons cornerback Casey Hayward said.

While happy with the win and a call that benefitted the Bucs, not every Tampa Bay player embraced the penalty on Jarrett. "It's just, we're splitting hairs now," said Rakeem Nunez-Roches. "You're taking away what guys can do. You're making them softer on defense, and you're putting all this protection around the quarterback. I know they're the franchise … but at some point, we've got to let it be football again.

"We're not out there trying to brutally hurt them or things of that nature. But they're playing the same game that we're playing, so they should be held to the same (standard). It helped us. I'm awesome with it … but as a defensive player you have to put that in perspective, because what if I'm out there doing the same thing and I hurt my team in the same fashion?"

Rick Stroud, The Tampa Bay Times, published 10 October 2022