Antonio Brown's record-setting game helps Bucs top Dolphins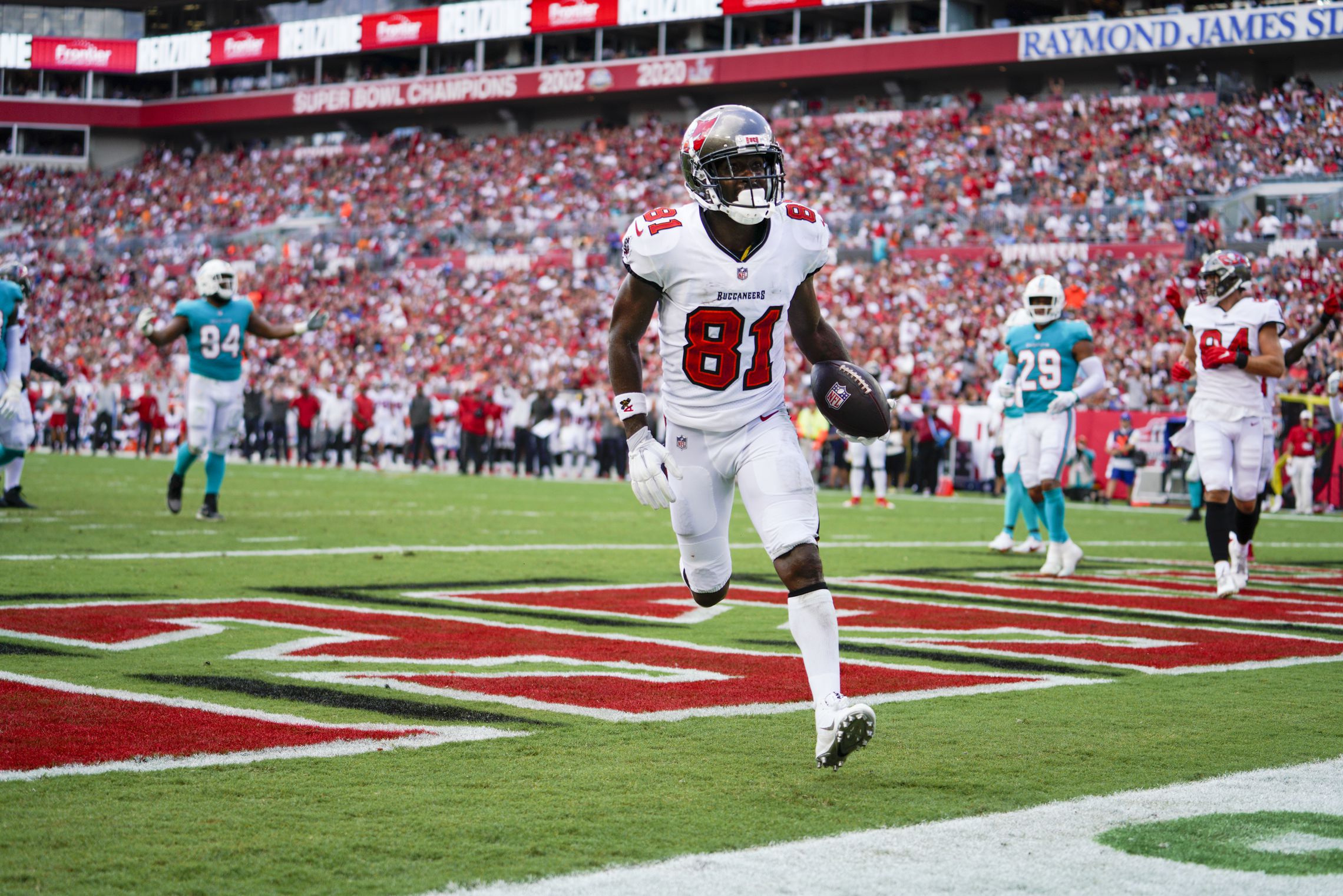 Antonio Brown had already broken the record, becoming the fastest NFL player to 900 receptions with his first catch against the Dolphins on Sunday. But like any good receiver, he understands the value of distance. The sanctity of separation.

With the score tied at 10 in the second quarter, Brown ran a drag route and turned a short pass from Tom Brady into a 62-yard go-ahead touchdown in which he accelerated away from Pro Bowl cornerback Xavien Howard. With each step, the 33-year-old receiver added more space between the perception he's creating with the Bucs and one he has spent nearly the past year running from.

"Pretty amazing. I give him a lot of credit," said Brady after watching Brown catch seven passes for 124 yards and two touchdowns in a 45-17 win by the Bucs (4-1). "He's been through a lot and has shown a lot of mental toughness, a lot of resilience, a lot of support from a lot of different people in his life at different times. Everyone just wants to see him succeed.

"Since the day we met, obviously I've admired him and watched him for a long time. Obviously, I played with him previously in New England and just struck up a great relationship. … You know, sometimes things take away from what we love to do in football and play. I think he's done an incredible job personally to put a lot of those things aside and just focus on football, and he's showing everyone how great he is."

It has been nearly a year since Brown joined the Bucs following an eight-game suspension from the NFL for violating the league's personal conduct policy, levied after he pleaded no contest to a felony and two misdemeanors over an accusation that he attacked the driver of a moving van at his Hollywood, Fla., home in January 2020. At the time, coach Bruce Arians told Brown he would be under a zero-tolerance policy.

Brady lobbied hard for Brown though they had played only one game together in New England, in September 2018. Brown caught four passes for 56 yards and a touchdown in the Patriots' 43-0 win over Miami, but a week later, he was gone after a former trainer accused him of sexual assault. A civil case was settled out of court this year.

Games like the one Sunday remind everyone how dominant a pass catcher Brown has been throughout his 11-year career. He reached the reception milestone in 143 games, surpassing Marvin Harrison (149).


"In life, we all need conflict to shape our purpose and make us better," Brown said. "If we always sit here and didn't go through anything, we wouldn't be able to appreciate life or wouldn't be able to grow. So I think the things I went through were able to prepare me to grow and make me a better person, and I'm happy to be here today."

Brown appears content to be the Bucs' No. 3 receiver behind Mike Evans and Chris Godwin. The Bucs' passing game always runs through Evans, who had six catches for 113 yards and two touchdowns against Miami.

"I mean, when we have Chris and Mike, and (Brady) gets the third guy? That ain't a fair fight," Arians said. "Now that he knows the offense and Byron (Leftwich, offensive coordinator) is putting him in a position where he knows what he's doing, he can play really fast. Tom trusts (Brown). We like that matchup usually week in and week out. And I'm sure it's going to switch pretty soon. One of those other (receivers) is going to feast."

These days, Brady's only concerns are winning games, and spreading the wealth and his experience to teammates. For whatever reason, even with all Browns' off-field problems, Brady took a particular interest in the receiver and lobbied Arians and general manager Jason Licht to bring him to Tampa.

That faith was rewarded when Brown caught 45 passes for 483 yards and four touchdowns in the 2020 regular season. He added two touchdowns in the playoffs, including one in the Bucs' Super Bowl 55 win. "Tom for sure has been in my corner since Day One," Brown said. "There's a collective group of people that believed in me and has helped shaped me."

Six months before signing him, Arians said Brown had "too much diva" to consider him. He knew Brown from his days as the Steelers' offensive coordinator with Brown as one of his receivers. Arians' tune has changed.

"That was when we first talked," Arians said. "There were no second chances. (Brown has) grasped this opportunity and run with it. I'm really, really proud of him."

Brown was on the sideline when the scoreboard operators at Raymond James Stadium acknowledged his 900th reception. He smiled widely and was greeted by many teammates and coaches. "It was an amazing moment, especially being able to get the win," he said.

With the Bucs and Brady, Brown may be playing some of the best football of his career. "The ball carries a host of dreams," he said.

Especially if you can keep outrunning the past.

Rick Stroud, The Tampa Times, published 11 October 2021