Matthew Stafford's the showstopper as Rams handle Bucs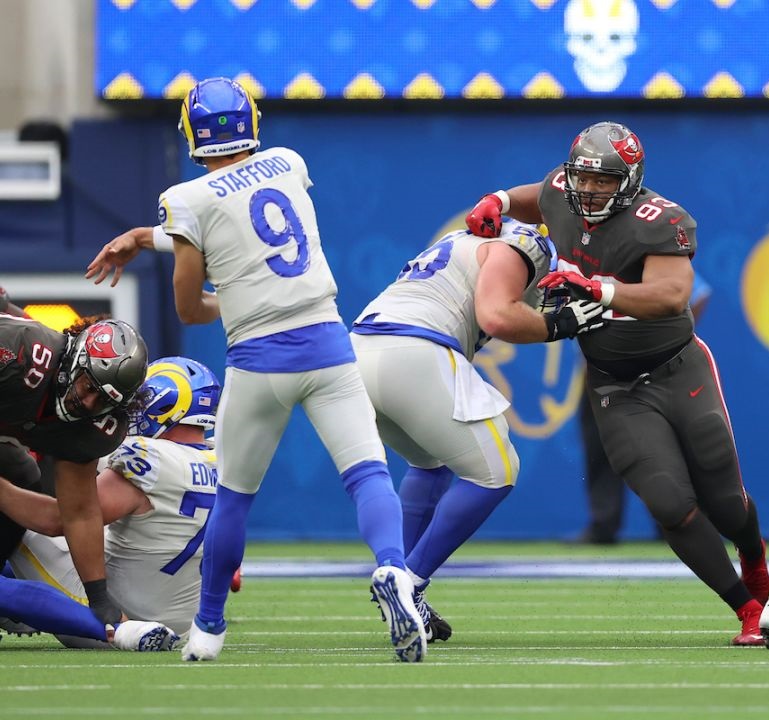 The stars came out for the marquee game between the Bucs and Rams Sunday. There was Jason Sudeikis, Halsey, Mike Tyson, Kate Hudson, Rob Lowe and the Kardashians among the sellout crowd packed into SoFi Stadium in Inglewood, Calif. But the biggest celebrity in Hollywood is Matthew Stafford following the Rams' 34-24 win over the Bucs.

In the NFL, there's no business like throw business, and Stafford stole the show from headliner Tom Brady by passing for 343 yards and four touchdowns in the biggest football game in L.A. in two decades.

"I guess they can push it down the field so easily," coach Bruce Arians said of Stafford. "You're right up in his face one time and he finds the guy wide open down the field and gets it to him. Other guys, they see him, but they can't get it to him. He gets it to them. So yeah, he's a special player."

The Rams simply played the role as the best team in the NFC Sunday. They beat the Bucs by a field goal in Raymond James Stadium a year ago with Jared Goff under center but traded their first-round quarterback to Detroit with two first-round picks and a third-rounder for Stafford. One play to start the second half exposed the Bucs' injury-riddled secondary and served as an ominous reminder of why it will be so hard for them to repeat as Super Bowl champions.

With the Rams leading 14-7 and facing third and 10 at their own 25-yard line to start the third quarter, Stafford found receiver DeSean Jackson streaking free down the right sideline and hit him with a perfect pass that resulted in a 75-yard touchdown. Jackson ran into a tunnel in the corner of the end zone and was chased into it by Rams coach Sean McVay.

Two things happened on that play that could doom the Bucs this season. Stafford had all day to wind up in the pocket. There was a miscommunication between cornerback Carlton Davis and safety Mike Edwards, who turned Jackson loose. "Busted coverage. Just totally bust the coverage," coach Bruce Arians said. "Lack of communication. They didn't get the call to each other. That's what young guys do."


When reminded the Bucs have only one sack in each of their first three games, Arians said, "That's the pass rush. You can't sit back there and hold the ball. We've got to get home." As for the Bucs' secondary, it's becoming wafer-thin. Already playing without starter Sean Murphy-Bunting, who could miss a month after dislocating his elbow, the Bucs lost cornerback Jamel Dean at the end of the first quarter during the Rams' first scoring drive.

The Bucs finished the game with backups Ross Cockrell and Dee Delaney on the field. Earlier this week, they freed some $4 million of salary-cap space by restructuring the contract of guard Ali Marpet. The only question following Sunday's game was whether the Bucs have enough to coax five-time Pro Bowl cornerback Richard Sherman to fly back from California with them.

Brady did about all he could, passing for 432 yards and a touchdown while rushing for another score. But by the third play of the second half, the Bucs had to abandon their running game. In fact, Brady led Tampa Bay with 14 yards rushing on three scrambles. He was sacked three times and hit on five other occasions.

"Those guys up front are trying to create space, and our backs are trying to run hard," Brady said. "Again, when you're losing all day, you're going to get into more throwing than we probably want."

The Bucs defense allowed Stafford to convert 10 of 15 third-down situations. The Rams actually missed on their first two third downs before converting eight straight. Stafford was 7-of-7 for 180 yards and two TDs during that stretch.


"Very disappointing," Bucs linebacker Lavonte David said. "We've got to be better and be able to put together a full four quarters. "There were times where we could've gotten the ball on defense."

All week long, McVay made no secret of the Rams' desire to get the football to Jackson, who spent two mostly unproductive seasons in Tampa Bay. Stafford was brought to the Rams to win big games like this. "No doubt, Tampa is a really good football team," he said. "You know, they're Super Bowl champs. Tom Brady, the defense, all of it. It was a big challenge for us." Of course, even before they boarded a Delta charter at LAX Sunday, the spotlight only got brighter for Brady and the Bucs.

Brady next Sunday returns to Gillette Stadium and New England, where he spent 20 seasons. Get ready for a week of stories about the prodigal son returning home. "I want to win every time I take the field," he said.

One celebrity sighting seemed fitting for the Bucs Sunday: comedian Larry David, whose series should resonate with Bucs fans today: Curb Your Enthusiasm.

Rick Stroud, The Tampa Times, published 27 September 2021