Let's look at the bright side: Bucs had plenty of stinkers last year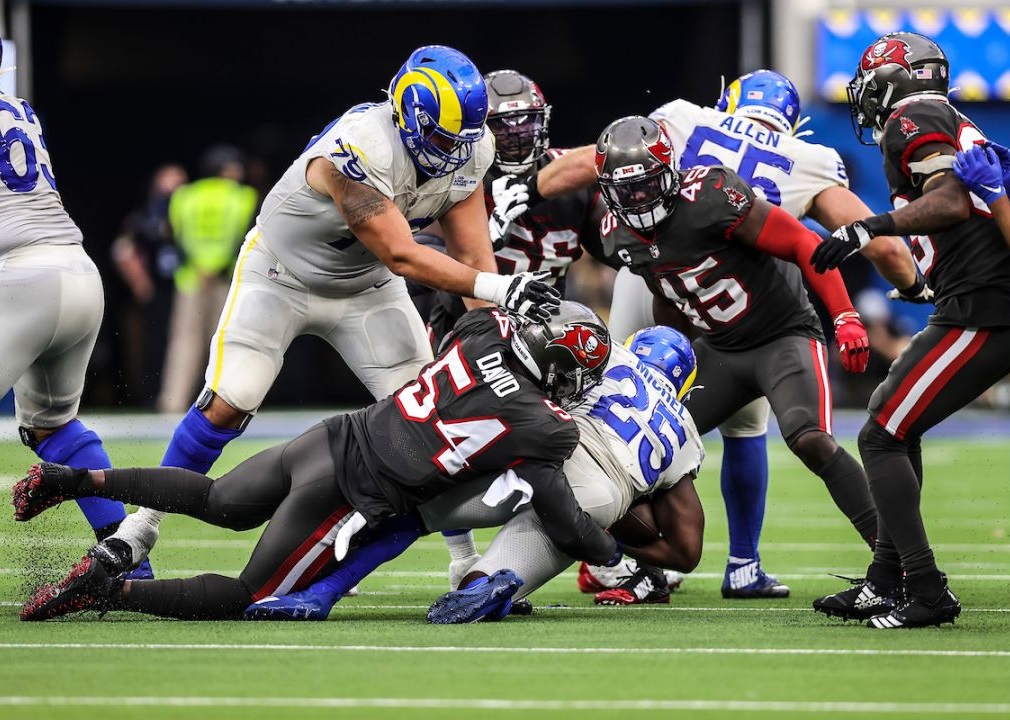 If we're being realistic, the Bucs were probably due for a stinker. Perhaps even overdue. They had won 10 games in a row, including the postseason, while outscoring everyone by an average of two touchdowns a week.

Not to mention, Sunday's game arrived with all sorts of warning bells. It was several times zones away, against a very good team and it came at a moment when the Bucs were banged-up on both sides of the ball.

So, annoying or not, this 34-24 loss to the Rams is not a sign of impending calamity. On the other hand, there is this:

Why have the Bucs forgotten all the lessons they spent 2020 so painfully learning? They can't run the ball, they seem to have no identity on offense, they commit too many silly penalties, and the young secondary occasionally goes missing.

It's as if we're being made to suffer through a collective case of Deja Poo. Because the truth is, even while beating the Cowboys and Falcons in the first two weeks of this season, the Bucs looked more like the flawed team that meandered through much of 2020 before turning into the marvels who ran the table in the final two months.

"It's no different winning or losing, you go and correct (things)," coach Bruce Arians said. "There were a lot of mistakes, there were a lot of good things, too. You march on to the next one."

The upside is that this is the exact same group of players. The potential is still there to win a dozen or more regular-season games and, chances are, they'll still be favored to win against almost every team remaining on the schedule.

But the assumption was the Bucs took a huge step forward last December, and so it's a little distressing to see them give up nearly 30 points a game after the season's first three weeks. It's surprising that we've watched 180 minutes of football and have trouble recalling any splash plays by Devin White and Lavonte David. It's concerning that three consecutive quarterbacks have thrown for 300 or more yards against Tampa Bay. And that's just the defense.

This supposedly unstoppable offense stopped itself drive after drive on Sunday with penalties and sacks and passes that slipped off Rob Gronkowski's fingertips. And are the Bucs aware that running plays have evolved since 1976? You don't need to do the 3-yards-and-a-cloud-of-dust thing into the middle of the line. Arians said Ronald Jones ran well on Sunday but the reality is Tampa Bay's running backs have averaged 13 carries and 48 yards per game through three weeks. The NFL may be a passing league these days, but there has to be enough balance to keep defenses guessing.


And when your leading rusher for the afternoon is your 44-year-old quarterback with 14 yards, you've got problems that go beyond falling behind 14-7 at halftime. "We didn't make enough plays on offense early to take control of anything," quarterback Tom Brady said.

Now, it's true that Antonio Brown was out of the lineup and Gronkowski seemed to be playing in pain after getting hit in the ribs, but we were told this offense was filthy with star power.

Los Angeles may have one of the better defenses in the league, but Tampa Bay is too good to look that impotent. And don't let the 24 points fool you. The Rams pretty much conceded a fourth-quarter touchdown while watching the clock slowly wind down. "We've got to be better on offense," said Brady, in what is an understatement even for him.

In the end, this might simply be a reminder of the harsh reality of NFL life. There's a reason why it's been more than a decade since anyone has won back-to-back Super Bowls. All four teams that reached the conference championship round last season have already lost games in 2021.

If there is something to fear after three weeks, it is the accumulation of injuries. Cornerback Sean Murphy-Bunting dislocated his elbow in Week 1, linebacker Jason Pierre-Paul had an ailing shoulder after Week 2, and now cornerback Jamel Dean was forced to take a seat early in Week 3 against the Rams. If the Bucs continue with that sort of misfortune, the wheels will come off this season quickly.

But those are worries for down the road. What happened against the Rams was probably inevitable after so many happy Sundays. If you want to look at the bright side, the Bucs probably needed this slap across the face. Heaven knows, they took enough of them last season before paying attention.

John Romano, The Tampa Times, published 27 September 2021