Bucs' swagger regresses to limp on painful afternoon in L.A.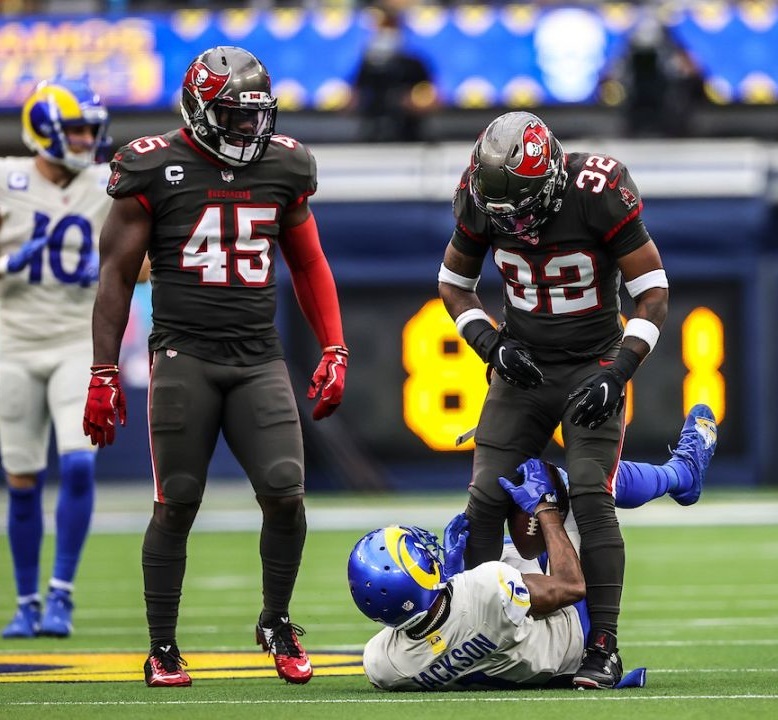 Even the microcosm of Sunday's proceedings at SoFi Stadium elicited a cringe. As the Bucs were mounting a last-gasp rally attempt against the Rams, tailback Giovani Bernard snagged a short Tom Brady throw and was shoved out of bounds on the Bucs sideline, where he rolled into Bruce Arians' knees, sending the 68-year-old coach tumbling on his backside. "I'm tough," said Arians, who turns 69 next Sunday.

While Arians is a go for next weekend's uber-hyped clash with the Patriots, the prognosis for some of the other Bucs remained murky in the wake of a 34-24 defeat that may have been as costly as it was critical.

The team's most depleted position was further decimated in the first quarter when cornerback Jamel Dean exited with a knee injury and didn't return. Arians had no update on Dean following the game, but with Sean Murphy-Bunting (elbow) out indefinitely, speculation will intensify about unsigned All-Pro cornerback Richard Sherman's odds of coming to Tampa.

The Bucs have acknowledged exploring the chances of bringing in Sherman and recently freed up $4 million in salary cap space by restructuring left guard Ali Marpet's deal. But Arians conveyed no sense of urgency in signing another corner in his postgame address Sunday.

"We brought a couple of guys in (veterans Rashard Robinson and Pierre Desir) the last couple of weeks that have experience," Arians said. "They're long and tall corners. We'll make that decision on the ride home."

The decision might be expedited by tape review. With Dean absent, the Bucs were forced to employ Dee Delaney, a surprise survivor of final roster cuts who was out of football in 2020. That makeshift secondary resulted in a glaring lack of communication on the back end and some badly blown coverages.

"Communication is huge," said cornerback Ross Cockrell, whose turbulent day included two pass deflections and a defensive holding penalty. Obviously losing Dean - he's a smart player, good player - that was tough for us. Delaney stepped in; he did very well, I thought. We'll have to continue to work on communication as a defense and a secondary to make sure that these problems don't continue to creep up on us."


Among the most glaring coverage gaffes: a 75-yard scoring pass from Matthew Stafford (343 passing yards, four touchdowns) to former Buc DeSean Jackson at the outset of the second half, and an easy 2-yard touchdown pass from Stafford to isolated receiver Cooper Kupp. "It's just us. It's us," inside linebacker Lavonte David said. "I feel like they didn't do nothing crazy. It's just a lot of the errors that happened were on our part."

At least two prominent injuries also occurred on offense, where the team clearly is positioned to better absorb them. Tight end Rob Gronkowski, off to a sizzling start this season at age 32, exited after taking a hard shot to the right side of his rib cage from linebacker Terrell Lewis in the third quarter but returned.

Arians said X-rays on Gronkowski (four catches, 55 yards) were negative, though he's almost certain to be hampered by soreness as he prepares for his de facto New England homecoming. Additionally, Bernard (nine catches, 51 yards) took a shot to the knee - and flipped into the end zone - on a 7-yard touchdown catch with 1:14 to play.

"Looks like he's fine. We'll see," Arians said. "(The knee) might swell on the plane, but that's the worst thing about these type of things. Six hours, whatever, five hours on the plane, it might swell a little bit more than normal."

Just like the general concerns about the Bucs' defense. On an afternoon when fans essentially called for an APB on the pass rush, three other alarming initials surfaced. MRI. "I mean, we can't control guys getting hurt," David said. "So we've just got to have a next-guy-up mentality."

Joey Knight, The Tampa Times, published 27 September 2021