If this is Mike Evans' finale as a Buc, it gets grander by the week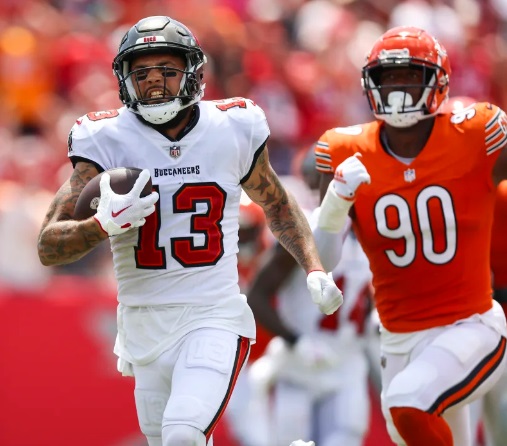 For the better part of 60 sweltering minutes Sunday, Mike Evans barely resembled a guy whose tenure in Tampa Bay might be on fumes. Well, except for one play, when the greatest receiver in franchise lore simply ran out of gas.

Early in the second quarter, the Bucs' 10th-year receiver, lined up in the left slot, dashed downfield on an apparent curl route, created some space between himself and a Bears defender (with a modest nudge), snagged a Baker Mayfield throw at midfield and sprinted madly across the turf before being shoved out of bounds at the Chicago 7-yard line.

The play spanned 70 yards, the second-longest of his career. Evans' 30-year-old legs couldn't quite get it to 77. "It was a hot one, man" said Evans, whose team took the field in a feels-like temperature of 103 degrees. "It was a hot one. I thought I could get there. I was trying to pick my knees up and get there, but I couldn't get there."

If this truly is Evans' benediction as a Buccaneer, he's evidently bent on making it a last hurrah. Or a collection of them. Consider the hurrahs he elicited from the Raymond James Stadium audience of 62,976 during Sunday's 27-17 victory. Evans, evidently ready to become a free agent at season's end, had six catches (on eight targets) for 171 yards, the eighth-highest receiving yardage output of his career.

He also snagged a 32-yard Mayfield spiral between two converging defenders in the front left corner of the end zone for a third-quarter touchdown. Interspersed between those splashes: a leaping grab of a Mayfield throw in space, then a spin move to avoid a tackle for a 36-yard pickup.

"Mike's a stud" Mayfield said. "He's been doing this for a long time. I love him. You saw a couple of contested catches there, and just plays after the catch as well. He's a stud. He's the best go-ball runner versus off-coverage in the league. That's where that touchdown was, off-corner. He just closes that space so quickly and accelerates."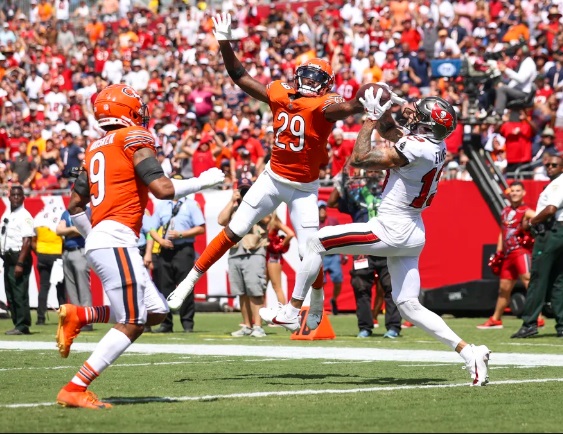 Partially obscured amid the well-chronicled preseason story line of the Bucs not completing a contract extension with Evans was the fact that new coordinator Dave Canales' offense provided a new life of sorts for the four-time Pro Bowler. Those who have typecast him as simply a vertical downfield threat have seen his concepts and route tree diversify so far in 2023.

On Sunday, Evans acknowledged the new playbook has rejuvenated him. "I guess you could say that" he said. "I'm running some choice routes now, trying to watch a lot of Cooper Kupp film. I've done that in the past, but I do it a little bit more now."

The result: 12 catches for 237 yards and two TDs in as many games. Yardage-wise, it's the best two-game start of his career. Talk about going out with a flourish instead of a fuss.

"He's been doing it his whole career" coach Todd Bowles said. "He's fresh, he's healthy, he's in a great place. He competes his butt off every day in practice; it just showed in the game. He prepared well, and Mike was doing things that Mike does, and we love him."

Justin Knight, The Tampa Bay Times, published 18 September 2023