Tom Brady throws five touchdowns, remains unbeaten vs. Falcons
The numbers being produced by Tom Brady and the Bucs are wearing out the people paid to crunch them. The 44-year-old quarterback threw five more touchdown passes in Sunday's 48-25 win over the Atlanta Falcons at Raymond James Stadium. That gives him nine in the first two games to start the season, a personal best and club record.

In scoring 30 or more points for the ninth straight game, including playoffs, the Bucs broke the old mark of eight which was accomplished twice by - you guessed it - Brady and the Patriots.

But here is the best news for the Bucs' offense. One day, they will snap out of their funk. They will quit messing around and leaving so many points off the scoreboard. And after Brady beat the Falcons to go 9-0 against them in his career, you were left to imagine just what the Bucs will do when they get, you know, good!

"What I think, and I'm sure guys feel the same way, is I think we can do better," Brady said. "I really do. And I think we have the opportunity. We're a little loose with the ball. Some penalties at different times that have knocked us out of scoring drives. Some missed throws that I've had. Some missed reads. Certainly wish I had made a few better throws tonight."

This might sound like Brady is picking nits, but he's not wrong. The Bucs built a 28-10 lead over the Falcons Sunday and watched it shrink to a field goal until just over nine minutes remained in the fourth quarter. That's when Brady connected with Chris Godwin on a 12-yard touchdown pass. But it was safety Mike Edwards who put the game away by returning interceptions of Falcons quarterback Matt Ryan 31 and 15 yards for scores later in the quarter.

Maybe it was the heat, the humidity or just boredom, but Brady and the Bucs offense went through some long lulls Sunday. They did very little with the football from 12:22 left in the first quarter, when Brady hit Rob Gronkowski on a 20-yard touchdown pass, until 14:07 remaining in the second. A similar lull came from 12:43 in the third quarter, when Brady connected with Mike Evans for a TD, until 9:18 in the fourth, when he found Godwin in the end zone.

Two plays before Brady lost a fumble when he was sacked by Dante Fowler in the first quarter, he missed on a deep throw to Evans, who had two steps on cornerback A.J. Terrell. The Bucs were only 4 of 12 on third down and one of two on fourth. The Falcons had more yards (348-341) and time of possession (33:31 to 26:29).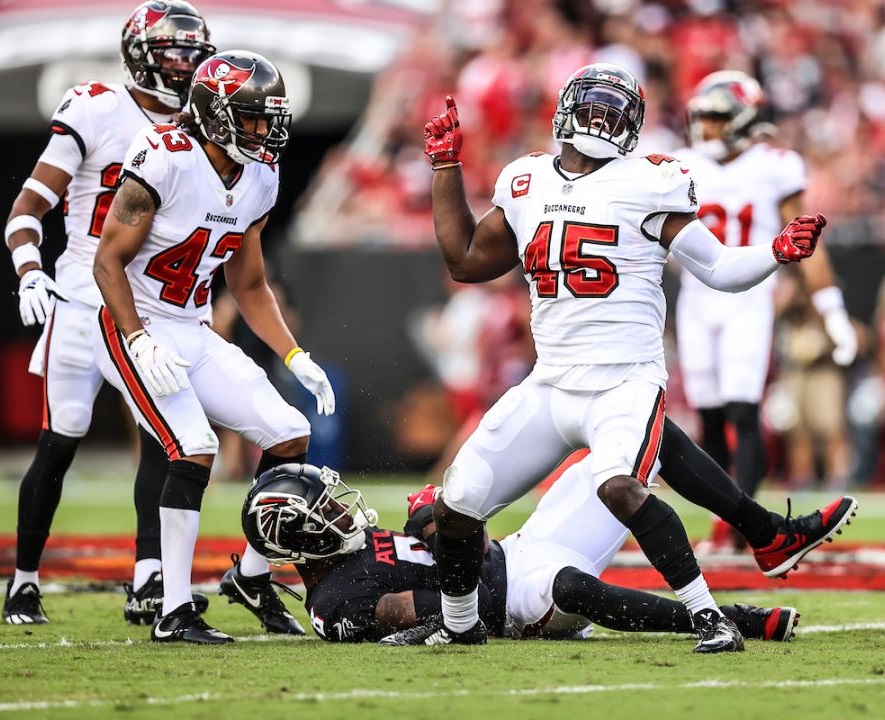 "We know we're leaving some (points) out there, but it's good to take advantage when we're doing it," Brady said. "We're getting good opportunities and we're scoring points, and we've got to just keep building. We're off to a decent start, and we know we can play even better football than we're playing."

Makes you wonder what the Bucs offense would look like if it wasn't all iceberg tips through two games. Let's admit this all sounds rather silly. If you know anything about Bucs football, fans are used to cheering only when the defense takes the field. The biggest stars in franchise history - its only Hall of Famers - are Warren Sapp, Derrick Brooks, John Lynch and Tony Dungy. None of them were paid to throw, run or catch the football. In fact, at halftime on Sunday, the Bucs inducted longtime defensive coordinator Monte Kiffin into the team's Ring of Honor.

But Brady is changing all of that. Gronkowski caught two more TDs to give him four on the year. Evans, who had only three catches for 24 yards in the 31-29 win over Dallas, was targeted nine times Sunday and caught 5 for 75 yards and two TDs. The Bucs are 2-0, and we have had only cameos from players such as Ronald Jones, Scotty Miller, O.J. Howard, Cameron Brate and Tyler Johnson.

"I think he has a great grasp of it," coach Bruce Arians said of Brady and the Bucs' offense. "That's obvious. The way teams are trying to play us. He sees it early, and they usually don't break their pattern. Even when the game got tight, they were still the same. And guys made plays. We jump out, and we feel good we got them, and we relax for 10 or 15 minutes. Then we turn it back up, then we relax again. We haven't played for 60 minutes yet. That's what we talked about."

The Bucs will need to do that next Sunday against the Rams in Los Angeles. The Rams have taken the Bucs' template, kicking their first-round QB overboard and hiring a veteran gunslinger in Matthew Stafford. They had the best defense in the NFL a year ago.

"The most important thing for me is we've got two wins," Brady sad. "I know I can play better. I could make some better throws. I had more opportunities to make some better throws, and I missed (Antonio Brown) a few times. Had some other reads I should've done a better job on. ... It's a long season. It's a marathon for all of us."

Especially for the statisticians.

Rick Stroud, The Tampa Times, published 20 September 2021