Physical Bucs maul Cowboys in season opener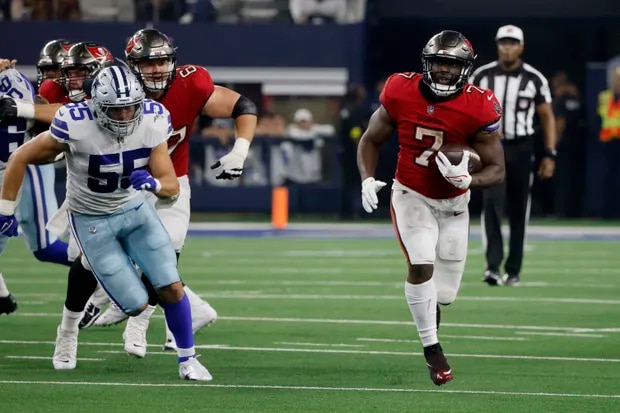 Tom Brady may not be ready for the rocking chair, but he could play from one. That's how committed the Bucs are to protecting their 45-year-old quarterback. He is going to hand the football to Leonard Fournette, who powered through the Cowboys for 127 yards on 21 carries Sunday night.

He is going to rely on the Bucs' deep defense, which allowed only a field goal on the first possession of the game before turning Dak Prescott into a below-average quarterback.

And when called upon, he is going deliver passes to Mike Evans and Julio Jones, who made acrobatic catches. He has a defensive-minded head coach who isn't concerned with needing to change light bulbs in the scoreboard. Brady has exactly the team he needs and the plan he wants. That was the takeaway from the Bucs' 19-3 win over the Cowboys.

If you want to know the difference in a Todd Bowles-coached team, you could make an easy argument that he is more committed to the run. Sure, offensive coordinator Byron Leftwich is still calling the plays, but there was a decidedly more conservative approach to getting the ground game going.

"We were trying to take what they gave us," Bowles said. "They gave us some things up front. Lenny did a heck of a job running hard, physical and finding a hole. I thought the offensive line did a great job of blocking. It was a total team effort tonight."

The Bucs began the game with new players at center and both guard positions. Then they lost Donovan Smith to an elbow injury, leaving only tackle Tristan Wirfs from last year's unit. But Fournette kept the heat off Brady and the chains moving. His 127 yards were his most as a Buc.

"They call the play, you got to make it happen," Fournette said. "They call your number and that's what it is. My job is to put us in the best position to win games. The defense came out, made plenty of stops when we needed to get the ball back. But you have to finish. We don't want to settle for three, we need six."


The Bucs drove the ball to the 26-, 20-, 18-, 11- and 29-yard line of the Cowboys to start the game. They came away with five field-goal attempts by Ryan Succop, who made four to give his team a 12-3 halftime lead. More glaring, Brady never attempted one pass into the end zone during that stretch. He finished 18-of-27 for 212 yards, a TD and one interception.

"The run game, defense will win you a lot of games in the NFL so I'm very happy," Brady said. "I was very happy to see the line played the way they played. The backs played great. Receivers made a lot of great plays. We just didn't finish in the red area. I threw a bad interception. A lot of room for improvement so we'll just get back to work."

Maybe the run-heavy plan was an attempt to keep Cowboys linebacker Micah Parsons from wrecking the game. He had two sacks in the first half. The Bucs defense dominated. After the Cowboys controlled the football for 14 plays to start the game, a drive capped by Brett Maher's 51-yard field goal, they didn't give the Dallas receivers much room to operate.

Prescott finished the first half 6 of 16 passing for 53 yards with an interception by Antoine Winfield Jr. Receiver CeeDee Lamb was held to two catches on 11 targets for 29 yards. Devin White had two of the Bucs' four sacks.

When Brady did throw, he was effective. The Bucs designed the first play to be a screen pass to Chris Godwin, who took it for 24 yards. He later left the game with a hamstring injury. Jones' reached 20 mph on his 48-yard catch. Evans made a one-handed grab for a touchdown.

"He made a huge catch on the go route and had some balls that were in his hands," Brady said of Jones. "He's hard to get down when you get him in space. He caught a curl route which was good. I missed the one on a slant early. It was a bad throw. But we'll just keep growing and getting better. I love playing with a guy like Julio."

There will be time for Brady to let it fly. But for now, running it is fine.

Rick Stroud, The Tampa Bay Times, published 12 September 2022