It's not pretty, but Bucs edge Cowboys on last-second field goal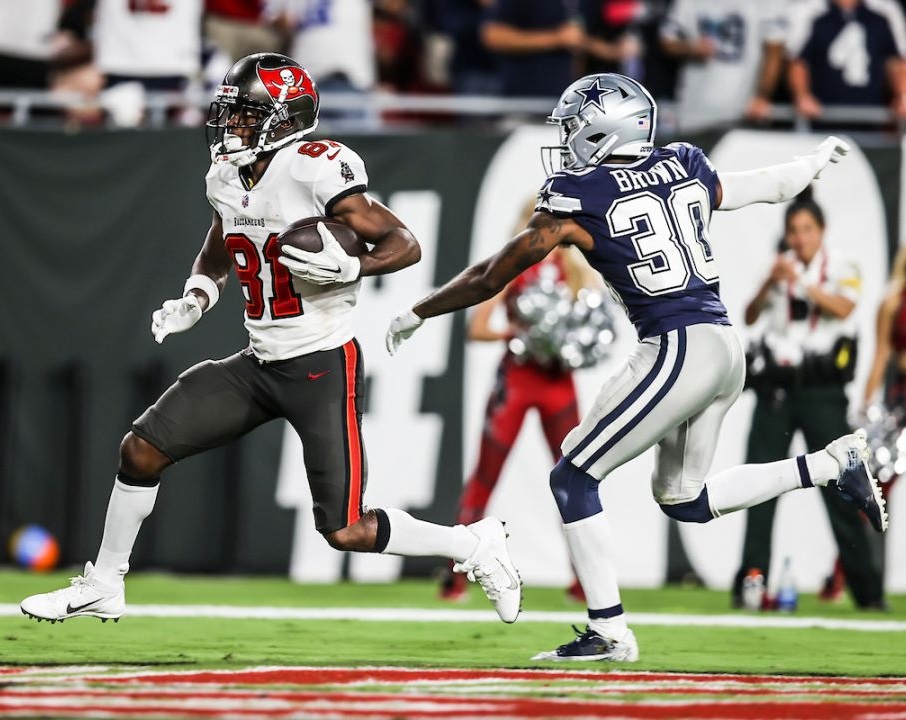 Repeating as Super Bowl champs is hard to do. So as a reminder, the Bucs rolled out both of the franchise's Lombardi trophies during a lavish pregame celebration. There were speeches and pyrotechnics. By the time the smoke cleared in Thursday's season opener against the Dallas Cowboys, a little shine may have been taken off the Bucs, if not their precious prizes.

Looking to put the game away and clinging to a two-point lead, Bucs receiver Chris Godwin fumbled the ball at the Dallas 2-yard line after catching a pass from Tom Brady. It was forced and recovered by Cowboys safety Damontae Kazee with 4:52 remaining in the game. It was the fourth turnover of the the game for the Bucs and led to Greg Zuerlein's 48-yard field goal with 1:24 remaining and a 29-28 lead for the Cowboys.

But Godwin had redemption. His 24-yard reception from Brady set up Ryan Succop's 36-yard field goal with two seconds remaining in the Bucs' 31-29 win in front of 65,566 at Raymond James Stadium. "He's going to fight for every inch," Bucs coach Bruce Arians said of Godwin. "He got a good lick on him. But he's going to bounce right back and make that big play."

The game was a remarkable comeback story for Cowboys quarterback Dak Prescott, who was coming off a horrific ankle injury from Week 5 last season and passed for 403 yards and three touchdowns. But after Zuerlein's field goal, the Bucs and Brady got the ball back with 1:24 remaining, enough time to write a happy ending.

The Bucs also were able to recreate some eerily similar highlights to their last championship. There was Brady throwing two touchdowns to tight end Rob Gronkowski, an end-zone connection that has happened 100 times in their careers. Gronkowski had eight catches for 90 yards and the two tuddies, just as he did in Super Bowl 55.

When the Bucs got the ball back needing a field goal to win, Brady looked for his former Patriots teammate. Gronkowki caught one pass for six yards, then another in the seam for 20, breaking tackles along the way.


"He's had a great camp," Brady said of Gronkowski. "I knew he was going to have a great game (Thursday). I obviously went to him on the two-minute drive. He had a huge catch and run. He's a great player. Just a great attitude. A great teammate. I think everybody just loves that guy. Watching him, being with him. Just happy that he's loving what he's doing and contributing."

The Bucs' defense wasn't good, allowing 451 yards and creating a nine-minute time of possession advantage for the Cowboys. But they created a turnover that may have saved the game, if not their status as the best team in the NFL. Cornerback Carlton Davis intercepted a third-quarter pass from Prescott to set up Brady's second touchdown pass to Gronkowski.

By the end of the game, the stars were similar to the heroes of the Super Bowl. Brady threw four touchdown passes, including a 47-yarder to 33-year-old Antonio Brown, who had 118 yards receiving. Godwin had nine receptions for 105 and a touchdown.

"We beat a good football team," Brady said. "They have a really good offense. They have a very sound defense. We obviously have a lot to clean up. Last year sucked after the first game. I've come a long way from 365 days ago. That was a pretty lonely feeling after the game in the Superdome. Again, we won, it's great, but we know it was far from perfect."

However, Brady knows a thing or two about perfect endings. The game marked the 40th fourth-quarter comeback of his career. And while repeating may be hard to do, they did conjure up some memories of Super Bowl 55. Two TD passes for Gronk, including one that was ad-libbed. Another to Brown.

"Our guys are winners," Arians said. "They're going to finish. They're going to win. But we can play better and not put ourselves in that situation. Obviously, the turnovers. Penalties. Things we can improve on. But our guys fought and won the game."

Succop sent the sellout crowd home happy with his game-winning field goal. No confetti fell, but there was more celebration. "Getting to do that in front of our fans on opening night was really special stuff," Succop said.

Rick Stroud, The Tampa Times, published 10 September 2021