Gaps still apparent in the Bucs' Roster
With the vastly over inflated squad size at present before the first roster cuts are due in late August this may be a hard topic to draw definite conclusions on, but I've been looking at the Bucs' requirements during last season, this off-season and whether the roster has been bolstered where it needed to be or whether we're no closer then we were when the Raiders came in and assaulted us at Ray Jay on 28th December last year.

The obvious problem areas for the Bucs last season were a lack of quality at wide receiver, the absence of any pass rush and a franchise quarterback to build the future of this great franchise around. There are some who say a lack of depth at linebacker or corner were issues but I believe from Buccaneers fans that I speak to on a regular basis that the three areas I've mentioned were big reasons for worry for all Bucs fans.

So how have the new breed of management at One Buc Place done in addressing these areas?

Wide Receiver
Last season Joey Galloway went to go to guy to bench warmer, Maurice Stovall and Dexter Jackson failed to set the world alight with their raw potential and Michael Clayton spent yet another year trying to return to his rookie form. There was however one man that took us all by surprise.

When NFL bad-boy Antonio Bryant signed for the Bucs last off season no one really knew what we would be getting. Months later he had put up record numbers and single handily carried the offence throughout the season. With TJ Houshmandzadeh and other free agent wide receivers very much available to Tampa, along with potential trades to be done for the likes of Braylon Edwards and Anquin Boldin the outlook was promising for the Bucs in terms of bolstering this problem position. Did the Bucs sign any of these players? No.

Instead choosing to throw ludicrous sums of money the way of Michael Clayton, luckily Clayton is confident that he is going to recreate his rookie form. Unfortuantely only Michael has this opinion.

In the draft the Bucs took just one receiver and he was a sleeper in the 7th round. Sammie Stroughter has had some personal issues in the past and has shown great strength to come through all these things and make it to the NFL. At 5'9" and 185lbs though Stroughter is hardly the second coming of Randy Moss but early signs in non-contact drills is that he has a shot at making the roster. For a 7th pick just making the 53 man roster is an achievement. I think Sammie could well do that but whether he will ever take the field in Pewter and red would have to still be in doubt.

So no free agents in, no real help through the draft and no trades. In addition to this Antonio Bryant is only signed up for this season under the franchise tag and is said to not be over the moon about the lack of a contract extension like that given to new Tight End recruit Kellen "K2" Winslow. All in all the Bucs have done little to address their major lack of depth at wideout and will surely come to regret this at some stage during the '09 season.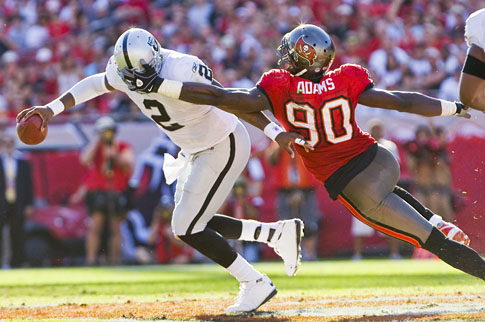 Pass Rush
Much like receiver there were free agents available to the Bucs to help bolster the defensive line. Most noticably Albert Haynesworth. I for one was glad that the Bucs did not put $100m into a player who so far in his career has only player marquee football when trying to get himself a fatter contract. However by not getting Haynesworth and letting Jovan Haye leave town the Bucs left themselves in a worse position than in the '08 season. With only Chris Hovan left on the roster with any real game time experience at Defensive Tackle the Bucs would surely address this in the form of drafting a high quality D-lineman in the first round, or so the mock drafts would have you believe...

As we all now and I will come to later the Bucs chose Josh Freeman in the first round and so missed out on a top quality college defensive lineman in the draft too. What they did do however was to pick up was Roy Miller. The former Longhorn gives the Bucs a big, physical interior defender. With the size to play the nose tackle or as part of a front four. At 310lbs Roy will take some shifting and will surely help with their stopping the run, a massive problem for the Bucs in the final throws of the Monte Kiffin era.

Tampa Bay are also hoping for big things from 2008 draftee Dre Moore. Moore suffered from some attitude problems last year and in addition some problems with his physical conditioning. Word from OTAs so far is that Moore is looking to step up in '09 and help the Bucs pass rush a lot.

With the addition of Miller and hopeful emergence of Moore, both with veteran Hovan, gives the Bucs options at D-tackle but still seems lacking in star power. The days of Warren Sapp just seem a distant memory at present and hoping that rookies or virtual rookies can be our salvation seem more hope than expectation.

Franchise QB
So it's not Jeff Garcia then? Or Bruce Gradkowski? Or even Luke McCown. This seems to be the message sent by drafting Josh Freeman in round one of this year's draft. So many people have spent time under centre for the Bucs in recent years it felt like we were just trying every key until one fitted.

As I said in my last article Freeman offers tremendous potential, physical attributes and, at least at college level, great leadership. Hopefully this is the one area that the Bucs addressed in the off season that has a tick in the box. Not that we'll know for a while yet. Anytime a franchise takes a "Franchise QB" there wil be doubts but hopefully this boy/man can prove to be the one for the Buccaneers.

Overall in the off season I like the trades for Derrick Ward and Kellen Winslow. I like the efforts to take us in a new, younger direction with the release of the veterans. What I think is clear though is that we did not address our two most pressing issues of quality receivers to play with Bryant and improving our pass rush. I keep hearing that 2009 is going to be rebuilding year for Tampa Bay but without improving these two key areas then I don't see the franchise moving forward in the direction we all hope it will.