Rollercoaster season continues
Just when you think you've turned the corner you realise you're on a roundabout. After last week's blowout win over the Chiefs, I like a lot of Bucs fans, thought we had turned a corner and that with a newly earned level of confidence could push on to beat the struggling Saints at Raymond James on Sunday. Sadly this wasn't the case.

The Buccaneers came out the traps on fire jumping out to a 14-0 lead and then a 21-7 lead only to be dragged back by Drew Brees and his passing machine of an offense. My beloved Bristol City managed an equally stunning effort on Saturday going 2-0 up early on only to lose 3-2. It wasn't a good weekend for sport in my house.

Finally Tampa Bay seem to be hitting their straps on offense with Doug Martin running hard and Josh Freeman looking more like the 2010 model than the scattergun 2011. It is so nice to see Josh moving around in the backfield using his undoubted talent on the move to make plays down the field.

If only the last time he did this had stood. On that subject like it, or like it not, it was the right call on Mike Williams. In Mike Williams' own words, "He gave me a little push. I have to be strong enough to stay in-bounds".

Vincent Jackson and the aforementioned Williams have been nothing short of outstanding the last few weeks with Jackson setting both all time Buccaneer game record for receiving yards and the single play record in Sunday's game. Teams are scared of him, they double cover him and then he goes 95 yards...just a shame he didn't have the extra one yard in his legs as that would quite possibly have won the game.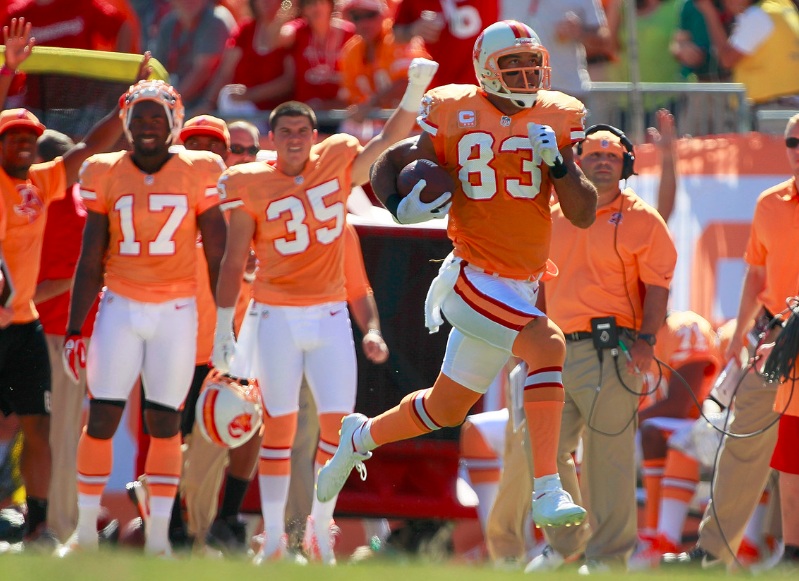 The Buccaneers' big problem again Sunday was the same problem that they had against Eli Manning earlier in the season. If we don't get any pressure on the quarterback then we get torched up and down the field with deep passes. The Buccaneers front have done a nice job against the run all season but against the pass when those front four guys don't get a push the Bucs are woeful.

When the Buccaneers' defensive line don't get to the QB instead of reassessing the game plan they seem to get more and more defenders to the blitz packages and leave matchups against top receivers all over the field. You just can't do that with people the calibre of Drew Brees.

I said last week that people will struggle to deal with the Buccaneer offense in terms of whether you try to stop the run or stop the pass. That again came true this week as the one-two punch put up big points but with a defense that is giving up 400+ yards of passing to top QBs you're never going to win games.

The comparisons to Bristol City at present are staggering. Both added some great players in the off season, both score for fun and both can barely defend for toffee. At first it was exciting to watch my two teams go punch for punch and have these close games but now its a tough time to be a Tampa Bay Buccaneer - Bristol City fan.