The Year The Bucs Folded Faster Than Superman On Laundry Day
So another losing is in the book for the Tampa Bay Buccaneers, this one however was especially hard to watch. After a red hot 4-2 start there was talk of play offs, division titles and even some Super Bowl talk (everyone gets a bit excited sometimes).

Then, well, the talk stopped. The Buccaneers went off the rails faster than Amy Winehouse after some bad news. No offense, no defense and even our usually solid special teams went out of commission. Raheem Morris went from fan favourite to public enemy number one.


It wasn't just an overall drop off, it was key individuals too. Gerald "Made of Lego" McCoy ended up on IR...again. This has to be a real worry for the top dogs at One Buc Place.

People will say "He's just been unlucky", "These type of injuries can happen to anyone" etc etc but the fact of the matter is it appears at least that McCoy is injury prone and his body may not be up to a full rough and tumble NFL season.

Arguments can be made, and arguments have been had, that McCoy is young and that means he's still developing as an athlete but seeing your number one defender and top draft pick from last year sat on the slide lines for a big chunk of the season for the second year running has to be a concern.

I hope McCoy plays every down of next season and racks up big numbers but sadly I can't see him being on the field long enough to have a breakout season.

Remember Mike Williams? No nor me. The Buccaneers wideout with attitude who led all rookies in just about any catagory you wish to choose in 2010 dropped off the edge of the planet in 2011. The biggest problem for Williams is that he couldn't get open in the middle of the sahara desert being covered by Stevie Wonder.

Unless you are freakish like Calvin Johnson and traffic is not an issue when catching the ball then all receviers need to create seperation from the coverage. Mike Williams looked more like he was swapping baseball cards with the cornerbacks of the NFL then trying to get away from them they were that close.

This does seem dangerously familiar though. Michael "Stone Hands" Clayton had a massive rookie year and then never got back to that level, but (like Williams this season) kept making statements about need to improve, need to be better and I feel I'm back to my best. How'd that work out for you Michael?

Oh...two catches since finally being booted out of Tampa...have you called the Arena League? I think Mike Williams has more of an upside that Clayton but without being a big receiver, or dangerously fast he needs to be what Wes Welker is for the Patriots (feel dirty just writing that word) and that is elusive. Welker runs great routes, gets open and makes intelligent plays. 2012 is a big year for Mr Williams.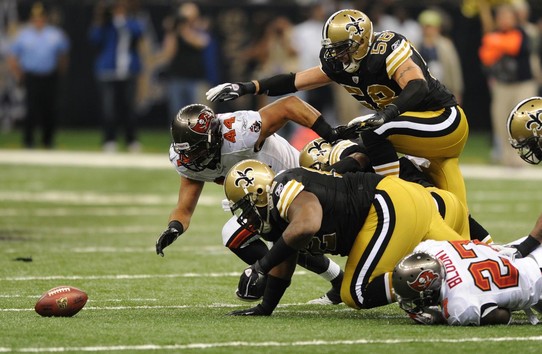 Next up on our cavalcade of mediocrity is LeGarrette Blount, or "Whoopsie Daisy" as he's known in my house. Blount was an absolute monster during 2010 rushing for over a thousand yards as an unkown practice squad pick up. He vaulted defenders like Colin Jackson vaulted high hurdles and ran through people like something out of a Marvel comic book.

Then in 2011 he started to fumble...a lot. Blount hadn't been used in short yardage situations for much of 2010 because of a perceived fumbling issue, which I thought was a tad harsh, but I was proved wrong as Blount continued to put the ball on the ground in 2011. He still ran hard and he still racked up yardage but he was under used for much of the season.

Partly due to the hopeless game planning and play calling of Olsen and Morris and partly of his own making. I still believe, unlike many, that Blount can be a feature back in the NFL but he will have to eliminate the fumbles from his game and have a coordinator who is not keen to abandon the run after four plays each game.

There is no doubt Blount needs help as Kregg Lumpkin is as bad a NFL back as I've seen...comeback Cadillac all is forgiven! And finally...probably the single biggest change from 2010 to 2011 was the performance of Josh Freeman. The Buccaneers' franchise quarterback leader of men and defender of mankind had a bad year.

Whatever the reason, some say playcalling, some say Freeman's not as good as everyone thought and some say the players around him let him down, Freeman did not perform to a good standard this season. Too many times Freeman was found forcing the ball to receivers who were just not open. Josh started staring down receviers, in particular 3rd down go to man (and thats every 3rd down) Kellen Winslow.


In the redzone #5's decision making was poor again. The mobile element to Freeman's game all but left him this season, people say this is Olsen trying to make him a pocket passer but in my opinion that is just scapegoating Olsen as he already has lots to answer for.

Freeman makes those split second decisions on the field not Olsen. Whether to pass to X, Y or probably Winslow. Whether to run for that 1st down and when to throw it away. Those things aren't in the playbook. Josh's decision making was poor and this caused him a lot of turnovers and mistakes. Fans are right to question him like they question everyone else. Is he the real deal?

I'm honestly not sure at the moment. He has a tremendous upside but his mental workings worry me. I think Freeman needs an Offensive playbook written specifically with his skillset in mind and then you might just see Freeman at his best again.

Well its been emotional, we've laughed, we've cried, we've listened to Paul Stewart's endless 80s music references but its a long off season people so get your fill of football while you can. 2011 has been a tough year in a lot of ways for many of us but one thing I am sure about is 2012 can't throw anything at us that we haven't already survived.