Who should replace Jeff Garcia as Buccaneers' QB?
Its been a tough few months for Jeff Garcia. Before the season he was cast off in favour of Favremania, and then once that didn't happen welcomed back with open arms...well almost.

After weeks of, "Hi Jeff it's Jon I know you've seen me on the TV drooling over Brett but love you buddy!", "Hi Jeff, John again, still not answering huh? Oh well gotta go I'm meeting a flight from Wisconsin" etc etc.

Before the 2007 campaign Garcia joined the Bucs and Jon Gruden had got a man he had wanted for the past five years. That season was a good one for the Bucs, although ending rather abruptly when Eli and the Giants came and invaded the Pirate Ship in the play offs.

Garcia continued his reputation as being a QB that extend a play and found a nice rhythm with Joey Galloway stinging numerous opponents deep for six. The Bucs had found a leader at QB that they had not had for some years, this was a good fit all round.

Then came the Favre situation and all the talk of Garcia being cut if Brett was to wear Pewter and Red. Since this Jeff and Jon Gruden have both freely admitted in recent months that their relationship is no longer the type of love-in that it was last season.

The situation worsened when Garcia was harshly benched after a slightly erratic performance in New Orleans, Brian Griese came in and led the Bucs to a couple of nice wins. These included the throwing arm crippling win over the Bears. Then injury struck Griese down and Jeff was thrown back in. The Bucs had their leader back and went on an impressive run of games, with Garcia scrambling and making plays and throwing very few picks.

As we move into the last three regular season games whether the Bucs go deeper into the play offs, or in them at all, probably lies more on the shoulders of Jeff Garcia than any other player or unit.

At 37 how much longer can the Bucs rely on the quick-dodging, head first-diving, non turnover machine that is Garcia continue? The obvious answer is not long. So who should take the wheel of the Pirate Ship? I've looked at some of the candidates below:-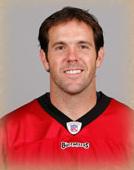 Brian Griese
At 33 this would really be a short term solution, and in my eyes not one that is a viable option for Tampa Bay. Griese was signed to give some veteran backup to Jeff Garcia in the close season and has had some highlight reel moments this year. However the West Coast offense that the Bucs use really benefits from a mobile QB, Griese isn't that and is as much of a pocket passer as you could wish to see. After throwing six picks in four games, twice the number Garcia has thrown all season, and a high turnover QB does not suit the Bucs plan of get ahead and protect a lead.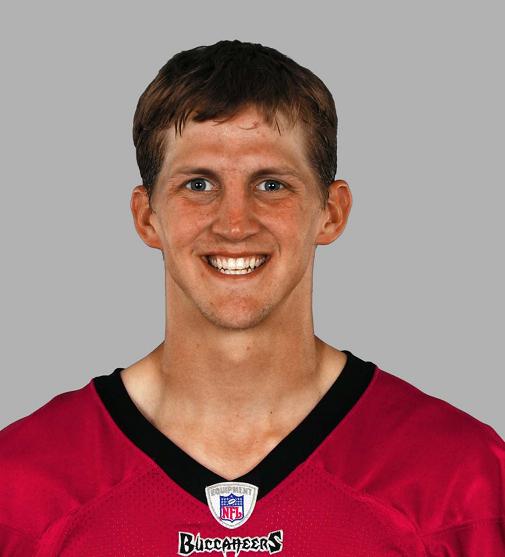 Luke McCown
I think this has some legs in it. Luke is mobile, has good arm strength and looked very good when he replaced Garcia due to injury last season. Working with veterans like Garcia and Griese everyday can only be helping the young man. At 27 McCown is a long term solution and has the big advantage of having been with Tampa Bay for a number of seasons now, just enough time to learn the Mad Professor's offense!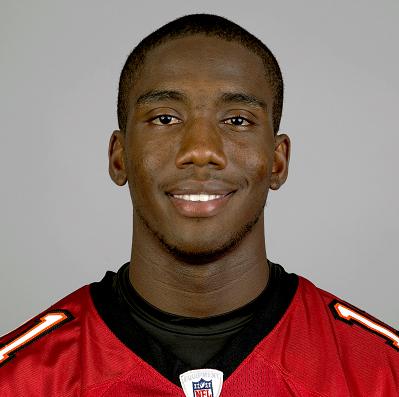 Josh Johnson
The unknown in the list. Has had very few oppurtunities so far in the NFL but to keep four QBs on the roster Gruden must see something in the rookie. In the very fleeting glimpses we had of Johnson pre-season he looked reasonable, but it would be harsh to judge him from that. In college he was good and I'm looking forward to seeing him getting some game time in the 2009 pre-season.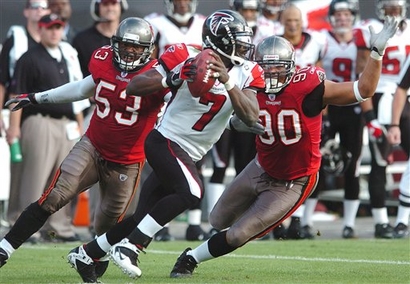 Michael Vick
How's that for a random idea? The NFC South rival, dog wielding, gun slinging enigma is likely to be reinstated to the league in the coming months. Atlanta have made noises that they don't want him back, Gruden works well with "high maintainence" characters with personal issues and there has never been a better running QB in the NFL. The problems with Vick signing with the Bucs are multiple, none more so than the number of turnovers he can cause but I have a feeling that when Michael Vick is on the market Bruce Allen may well be in the queue.

Derek Anderson
Lost his starting job to Brady Quinn, now injured for the season. 2008 has not been a great year for Derek Anderson. Because of this I see the Browns being open to a trade for the Pro Bowler QB from Cleveland. He's got a good arm and can move to make plays happen. At 25, like McCown, he offers a more long term solution. I like Anderson and I think Gruden's conserative play calling would help him as opposed to the go long play calling of the Browns. I think this is a distict possibility in the off season. Who knows maybe Braylon Edwards will fancy a trip to Florida too?

The Draft...
The great unknown. Every year someone is going to come out of the draft and rip apart NFL defences. JaMarcus Russell knows that isn't the case as does Tarvaris Jackson. You have to take your hat off to Matt Ryan at the Falcons as he has had an outstanding rookie season...but this is not the norm. The obvious large shadow looming on the horizin in coming drafts is Tim Tebow.

The Florida native seems likely to not join the NFL in '09, which I for one think is the best thing for him. Hopefully the Bucs will not be getting high first round picks in coming years but I think that Tebow is in the Bucs future. He wants to stay in Florida, he's a running QB and he has got a bullet arm.

My choice, I'll take Jeff to go on through '09 then retire to be replaced by Tim Tebow. I would be interested to see Vick in Tampa but think he carries too much baggage. But who knows maybe Jeff'll still be diving around well into his 40's?