Bucs missing star power
When Raheem Morris' charges finished their 2010 season at 10-6 and narrowly missing the playoffs, we all applauded and were very happy with the drastic improvement the men in Pewter had shown since Rah's debut season.

A lot of this improvement was down to the draft addition of Mike Williams who finally gave the Buccaneers that high calibre wide receiver they had lacked since Antonio Bryant was allowed to leave town to wander aimlessly around the NFL.

In the 2010 draft they also added players who could, and eventually would, start in the NFL in McCoy, Price, Benn, Grimm, Watson and Lorig. Undoubtedly this was a successful draft and that is where I feel things may have taken a turn for the worse in terms of the Bucs short to medium term future.

Because of the success of the 2010 draft the Tampa Bay front office decided that the draft was the way to go in terms of building a championship winning team. It's hard to argue with the logic after their most recent efforts at Radio City but as a famous football manager once said, "You'll win nothing with kids".

How ever good the Dominik-Morris draft day parties have gone you have to look at the bigger picture and acquire the best talent available, especially given the Buccaneers financial situation (being the team furthest under the salary cap in the NFL).

They did the right thing in shipping out some deadwood in 2011 off season, with Barrett Ruud now missing tackles in Tennessee (and hanging off LeGarrette Blount come Sunday!) but they didn't do what was necessary to take the next step that last season deserved.

When you look at the unrestricted free agents who were available you see what the Bucs missed out on it makes for frustrating reading. Nnamdi Asomugha, Johnathan Joseph and/or Antonio Cromartie would all have given the Buccaneers an elite cornerback to play opposite Aqib Talib in what would have been one of the league's most imposing secondary combinations.

When you look at the Buccaneer receiving core there are some really "Youngry" guys there playing well in patches. The likes of Parker, Briscoe, Stroughter and even Benn have made big plays but lack consistancy and a skillset that sets them apart from other young receivers around the league.

The Buccaneers could have acquired Santonio Holmes or Sidney Rice who both would have instantly ungraded Tampa's passing attack ten fold. Even DeAngelo Williams would have given Greg Olsen's offense a great 1-2 punch.

Instead of shopping at Marks & Spencer, they've been shopping at Lidl bringing in players from other team's practice squads. Occasionally you hit gold, like Blount, but more often than not they are not on an active roster for a reason.

The decision to spend the money available on re-signing our own players is admirable but we all know that what made the 2002 team a championship winning team rather than a playoff team was the addition of a few key free agents to supplement what was already in place. To push over the top if you like. In my opinion the 2011 draft class has been a bit of a hit and miss affair.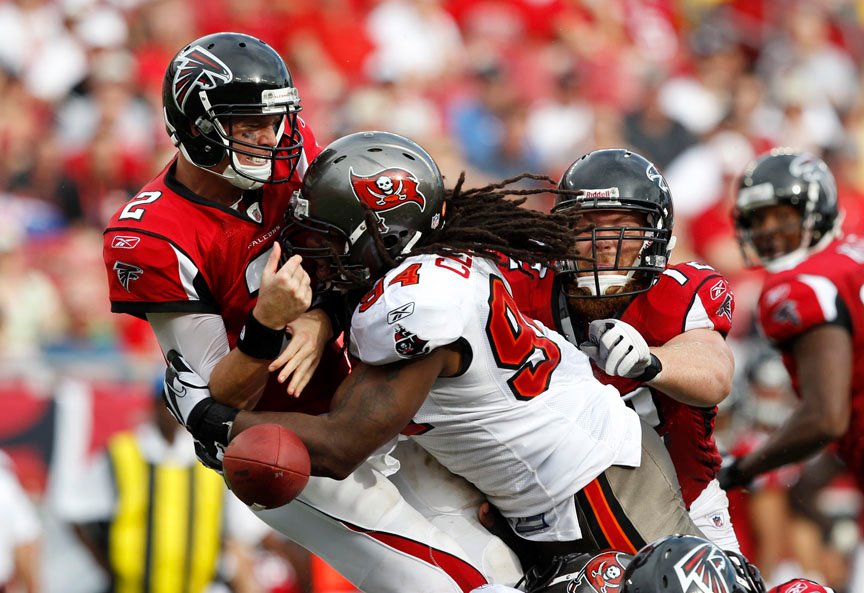 I love Adrian Clayborn's play he is a beast and will only improve. Da'Quan Bowers shows flashes of brilliance but the jury is out and Mason Foster has become the bedrock of the Buccaneers D. Apart from that those drafted are either no longer with the franchise, a weekly inactive or see limited gametime. It just goes to show that however much you scout the Senior Bowl, what college football tapes and do your research the draft is still a crap shoot every year.

I still believe in Raheem Morris, and I like the way Mark Dominik handles the fanchise but if this team isn't going to sit at somewhere between 6-10 and 11-5 for the next few years then proven additions are required.

Looking ahead to Free Agency in 2012 (where rumour has it the Bucs are looking to finally blow the cobwebs off the wallet) the likes of Ray Rice (Ravens), Matt Forte (Bears), Mario Williams (Texans), DeSean Jackson (Eagles) and Dwayne Bowe (Chiefs) are all unrestricted free agents and ripe for the picking.

So let's stop being so nice to play against. Let's stop avoiding dining at the top table of NFL teams and let's start shopping at Harrods!