Any 2009 draft regrets?
Raheem Morris has always said that if the Buccaneers had had the number one draft pick in 2009 then he would have drafted Josh Freeman. Whether or not this is true we will never know but what is true is that the Bucs traded up to number seventeen in the 2009 draft to take "Number 5".

After Josh's performances at the back end of his rookie season in 2009 and his steller showing throughout 2010's outstanding campaign Tampa Bay must be happy with what they ended up taking home from The Radio City Music Hall on that April evening two years ago.

With Freeman going at number seventeen would any of the other sixteen teams who passed on him like to turn back the clock and take the Pewter Pirates Franchise QB for themselves?

At the time this draft took place eight of the sixteen teams who passed on Freeman would have seen an upgrade at the quarterback position had they drafted Josh Freeman. Since then St Louis (Sam Bradford) are the only team to have really enhanced their own situation under centre.

Teams such as Seattle (Aaron Curry), Oakland Raiders (Darrius Heyward-Bey), Buffalo Bills (Aaron Maybin) and San Francisco 49ers (Michael Crabtree) all still have massive issues at quarterback and must surely look down to the "Baby Bucs" revolution in Florida and wish they had taken Freeman.

Obviously two other QBs were taken in the 2009 draft before the Bucs got on the clock to take Freeman. Matthew Stafford went at number one overall, closely followed by Mark Sanchez at number five. Stafford was handed the controls to one of the worst Franchises in the NFL and has helped them to improve...slightly.

Stafford has suffered from repeated shoulder injuries and this has possibly hindered his development. You could only really describe Stafford's play as decent as nothing about it has drawn national acclaim. Sanchez on the other hand was let loose in New York and has led them to the play-offs in both of his two NFL seasons to date.

"The Sanchezise" as he's been called by the media has been hideously inconsistant after an electrifying start and I would put the play-off campaigns more down to THAT Jets Defense and the outstanding run game with the likes of LaDainian Tomlinson and Shonn Greene.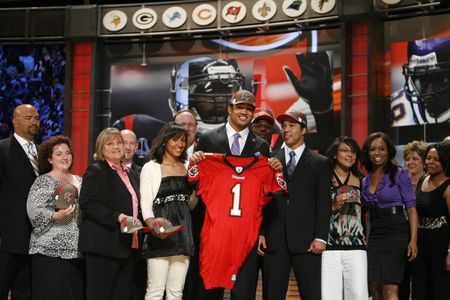 In my opinion when you look at the overall picture of what these three quarterbacks have meant to their respective Franchises I think that Josh Freeman stands above both Stafford and Sanchez as the best QB to come out of the 2009 draft class. Freeman has been put in a similar situation to Stafford, with one of the worst Franchises in the league.

The difference has been staggering in that the Lions were lucky to end up at 6-10 while Freeman led the Buccaneer's race to ten and an unlikely play-off push. Sanchez has been gifted a quality D and a great run game and has still only managed to achieve something near what Freeman has with the Bucs.

So of those teams who didn't take Freeman before Mark Dominik and Raheem Morris pulled the trigger did they pick up a superstar? Would you swap "5" for any of those players? The honest answer is...no. Not for a moment. Not on Josh's worst day. Of those taken only Brian Cushing at Houston, BJ Raji in Green Bay and Malcolm Jenkins with the Saints would even be of any interest.

Although I am not a massive watcher of College Football this draft looks to be one full off exciting college talent that have not made the transition to the pro game. If I were to throw names out like Knowshon Moreno (Denver) then you see that a high number of this draft's have already been consigned to the "Who?" column of many NFL rosters.

The likes of Michael Crabtree have failed to set the World alight, even after holding out for half a season!, and just looking through this draft list makes you truly thankful that Tampa Bay have Josh Freeman.

Overall you've got to applaud the front office at One Buc Place for their foresight and research that led them to take Freeman. When you consider that in addition to Freeman the Buccaneers also added Roy Miller, EJ Biggers and Sammie Stroughter and the 2010 draft added Benn, Williams and McCoy, amongst others, then you can see that Dominik and Morris are excellent when it comes to the draft day war room.

It won't be long now before all eyes turn back to Radio City Music Hall to see who is next on the Buccaneers draft train of success.