Top of the class?
Another late night. Another game we could, and probably should have won. Another defeat. It is sad that the Buccaneers unlikely play off run came to an end on Sunday in the creamsicle uniforms when the Falcons barely scrapped by our plucky young Bucs.

A young Bucs team with multiple starters missing, for various reasons, T.Jackson, C.Grimm, A.Talib, D.Joseph, J.Trueblood, J.Faine all had started for the Bucs last season and would have done this season but even without them we came close.

They had some help from the refs, and some help from dumb penalties by the Buccaneers' defense but one thing stood out above all others for me. Our offense is going to be dangerous for many years to come.

So much young talent in one unit and so much depth across that unit. The O-Line have made some changes, and like all other aspects of the Bucs got younger and better this season. They are making holes for "The Blount Object" (copyright A.Howells) and Cadillac too has had some nice runs in recent weeks.


The play of Raheem's "Nasty side of the line" has been good and even without starters Joseph and Trueblood they have continued to perform at a high level. Having watched our star Offensive rookies make big plays against the NFL-best Falcons last night I got to thinking about end of season recognition for them.

I believe the Buccaneers will see a return to previous years in having multiple Pro-Bowl selections this season. I think there are cases for Freeman, Blount, Williams, Winslow, Talib and Barber to all go along with Donald Penn to the Pro-Bowl. But what about the big awards?

The Bucs won't be finding a place on the mantelpiece for the Vince Lombardi this year, or for the league MVP award but I do think One Buc Place may have to make room for the NFL Offensive Rookie of the Year trophy. The Bucs have two contenders who lead the league in their respective positions and if the Bucs end the season strongly with wins over Detroit and Washington, and possibly Seattle too then it would be hard to find a reason NOT to give one of these two the award.


Mike Williams
The Bucs 4th round pick in this year's draft, and probably the steal of the 2010 draft. Slipped down the draft boards of most teams, because of attitude problems in college. Credit must go to Dominik and Morris for picking him and the coaching staff for making him the most productive rookie receiver in football.

At 6'1" and 212lbs Williams is not the biggest receiver in the NFL by a long shot but the Bucs continually used him in jump ball situations and he hasn't let them down. Williams has 50 receptions for 706 yards and 7 TDs to date, his closest competition are some way behind.

Dez Bryant of Dallas Cowboys has 45 catches for just 561 yards and 6 TDs while Bengals TE Jermaine Grisham has 47 catches for 409 yards and only 3 TDs. Not just Williams' stats but his performances and making game changing plays stand him in good stead for the award.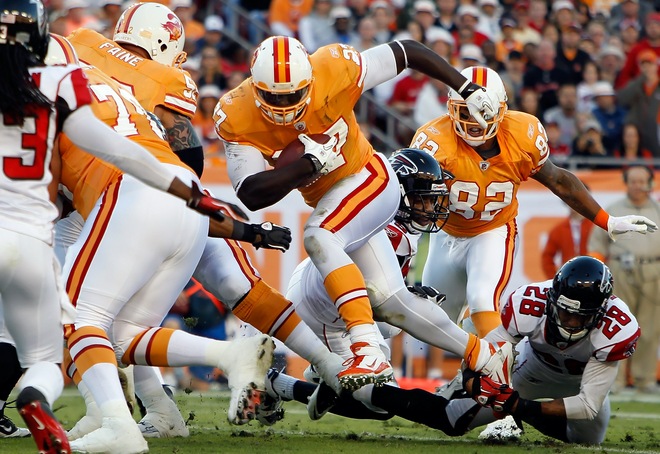 LeGarrette Blount
By now we all know the stories of Blount, I went over them in a recent article and like Williams he came in with a touch of the bad boy about him. But once again credit to all involved to finding this diamond in the rough and making him the NFL's top rookie rusher through week 13.

Blount is averaging an impressive 4.5 yards per carry for the Bucs and has amassed 599 rushing yards and 5 TDs in his brief stint with the team. Add to that the spark that Blount's presence in the backfield has given the Buccaneers as a whole and you cannot underestimate his contribution to the cause.

Like Williams, Blount's stats stack up well against other rookies with Saint Chris Ivory his closest opposition with almost identical statistics as #27. The early front runner in this field was Detroit's Javed Best but his season has slowed after a red hot start with the much improved Lions.

Overall I think both Williams and Blount should be in serious contention and in my eyes, biast as they may be, Mike Williams should take the award. Realistically the Bucs aren't primetime. The Bucs aren't a Championship winning team and the Bucs aren't Dallas.

I thoroughly expect the NFL to give the award to either Chris Ivory as his Saints are playoff, and maybe even Super Bowl bound or Dez Bryant as his rookie career has gained a much higher profile simply because of its location. Come on NFL make the right decision and give one of these two young Bucs the reward they deserve.

Bring on the Redskins!