Is it time to park the Cadillac?
For years Carnell "Cadillac" Williams has been my favourite Buccaneers player. He has shown himself to be nothing short of Super Human by coming back from two knee injuries that would have ended a lesser man's career in either instance.

Williams rushed for 434 yards in his first three weeks in the NFL, setting records as the first rookie running back to ever have three consecutive 100 yard games, and rushing for the most yards in the first three weeks of a career, a record previously held by Alan Ameche of the 1955 Baltimore Colts, now the Indianapolis Colts.

Williams was also named rookie of the week for the first three weeks of the season and rookie of the month for September. His shoes and gloves from week three were subsequently retired to the Pro Football Hall of Fame in Canton, Ohio. He rushed for 1178 yards overall in his first season and took home the NFL's Offensive Rookie of the Year Award.

Injuries took their toll on Caddy and he never really recaptured the standard he set himself in that first season. Season after season seemed destined to show a return to form and then he would experience a variety of major injuries.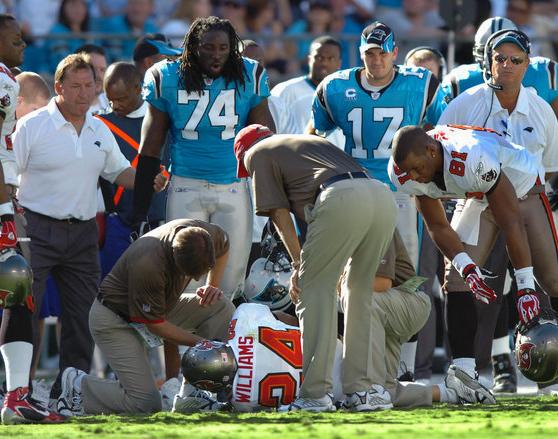 Coming into the 2010 season Cadillac beat out Derrick Ward in a pre-season battle to be named the starting RB, a battle that later saw Ward cut from the roster and take up full time tantrum throwing and bitching in Houston. The season didn't start to badly as Williams rushed for 75 yards against a poor Browns defense, but you can only beat what is put in front of you and he did so on that day.

However in the following games against Panthers, Steelers and during Sunday's massive win over Bengals Cadillac has looked slow off the mark. He still is happy to lower his shoulder pads and run someone over, the problem being he is getting contact at the line, or a lot of the time behind it.

Until the likes of Blount, Graham and Huggins were given a chance to run the ball it was easy to think that the Buccaneers offense line weren't opening up the holes required to break the big runs. However that is not the case.

I've watched every offensive series of this season twice now and the line are doing a decent job of protecting #5 but doing an even better job in opening up running lanes. Blount ran for some hard yards, Graham burst a 60 yard+ run in Cinci and Huggins got past the line of scrimmage on his brief cameo!

The truth is that if you want to be a top team in this league, and I believe the Bucs are on that road now, then you need a home run hitter in the RB position. Unless you have a Saints/Colts standard passing attack you need to have that club in your bag. There are backs out there that the Bucs could trade for but I think it is sensible in this "rebuilding" season to let the youngsters test themselves as the season rolls on.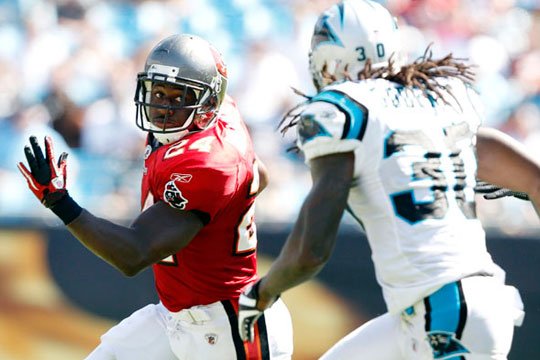 We need to reduce Cadillac's input and use him in largely passing situations. He is a quality blocker, but so was Michael Clayton and he was as popular as Carlos Tevez at Old Trafford. Caddy does make some nice receptions out of the backfield too, something that he has improved on massively during his time in the league, but is that really what you want from your feature back?

No. You want someone who like Stewart, Mendenhall, Benson (all of which the Bucs have struggled to deal with at times this season) who is capable of taking the ball 40 times a game and turning in 100 yard+ games multiple times in a season.

Along with the quarterback, which we appear to have sorted, running back is the most important position on a football team's offense. At present the Bucs aren't playing on a level playing field to other teams because of Cadillac's poor numbers.

I would keep him for the remainder of the season, have the youth help him out and then look for a blue chipper in the draft or free agency where Cedric Benson, Joseph Addai, Steven Jackson and DeAngelo Williams are all set to become free agents. Come in number 24 your time is up.