THE UNFASHIONABLY POSITIVE VIEW OF 2010
So well done to the Saints, great for New Orleans and I'm happy for Drew Brees. Now on to the thing that matters to us all more than anything the 2010 Buccaneers. Almost as soon as Drew and the boys had left Miami to join Mardi Gras my mind started thinking about what we can expect from the guys in Pewter and Red next term.

I know that this time last year I wrote an article saying I thought that if we beat Dallas in our opener then we could go 9-7 and make the play offs. I know that I then revised this guess mid-season to 4-12. I know I was still wrong. I know that we were lucky to end 3-13. But do you know what, the glass is half full...at least from where I am looking at it from it is.

Many will disagree with what I'm saying after last season's shambles. There are a few key factors that when you look at them honestly, and without the thought of "Raheem is a waste of space" or "The Glazers are skint" do point towards things getting better.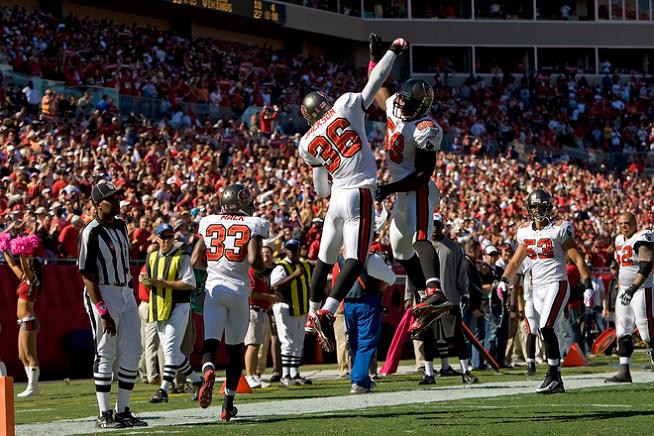 THE SCHEDULE
By being so awful last year we, in theory, should have an easier schedule this coming season. I think we do. As much as you say this with the amount of time to elapse before the new season we have some very winnable home games. Browns, Lions, Rams and Seahawks all visit Raymond James and all surely are games that we will be expected to win on home soil against some of the leagues worst teams (Yes, I know we are also one of the league's worst teams).

Add to that games against Falcons and Panthers at Ray Jay and there is a very real prospect of 4-5 home wins next season. Even assuming we drop games to Steelers and Saints that gives us hope.

We might need everyone of them as some of the teams we face on the road look a lot stronger. With trips to Baltimore, Arizona, Cinncinati, San Francisco and New Orleans on the menu we will have to make the most of games against lesser teams like Redksins, Falcons and Panthers. I'm not saying we will beat all three of these teams but I'm also not ruling out a shock upset of one of the "Bigger Teams". If we took two road wins and 4-5 home wins then a 6-7 win record would be a big step forward for the franchise.

THE DRAFT
With 10 picks in the 2010 draft the Bucs have a big chance to "Build through the draft" on a massive scale. If the Bucs can return from Radio City with either Suh or McCoy to bolster the defensive line and a few other starters then it will allow Raheem and the gang to upgrade the likes of Hovan, Piscatelli and Michael Clayton (NB - Michael will soon be releasing his, "I'm back to my first season form statement...stay tuned).

There are players to hang your hat on with the Bucs roster Tanard Jackson, Aqib Talib and the linebackers Geno Hayes and Qunicy Black. Add to that the veteran leadership of Ronde Barber and the improving defensive end play and we will be better on defense this season.


On the offensive side of the ball we need to draft some help for Number 5. If Bryant is back then he and Winslow are amongst the league's best receivers and if we can add another Sammie Stroughter in the late rounds and a big red zone target receiver then we will have options. A healthy running game of Ward, Askew, Graham and of course Caddy will be strong.

The big unknown in all of this is the offensive line. From being talked about amongst the league's top lines just two years ago the Bucs looked poor in this section of the game this season. The return of Arron Sears is like drafting a good lineman but realistically if the Bucs' offense are going to do anything this year, and for Josh Freeman to develop, then Jeremy Trueblood will need to become a backup at best.

RAHEEM MORRIS
It might sound strange but Raheem isn't new to the game in 2010. He knows how things are done, he knows what to do and more importantly he knows what not to do. The 2009 Buccaneers had so much upheaval before they even got to Training Camp that it was always going to be hard to have a good season. Raheem was a big part of that upheaval and so were his staff changes.

This year I believe that we will see a much more mature Raheem Morris. A much more deliberate Raheem Morris, and most of all a Raheem Morris that knows how to win. I know we only won three, but at this stage last year Raheem had never won a game in the NFL.

He will learn from dumbass calls like calling a fake punt one minute and then not going for a 4th inches the next. I totally expect this season that we will have a plan from the beginning, not one that is being changed week to week.


Once Raheem took over calling the defensive plays the defense looked like a different group of players. Back was the flow to the ball and the smash mouth football we'd all grown to love. He isn't Monte Kiffin but it was a start. I would like to see him keep the job this coming year, we won a Super Bowl with a head coach calling the offense so I don't see why Morris calling the defense wouldn't work.

The D want to play for him and he implements a system they are comfortable with and are good at. This is a big year for Raheem Morris and it will make or break his NFL coaching, he knows that too and so expect a much more assured man in 2010.

JOSH FREEMAN
"Number 5" this and "Number 5" that was the tone of the Head Coach's last press conference of the 2009 season. This kid is he future of the Franchise. We saw in patches last year that he is mobile, tough and can make all the throws there are to make. If we protect this kid he will lead this offense down the field and to success.

Whether it is through the draft, free agency or trades we do need to add a weapon or two for him but the early signs of his partnerships with both Sammie Stroughter, Kellen Winslow and Antonio Bryant look promising and fruitful. Last year we started the season with all sorts of uncertainty and chaos around the QB situation and ended up with a lump starting the season, soon replaced by a young kid and all just keeping the job warm for Josh Freeman.

This season its Freeman's team from day one. No doubt, no argument. That in itself will make the pre-season more structured and calm. You cannot underestimate how important that is for any team. This is the first time in years that the Bucs go into a season with a undisputed number one QB, that will bring a confidence in the system, Freeman and the Offense as a whole.

I'm not saying we're going to win a Super Bowl, we're not. I'm not even saying we'll make the Play-Offs, we probably won't. But I do think that we could be looking at a 6/7 win season where Freeman and Morris grow into the roles that they were in a year too early for both of them last year. I might end up re-writing this in October saying maybe we'll get four wins, but maybe I won't and maybe we might do better than any of us expect. I for one am already having Bucccaner withdrawl symptoms!