What might have been for Michael Bennett
When the Bucs signed 5 foot 9 inch, 207 pound speedster Michael Bennett from the Kansas City Chiefs on 16th October 2007 I for one was really excited about the prospect of pairing Earnest Graham, who'd taken over from the injured Cadillac Williams a fortnight earlier, with Bennett. The perfect mix of speed and power running. That combination had worked in previous seasons for the Colts (Addai and Rhodes), the Saints (McCallister and Bush) and the Jags (Jones-Drew and Taylor).

Unfortunately for Bucs fans this partnership never really got going...at all. With the Bucs placing more and more emphasis on Graham's hard power running behind the mammoth blocking of BJ Askew, Bennett was rarely used by Jon Gruden. Part of the reason for Bennett's lack of action in '07 was Bennett failing to get to grips with Jon Gruden's huge, and amazingly complicated, offensive playbook.

While Bennett was trying to remember where the Y receiver motions to on the "47 X Zebra, Shark Smash H with a waggle" Graham was smashing through defenses up and down the country. Even when Earnest needed a break Michael Pitman was often Gruden's more trusted go-to guy.

Bennett got only 41 hand offs in '07 and rushed for 189 yards (only 72 yards more then Luke McCown) and 1 TD, even when you add in his 5 receptions for 54 yards and 1 TD, Bennett's impact on last season was, disappointingly, minor. I had hoped for much from the one time rising star of the Kansas City offence, sadly for a combination of reasons this never happened. Bennett committed to going away on his summer holidays and learning the Gruden offensive bible, cover to cover.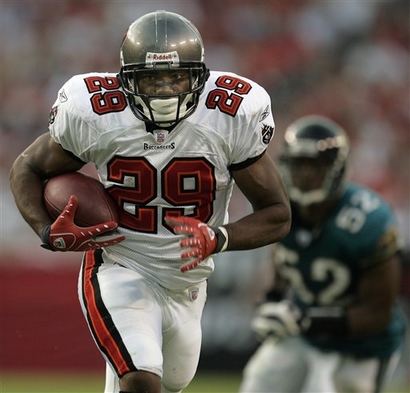 So when the Bucs arrived at Walt Disney World for training camp the news coming out from Mickey's backyard was that Bennett was much more at ease withe playbook and was looking good. In past year's "Mr August" had been Earnest Graham, but with Earnest now the heavily protected starter there was an opening for the star of pre-season. Step up Michael Bennett. Throughout the four games of the 2008 pre-season Bennett got large percentage of the snaps and rushed for 203 yards from 45 hand offs, no fumbles and one TD, 3rd overall in the NFL's pre-season rushers.

So once again I was hoping to see much more of Michael Bennett. But with re-signing of Warwick Dunn, the pending return of Cadillac Williams and an improved passing offence all led to Bennett being deactivated by the regualr season opener at Atlanta. This probably says more about the versatility of other players than Bennett's performance.

Maybe Gruden explained it best in saying, "We've got to dress guys that are going to play special teams. We're going to punt the ball to Reggie Bush and we'd better cover him. We're going to try to get Earnest going and use a good amount of Warrick Dunn; that's a big enough challenge in itself, to get two backs into the game, let alone three".

So where now for Michael Bennett? At 30 years old and not being used by the franchise I fear that when a need for a roster space arises it may be the end for Bennett in Tampa. I would be sad to see him go, but if he can't get a active roster place with Dunn and Graham add Williams to that equation, and it seems more and more likely. Is it a chance wasted by the Bucs to use a big playmaker? Or is it simply a case of bad luck?

Whatever your view its hard to not wonder what might have been for the man out of Milwaukee.