The BUCPOWER.COM Interview -Barry Smith
This interview took place in August 2009. Barry Smith was a standout receiver at Florida State and was selected by the Green Bay Packers in the 1st round of the 1973 NFL draft. In 1976, he was picked by the Buccaneers in the veterans' expansion draft and played that first season in Tampa Bay franchise history.

Now a successful businessman, Barry is active with many former players and has many friends from that 1976 team. And he found time recently to reflect on his life and career with BUCPOWER.COM.

What did you first think when you found out you and your former team-mates were being featured on BUCPOWER.COM?
I was intrigued but not shocked. Of course I didn't think that the British cared for the NFL. Soccer yes but not football. But it is nice to be part of the foundation of the franchise and the tradition and it is really neat to see the people who are creamsicle fans.

What was your reaction on becoming a Buc?
I was OK with the news when Bart Starr (Green Bay's head coach) told me. The weather was a lot better than in Green Bay and I had played for John McKay in a college all-star game when I was a senior at Florida State.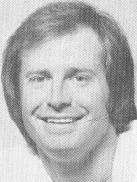 All the expansion players, veterans and rookies arrived in Tampa in May 1976 and were all staying at the Hall of Fame Inn just down from the stadium. But when we turned up to a high school for our first official workout, the gate was locked and the grass was almost a foot high. I thought, "So this is the Tampa Bay Buccaneers".

And then the team went 0-14 - what went wrong?
Nowadays, NFL pre-season and training camp is not that long. In 1976, it was 10 weeks of two-a-day training sessions. We went to camp earlier than any other team and then played six pre-season games. Even the Wednesday before the season opener in Houston, we were still doing full scrimmages twice a day. So many veteran players never did play because they were beat up from all the workouts.

We were tired and beaten up before the season even started and we just ran out of horses. Players were being brought in on the Monday, might not even suit up for a game and would then be gone by the following week.

John McKay had his own game plan but it was just different to what we were expecting. I think with hindsight he might have changed his ideas and we would have won more than two games. It is just so different from college to the NFL even back in the 1970s and pro players just cannot take that level of pounding off the field and then perform on it.


Did you feel anyone on the team gave up?
Definitely not. We have all had a lot of time to reflect on that season and the events. The 0-14 record did not diminish the intensity or passion that the players showed and no-one threw in the towel at any point. There was a camaraderie amongst the veterans and the rookies just didn't know anything different anyway.

Steve Spurrier was one of the team leaders and he had rented a house in Tampa. After each home game, we'd all drive over to Steve's house and just partied there. We brought our own food and drink and just had a great time. It was our way of keeping close and making sure no-one quit.


Do you have any other good memories from that season?
Abe Gibron was a legendary assistant coach and he used to do a cook out at the old Hall of Fame golf course that used to be opposite the old One Buccaneer Place. He would grill food for everyone and the players all loved him.

What happened after the 1976 season?
I was traded to Miami (along with T Randy Young) in February 1977 and found out when I was actually in Miami and a friend called with the news. I was ecstatic to be there as I was born and raised in Miami and was at their first game in franchise history.

Don Shula wanted me to replaced Howard Twilley in their receiving corps but I contracted polio during the 1977 training camp and that was ultimately the end of my career

And how is life treating you now?
Life is a journey and I've been blessed. Now I'm married with two grown-up kids and work as a Sports Marketing Consultant. Business interacts so much with sport and I have a lot of friends in both aspects of those lives. And I love playing golf!

Did the original ownership affect the success of the early Buccaneers?
Yes for sure. We had some great players in the orange era. But Hugh Culverhouse was simply not committed to winning and the players on the teams in those days knew that. I do comment the Glazers for their committment. They won a Super Bowl and you have to respect them for that.

And the orange colours?
I never bought the argument though that orange was a bad colour or the reason for the losing. The Miami Dolphins were in aqua which was the same colour principle as the Bucs and it never affected them in the 1970s. The orange throwback game next month is awesome. Lots of my fellow 1976 team Buccaneers will be getting together. Honouring the old players is something other NFL teams and is a great idea. And what lasting souvenir do you hold in your collection? It was hard to get hold of even your own game jerseys in those days. But I do have a white 88 jersey that is framed in my home and I also have my orange practice jersey from that season too.

Paul Stewart, October 2009