What will the Bucs do before the draft?
Irrespective of whether the Buccaneers win their coin toss with the Browns for the 3rd/4th overall pick in April's draft, there is a lot of work and decision-making to be done at One Buc Place over the next month or so.

Unlike previous years, the Bucs do not find themselves tight against the salary cap and they have at best estimates, $24M to spend on free agency. But there are a lot of other teams in similar good cap positions, so simply expecting Tampa Bay to go out and pick the cream of the crop is unrealistic.

So looking around the roster by position, we can check the current cap and salary position of each player and get a pretty good feel of where the 2007 roster will be going based on these pre-draft months.

The Buccaneers have nine free agents of their own in what I would describe in four different ways. There are two who would probably only ever sign for the Bucs (Dave Moore and Mike Alstott), two who will be highly sought after by a lot of teams (Dewayne White and Sean Mahan), three who would consider Tampa Bay to be their primary suitor (Tim Rattay, Torrie Cox and Philip Buchanon), and two who no-one would really care where they went (Cornell Green and Jerald Sowell).

The Bucs do have two restricted free agents meaning that they hold first right of refusal on their services. They are special teams' ace Blue Adams, and offensive line back-up Jeb Terry. In addition, Paris Warren and Kalvin Pearson are exclusive free agents, meaning they can only negotiate with the Buccaneers.

Looking first at quarterback, Chris Simms is now freshly signed to a three-year deal until 2009, and both Luke McCown and Bruce Gradkowski are cheap (under $500K salaries) back-ups signed until 2008. I cannot see this fascination with Jeff Garcia who merely did an OK job with a very good offense in Philadelphia. If you have to, bring back Tim Rattay but go with Chris as the starter.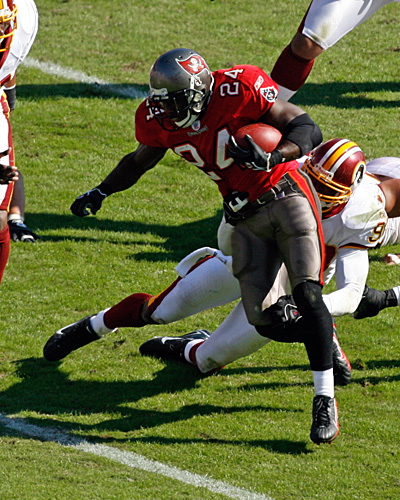 Cadillac Williams is the main man in the backfield and Michael Pittman is signed until 2009 at around $1M per year to be his back-up and third down back. Earnest Graham can do the job in a pinch and is a special teams demon who signed to a 2009 contract extension during last season. The Bucs can live with these three all year and there are other far more needy positions than another running back. Full back is another matter and they do need to find an upgrade to Jerald Sowell and Mike Alstott here.

Joey Galloway's cap number is $3M but he is the Buc offense at the moment so no moves there. Michael Clayton will be playing for a new contract in 2007 and will get a chance to turn it around again at $1.6M, but will face competition from the cheap Maurice Stovall. Ike Hilliard at $1M for at best a third receiver? Don't see that one myself, especially if the Bucs draft Georgia Tech's Calvin Johnson.

At tight end, expect to see the same three back, that is Alex Smith, Anthony Becht and Doug Jolley. All have salary cap numbers of less than $1M and Becht is signed until 2010.

As for the offensive line, Davin Joseph and Jeremy Trueblood are starters for sure. Dan Buenning is signed until 2009 at a low cap number, and Anthony Davis to 2008 at around $1M. The two players in danger are John Wade, signed to 2009 at $2M per season, and Kenyatta Walker who is due at $1.5M roster bonus in March. Somehow I just don't think he's going to collect on that one.

In the second half of this feature, I will look at the cap position and potential moves on the defensive side of the Buccaneer roster.

Paul Stewart, February 2007