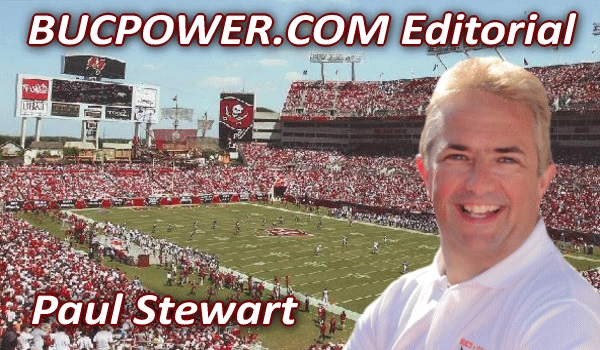 My nominations for the BUCPOWER.COM awards
Across the gridiron world, it is awards time as selections for All-Pro, Rookie of the Year and even "Who will take over from Brett Favre as John Madden's lovechild" polls and stories hit the news wires. And of course, the Bucs UK and BUCPOWER.COM is no different as we have our annual awards, now in their 19th season.

An on-line voting form for our friends from around the world will be on the site shortly and all Bucs UK members have received their voting forms in the post, but this is my chance to put my own votes on view for agreement/criticism around the world.

Offensive Player of the Year
No question, Joey Galloway . Even with the Polish Pop-Gun "throwing" him the ball, No.84 was the Buc offense in 2006. Anyone still think that the Bucs did not get a good deal when they dumped Keyshawn on Dallas in return for Joey in 2004?

Defensive Player of the Year
This came down to two players, Ronde or Shelton. Sorry Derrick Brooks, you have had a great career but it would have been a travesty if you had gotten a Pro Bowl invitation this season. Ronde Barber continued to play at a stellar level especially when you consider how little pressure the front four put on the opposing QB, but whenever Shelton Quarles was in there, the defense generally played at a different level. Barrett Ruud is good, but Quarles deserves recognition for a great season in his 12th professional year.

Special Teams Player of the Year
Matt Bryant - solely for that amazing game-winner against the Eagles and for the wild celebrations it set off in my household whilst I was describing the TV feed over the phone to John Davies.

Rookie of the Year
So many to choose from this year. Gradkowski did what was expected of him and Maurice Stovall showed some nice touches at the end of the year but not enough to challenge the two rookies on the line. Jeremy Trueblood is going to be a good player, but Davin Joseph is an absolute beast and there can be no doubts about why he was a first round pick now.

Allan Lees Memorial Award for the Writer of the Year
Roy Cummings , hands down. Roy has been the Bucs' beat writer for The Tampa Tribune for a few years now, but he has also added some Channel 8 TV work and the weekly TBO.com podcasts to his resume. There is no-one who has ever been more in tune with the current state of the Bucs than Roy. Honourable mentions to Messrs Bromfield, Lowe, Crawford and Maw, but Roy has had a Pro Bowl year in 2006.

Dickhead of the Year
Remember guys, Halling has got 2 LLs in it.

The Bob Timoney Award for the Buccaneer of the Year
Most years, Mike Alstott would walk this for being Mr.Buccaneer but Mike can only walk these days as running was eliminated from his resume in about 2005. The person who has most summed up what the Bucs UK and being a Bucs fan is all about for me in 2006, was Steve Grant . He represented the club on the sideline with me before the Carolina game and did everything I could have hoped he would do on behalf of the club. It was a chance to really establish the Bucs UK further with some very important people and Steve did his bit superbly.

NFL Player of the Year
LaDanian Tomlinson . So many fantasy points, Phil Jones is going to have his children.

My Favourite Buccaneer Player
This is a tough one for me as I do not really have individual favourites unless I have met the person in question (Trent Dilfer, Brad Johnson, Ian Beckles etc). But for the current roster, I will go for Chris Simms simply because he is a tough lefty and I tried to be one on the mound during my British baseball career!