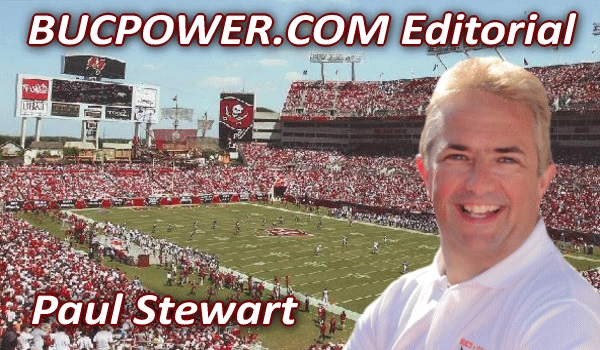 Listening to Buc Radio
For those of you who do not subscribe to NFL Field Pass, you are missing the true delights of Gene Deckerhoff and Hardy Nickerson. So here is a sample transcript of the sort of thing you can here for every game that the Buccaneers play:-

Back here in Tampa and it's 1st and 10 Bucs at their own 20. This 1st down is brought to you by Pughta Powar, why read the best Bucs' stories for free in the Trib when you can pay a bundle to the Powar for the same info.

Stretch handoff to Warrick Dunn, sorry Cadillac Williams and he dances, bobs, weaves, makes a great move on a defender … and gets back to the line of scrimmage for maybe a yard. What do you think of that call Hardy?

Whooo yeah wow whooo

Thanks Hardy, now down to TJ Rives on the sideline

OK, so when the game is over and you've finished cheerleading, we could go out for a drink or something … sorry guys, this injury report brought to you by the Mons Venus, Tampa's official No.1 strip club.

Simeon Rice has got a small cut on his knee. He's had a plaster put on it but he's not expected back. Shelton Quarles has had his left leg fall off but Doctor Joe Diaco is sticking it back on now and he's expected to be back in on the next series.

Thanks for that TJ – 2nd and 9 at the 21. Stretch handoff to Nathan Wonsley, sorry Cadillac Williams but he is mugged, mauled, hog-tied and lassooed in the backfield for a loss of two. Good golly. What about that one Hardy?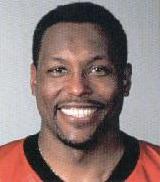 Whooo yeah wow whooo

Thanks Hardy. Bucs on a roll now. Time to pick our drive of the game – hey Hardy, how about the one back in the second quarter when we almost got a first down?

Whooo yeah wow whooo

Yep that'll do. 15 minutes left and if you think 15 minutes is a long time, forget Geico and try commentating on the Bucs with Hardy Nickerson. 3rd and 11 at the 19. Randy Hedberg, sorry Bruce Gradkowski back to pass, and he throws a frozen rope that is brilliantly caught by the guy in the No.84 shirt. Shame he was sitting eight rows back in Section 101. And he dropped his beer. And the Bucs will have to punt… again. What do you think of that call Hardy?

Whooo yeah wow whooo

Good point Hardy. Now we know why we got you in to replace Scot Brantley. Even if it was because he was a Gator and I'm the Seminoles radio commentator. Anyway, back to TJ Rives on the sideline.

I'm trying to get a word with Jon Gruden….. yes I got two words. And now one of the security guards is depositing me upside down in a garbage can. This update was brought to you by The Dan Sileo Show, the only radio show that can make a root canal seem more appealing. Back to you upstairs.

Josh Bidwell in to punt and this is a thing of beauty. My new "Seminoles for the Nissan Replacement Brake Linings Bowl" polo shirt that is, not the punt. Bidwell's punt goes out of bounds at the 30. Say hallelujah Hardy.

Hallelujah

Josh Bidwell. You're my hero. There's a time out on the field so keep it here.

Etc etc for three hours every Sunday.