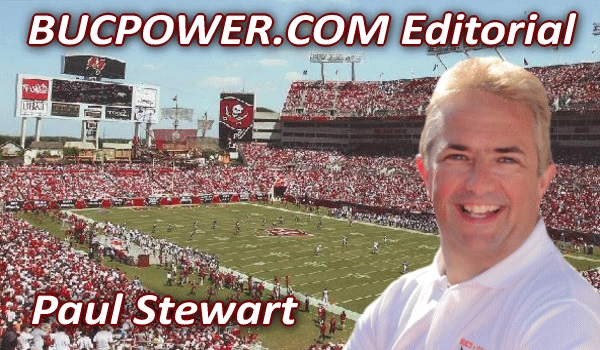 The Buccaneers Review magazine
Whenever any Bucs UK member makes a trip across the Atlantic to see the Buccaneers play live, they always seem to pick up a souvenir programme to bring back to remind them of the occasion.

In the early 1980s, this was Pro! magazine which became GameDay in a later incarnation. Every NFL team had their own version of the magazine but the same standard NFL-related stories appeared in each of the eight regular season editions.

But over time, or even two consecutive home games, fans quickly realised that the actual content of the GameDay magazine changed very little from issue to issue. The profiles of the players, coaches and owners were the same, as were the 70% of the content that were advertising.

So you spent your $5 on buying one to at least prove you were there, and you bought one more for the Bucs UK competition fund, but you did wonder if they would ever improve, to say the content and standard of some of the English Premier League programmes.

So did Bryan Glazer. On returning from a trip to Old Trafford, he took a Manchester United programme, walked into Scott Smith's office at One Buc Place, and said something along the lines of "can you do this for the Buccaneers?"

Poor old Scott - when he does something, he doesn't do it by halves. What he has produced is by far the best NFL gameday magazine around, now entitled Buccaneers Review . Far less advertising, feature stories on both teams, trivia quizzes, history sections, you name it, it is there. When I spoke to him about the magazine in early October, he was anxiously looking ahead to the two consecutive home games with Cincinnati and Philadelphia, knowing how much work would be going into producing the magazines.

It was little consolation when I told him I started my journalistic career as programme editor at Leatherhead FC whilst still at school and had to worry about Tuesday night cup replays that required a 48-hour turnaround in the days before PCs and digital images.

Scott has also tried to make Buccaneer Review available to everyone around the world thanks to the use of PDF files and hence anyone can download an issue after a game from the Buccaneers' own website. But he has produced something worth a lot more than the $5 price tag, and something that could also deservedly lead to another award from the NFL like the one he humbly acknowledges he received a few years back.