The Top 10 receiving performances in Buc history
The Bucs UK competition we ran for the Thanksgiving Day game in Dallas asked people to predict how many receiving yards Joey Galloway would have in the game. Some of the predictions were pretty high and well above the 71 that No.84 ended up with, but it did leave me looking back at the best receiving days in Buc history to see where a really massive day would have left Galloway.

And when you look at the top 10 days in franchise history, you get to also review some pretty memorable games and characters in the annals of the Buccaneers at the same time.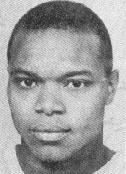 1 - Mark Carrier - 212 yards - at New Orleans - 1987 - on 8 receptions
This massive performance was memorable for many reasons. Firstly, it was Vinny Testaverde's first NFL start and he passed for 369 yards in the loss to the playoff-bound Saints. Secondly, Carrier was a rookie and was only making his 4th NFL start. And amazingly enough in those days, it was a game we also got to see here in the UK as the highlights were shown on Channel 4. Carrier went on to finish his seven-year Buccaneer career leading the franchise listing for total yards and his 1989 season deservedly ended with his appearing in the Pro Bowl in Hawaii.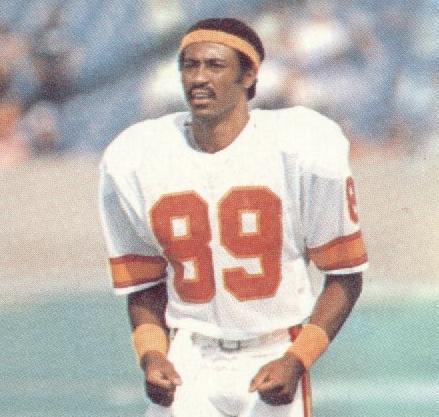 2 - Kevin House - 178 yards - at Oakland - 1981 - on 4 receptions
Kevin House was the deep threat for the Buccaneers through the early 1980s having been a 2nd round pick out of Southern Illinois. Apart from the odd problem of actually catching the ball, he was on the receiving end of some memorable long TD passes from Doug Williams including a 77-yarder in this 1981 loss to Oakland . House remained with the Bucs through 1986 but was released at mid-season when Hugh Culverhouse decided to cut costs and let him, Jimmie Giles and Ron Springs all go. He went to the Rams but never reached his early Buc career heights.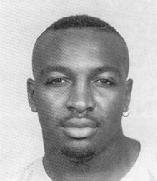 3 - Charles Wilson - 176 yards - v Los Angeles Rams - 1994 - on 4 receptions
Only the real diehard Buccaneer fans will remember Charles Wilson. He played two seasons in Tampa before being traded to the Jets in the 1995 pre-season along with former Lions DT Marc Spindler for a 4th round pick that ultimately became T Jason Odom. Wilson started only a handful of games and only caught 46 passes in his entire Buc career but then had this memorable day against the Rams. Two long TD passes from Craig Erickson of 44 and 71 yards led the Bucs to victory and earned Wilson third place in our receiving chart.


4 - Joey Galloway - 166 yards - v Detroit - 2005 - on 7 receptions
Galloway's debut as a Buc was an inauspicious one as he pulled a hamstring in the 2004 season opener in Washington and promptly missed the next month. But over the next three seasons, he proved himself to be one of the best deep threats that the franchise has ever had with a succession of big plays. In 2005, he broke Mark Carrier's receiving record by scoring 10 touchdowns and posted the second-largest yardage total in Buc history behind Carrier's 1989 mark. This huge day in a win over the Lions, included an 80-yard score from Brian Griese on the third play of the second half.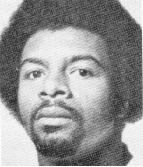 4 - Morris Owens - 166 yards - at Seattle - 1977 - on 9 receptions
During the first three seasons of the franchise, the Bucs only had one deep threat and that was Morris Owens. Typically, he was a cast-off from another team, released by Miami in September 1976 and quickly claimed on waivers by the expansion Bucs. He nearly made them pay dearly by catching three scores in the game against the Dolphins that the Bucs came so close to winning. The following year, he set a then-franchise record that remained for 11 years with this huge day in Expansion Bowl II in Seattle against the Seahawks.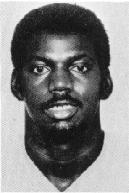 4 - Gerald Carter - 166 yards - at San Francisco - 1984 - on 9 receptions
Gerald Carter really was the quiet man of the Bucs' offense for eight years. He seemingly always played in the shadow of Kevin House and TE Jimmie Giles, but the 1984 passing combination of DeBerg to House and Carter remains the most prolific in franchise history. This big day against San Francisco came in a loss to the Niners, as seemingly all Gerard's big days seem to do. He was a typical possession receiver playing second fiddle to the speedier House, but remains one of the top receivers in franchise history.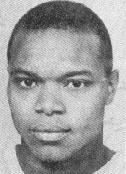 7 - Mark Carrier - 164 yards - at Chicago - 1989 - on 6 receptions
Of all the memorable games in Buc history, the 1989 win in Chicago ranks right up there as does this performance by Carrier. The Bucs led 23-10 with less than five minutes left, then scored ona 78-yard score by Carrier and still trailed by two inside the final minute. Vinny to Mark struck again on the final drive and the Bucs won for only the second time ever at Soldier Field. Carrier went to the 1989 Pro Bowl but only when 49ers receiver John Taylor dropped out. The fact that he should have gone as a starter opposite Jerry Rice was indicative of the public indifference to the Bucs at that time.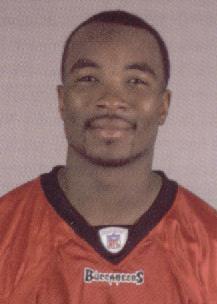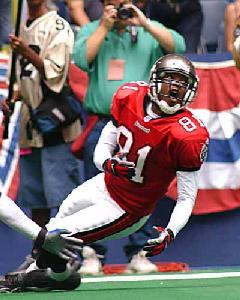 8 - Jacquez Green - 1999 - v Kansas City - on 7 receptions
I know, how does Jacquez Green end up in a list like this? All I can think is that for him to get seven receptions, Trent Dilfer must have thrown at least 20 passes at him that day against the Chiefs, bearing in mind Trent's inaccuracy and Jacquez's tendancies to drop most things thrown at him. Green was a typical ex-Gator receiver who just never came close to emulating his college form in the pros. He just was not big enough to hold his position against bigger DBs although this one performance did give just a little hope that he would one day come good.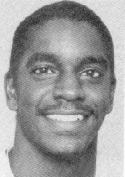 9 - Bruce Hill - 162 yards - at Indianapolis - 1988 - on 7 receptions
After Kevin House, the second Buc receiver to post a 1,000-yard season was Bruce Hill. Drafted in 1987 alongside Mark Carrier, the two quickly formed a powerful receiving partnership that looked destined for good things until Hill got hurt in 1990 and 1991 and was soon out of football. This 1988 loss in Indianapolis featured Vinny's 469-yard passing day and also included a 125-yard performance by TE Ron Hall, another 1987 draft alumnus. Hill was quick as well as a solid pair of hands and the Hill-Carrier partnership remains a close second to the House-Carter pairing in Buc annals.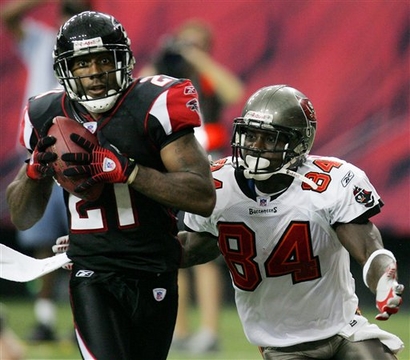 10 - Joey Galloway - 161 yards - at Atlanta - 2006 - on 9 receptions
And a second appearance on the list from Joey Galloway as he took advantage of Chris Simms' big arm to roll up 161 yards in this Week 2 loss to the Falcons. Galloway will also be remembered long after he retires from the Bucs for his famous celebration after each score, when he rolls up his sleeve to reveal a bulging arm muscle. There is now little doubt that the Bucs did well in acquiring him from Dallas in return for the malcontent Keyshawn Johnson - who noticeably does not appear anywhere in this list.

Paul Stewart, November 2006