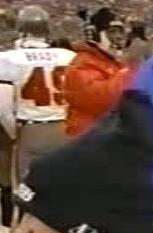 Those statistical anomalies
One of the trivia questions that we posed on this site recently, asked what LB Ricky Brady and TE Anthony Jordan had in common for the Buccaneers. Neither player appears on the all-time roster listing but maybe they should in some way. Because although they have never appeared in a regular season game for Tampa Bay, they were on the roster for post-season games.

Originally, a player was only deemed to have become a Buccaneer if he took part in a play in a game. If he remained on the sideline throughout the game, such as QB Jeff Quinn though most of 1982, then he was not deemed to have appeared and hence did not appear on the roster listing.

The NFL Encyclopedia backs this up with the same rules in its 1998 edition and hence the less than Mighty Quinn is not on their player database.

But during the 1990s, the Bucs along with some other NFL teams, amended their views on this and hence if a player was a "Did not play" or "Inactive" for a game, he was deemed as being a Buc for that game. Hence not only did Jeff Quinn become a Buc, but even the likes of the Florida Gators' current QB, Curtis Leak's dad became one too as he was inactive for a lone game during the 1976 season.

So this is why you have some players listed on the all-time player database with zeroes for games played and of course starts.


Jeff Kamis, the Bucs' PR Director, and I were last week on the trail of an obscure running back by the name of James Evans. He was only on the roster for the 1987 season finale and the official gamebook claims he did not play, but the media guide insists he did. So which is right?

Or the case of C Dan Graham who spent most of 1988 and 1989 watching Randy Grimes take every snap. The 1989 season finale gamebook as him both inactive and a did not play. Classic record-keeping and the sort of thing that would drive that bearded prat from Test Match Special right up the wall.

So this is why I am going to be spending a day at One Buc Place in late September hopefully filling the gaps in my participation charts from the gamebooks and seeing which loose ends remain. And whether the likes of Brady and Jordan can become part of the roster listing, perhaps asterisked at the end in the same way as they list the replacement players separately too.

Which of course is another interesting point - should they be listed separately? Their records count in the all-time stats (albeit marked they were replacement players). If the player then was re-signed for a regular season game such as G David Jordan or RB Charles Gladman, then they have become official Buccaneers on the mid-1990s rule change already mentioned.

I have always regarded them as being official Bucs and so list them on BUCPOWER. But perhaps after sharing a drink with Jeff and the other PR guys in Tampa, a final definitive position can be made on all these roster trivialities that keep the likes of myself going during the off-season.

You've been great - enjoy Manfred Mann.

Paul Stewart, June 2006.