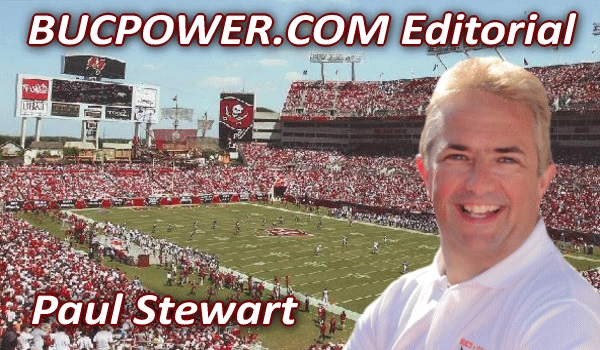 What this all means to me
"That team in orange must be pretty good, I think I'll support them" - December 5, 1982.

Just over 20 years later, Ronde Barber, aged 7 when Channel 4 first showed the Bucs in the UK, stepped in front of a pass and returned it 92 yards for a touchdown and the Tampa Bay Buccaneers were in the Super Bowl. "Oh my" as Dick Enberg would have said. So here I sit, about to fly to San Diego to see my beloved Bucs achieve the dream of every NFL player, coach and most definitely fan. But what does this weekend mean to me?

Kerrie will tell you that leading up to the Championship Game, I was happy to tell people that I wouldn't be worried about not being at the Super Bowl, that I would be happy to watch the game back home. Even at half-time when we led 17-10, it didn't really occur to me that we were actually going to win. And then Ronde scored.

All through the second half I was on the phone to people, Phil Jones, Bill Thompson, Nick Pugliese, John Davies, Gary Botteley, all the people who have experienced this passion for the Buccaneers at first hand. Liquid was flowing at both ends of the phone as Phil and I counted down the final seconds, a second bottle of champagne in Congleton, and tears of happiness like I have never known in sport on my own part.

Only over the next hour, after emotional calls to so many people including a wonderful one to the production booth at Sky, did it begin to sink in that I would really have to go to San Diego in person. Everyone kept telling me that it wouldn't be the same if after all these years that I would not be there, although Kerrie took some persuading. Eventually thanks to an agreement to pretty much hand over our joint credit card to her sole control (and other considerations to be named later!), she accepted that she would be taking me to Heathrow Airport Friday morning.

So I'm going. Do I care who wins? At the moment, honestly I don't. I know that seems strange and it may well change by Sunday, but the simple fact that we are there is enough. More than enough. Little things like looking in the daily TV listings and seeing trailers for the Super Bowl programme featuring the Buccaneers and the Raiders is enough. E-mails and phone calls from people I have known for two decades stating how pleased that my support has finally, finally, FINALLY been rewarded.

197 issues of "There's Always Next Year", 18 years of the Bucs UK, thousands of letters, hundreds of phone calls and for the first 14 seasons, bugger all winning seasons. Then in 1997 it began to turn around but we still chased that Holy Grail of success. We nearly had it in 1999 but the Grinch (aka Ricky Proehl) denied us. And now we're there. And thankfully so will I be.

To everyone involved in the Bucs UK in whatever form, enjoy this weekend. This is going to be something so special, so magical. It will be something we'll all remember in our own way for a very long time. Be proud to be a Buccaneer!