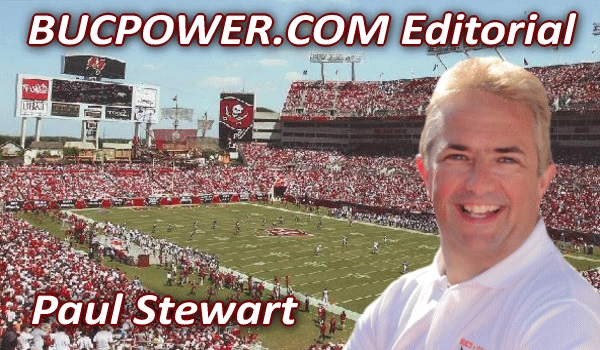 Listening to the Bucs from the UK on the internet
Do you remember tuning in to Armed Forces Radio for your weekly live NFL fix? I think I spent the best part of the 1980s using the catch phrase of "there's a time out on the field and now this". And Armed Forces Radio was great in its time too but when was the last time you tuned in to 873m MW to hear that aggravating Steeler commentator with a voice that sounds like his balls are in a vice, doing airwave battles with Spanish opera?

So most of us are now in the PC world and I don't mean the politically correct one either. And for those of us slightly more technically minded (Jonesy, stop reading now), connecting to the internet around 5.30 each Sunday night is a must to pick up the official Bucs' radio broadcast of each game.

Putting to one side phone connection problems, buffering, lack of memory while trying to play Doom II at the same time, and all the other typical technical problems, let's take a look at what you get from the Buccaneer Radio Network and the feeder station we all use, WMOP in Ocala, Florida. The two regular broadcasters are Gene Deckerhoff and Scot Brantley. Gene is also the voice of the Florida State Seminoles, while Scot is a former Buccaneer linebacker whose claim to fame is that he once returned a Joe Montana interception for a TD for the then-orange n'white.

But there is a problem. Gene has this slight tendency, OK, every damned play, of getting the player wrong. "The pass hits Jacquez in the numbers… no wait, it's Keyshawn." They're only about a foot in height difference and Green hasn't played for three weeks but what the hell. And Scot is not exactly the smartest bear in the woods. He's a nice enough guy, don't get me wrong, as I've worked with him on 820-The Team in the past on a variety of sports, but he's taken quite a few hits to the head if you get my drift.

And Gene only has one way of describing a running play. "Warrick Dunn/Mike Alstott, bobs, weaves … has nowhere to go and the little guy dives ahead for a gain of one". I know our offense is pretty cack at times, but sometimes a Buc run must look somewhat different to all the others. We did get rid of Mike Shula remember?

But bless his heart, Gene is a Buc fan. And it shows on a play. Take the emotion of a Jonathan Pearce (that annoying git from Capital Gold Sport and Channel 5 football) and put it into a Warrick Dunn burst. The way Gene starts, you'd think Dunn had just juked all 11 defenders out of their shirts and was dancing naked in the endzone. Then he comes back down to earth, reveals that the play went for no gain, and that it's second down and ten for the Bucs.

A few more thoughts from the past eight weeks of Buc commentaries – "Go Pack Go" – whoever thought up that bloody annoying chant that echoes round Lambeau Field every five minutes ….well, I'd like just five minutes in a padded cell with them. OK, so we have one side of RJS shouting "Tampa" and the other side answers "Bay". Well, everyone except the Rednecks do it but even the most die-hard Buc fan stops after about the third one. But not the Packers.


And as for that damned Viking horn – remember how I was at Sky's studios and could only get the field effects for most of the game? Oh yes, one of them was that sodding horn that reverburates around the Metrodome with all the regularity of Randy Moss blowing off a pass route. How does Geoff Reader stand it for four trips to Minnesota a season?

But the adverts on WMOP are just sometimes the highlight of the show. I really want to register for the "Bucs for him, Bucks for her" competition. "He gets two tickets for a home game at Raymond James Stadium. She goes on a $1,000 shopping trip at a local mall of her choice". Sorry, but the way the Pewter Pirates are playing right now, I want the shopping trip and you can stuff the tickets.

Mattress Giant is another good one – the guy who runs this outlet, sorry the Chairman and CEO of the company, will give you $50 off just for mentioning his favourite team, the Buccaneers. So picture the scene, in walks Brett Favre. Cheesehead on his bonce, No.4 jersey tucked out of his pants and chewing on a bratwurst. "Hmmgmdmmm the Buccaneers mmfmhdhdh" says the three-time NFL MVP QB. Reckon he gets his discount?

We all take the mickey out of the trailer park trash that appear on the US-style audience shows. Hence when Kinder Mobile Homes of Ocala offer you the home of your dreams, you have to assume you get to pick your own trailer park for it to be built in and that one in 10 lucky owners will win a place on the next episode of Jerry Springer too.

But the best one by far has to be O'Malley's Alley in downtown Ocala. Wednesday night is Fight Night with admission just $7. And you can put on the gloves yourself and see how tough you are. I'm trying to picture four Rednecks in their new Kinder Home, Dodge truck parked outside, matching checked shirts and jeans, making a note in their diary to head for O'Malley's for that one. Think the Bucs UK will ever end up there? Not a chance … well, not while the Mons Venus is still open for business anyway.