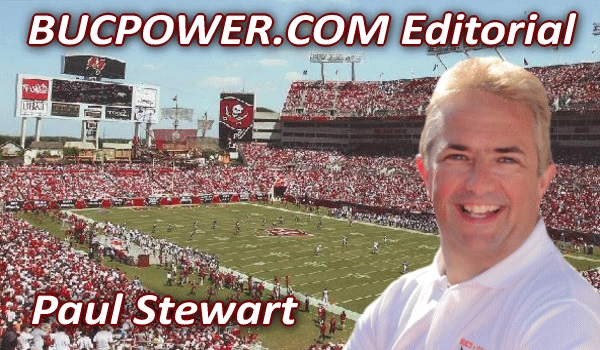 The life of a TV pundit
Abraham Lincoln famously once said "that you can't please all the people, all the time". How right he was. Because no matter what you say, what game you show in what format, someone, somewhere will always find something to complain about regarding NFL coverage on British TV.

So the Bucs' win over Green Bay was my second appearance as a TV pundit for Sky Sports. And without stating the obvious that it's a lot easier doing it the second time round, the whole six hour show was one of the best-received of the season. I joined the regular hosts, Nick Halling and Kevin Cadle for a pair of games that showcased San Diego's loss in Miami before the Bucs' march to 9-2 and the best record in the NFL.

Nick and I have known each other for years and I can still remember bribing him for an article on the Bucs UK when he was the editor of Gridiron UK in 1989 - the price? A Bucs' cheerleader calendar! Hence the two of us worked well as a team and Kev was a ton more relaxed than when I joined him and Scott Couper on the show in the playoffs last season. The banter that we had going on camera continued off camera too.

This of course was the night when Nick took a bet on his Steelers that would see him have to wear a pair of Bengal pants on the set if Pittsburgh didn't beat Cincinnati. It was a close run thing but Mr Halling was getting VERY nervous at times and began to ignore the Miami v San Diego game coverage to focus intently on the play-by-play coming through on NFL.com from Heinz Field. Kevin Duffy, a member of the production team and erstwhile Bengal fan, was giving Nick a seriously hard time on his mike and even Kev took time from belittling his beloved Bills to get involved in the fun.

You probably all saw too, the huge pile of e-mails that I held up at one point during the show. We received literally hundreds during the evening, far more than normal. Some asked sensible questions about the games we were showing, or the NFL in general, but others really had to be seen to be believed. There were abusive ones at the three of us on camera, inane comments about our knowledge, and some just downright drivel. Nick and Kev were quick to comment that this was nothing new - there really are some very sad and lonely people out there watching and e-mailing the show!

But what you cannot do, is say something without someone taking offense somewhere. I made a comment about Drew Brees' lack of arm strength, something I have written from back in his Purdue days. Several people mailed the set about that, but the kicker was the person who commented that "I obviously knew nothing about the game otherwise why would San Diego have traded for him" - err, they didn't! They simply drafted him in the 2nd round last year! What I did do, was keep hold of the critical e-mails and I replied to them the following day. Most of the people were damn surprised to get a reply!

And then there was the guy who has had a letter published on an American sports site on the net slagging me off for saying that Shaun King doesn't have a good arm, and that when I was asked if the Bucs could get to the Super Bowl, that my answer of "ask me in two weeks" was simply stupid. King doesn't have the arm - period. THe Bucs reached the 1999 NFC Championship game in spite of Shaun, not because of him. We scored 14 points against the Redskins and six against the Rams, and all but three came as a result of a short field thanks to our defense. And as for the two week answer? If the Bucs had beaten New Orleans and Atlanta, then the home field advantage would have been secured and a trip to San Diego more than likely. Defeats in both would probably mean a wild-card and a cold-weather game somewhere. So how could I answer any differently?


But for every critical e-mail, there were five or six praising the team. People loved the banter between the three of us, the stick being dished out for our teams, and the obvious fun we were having on set. And for our knowledge of the game too. Nick and I have both recently celebrated 20 years of gridiron support of our teams, and have both been journalists for an equal length of time. Kev is becoming a better presenter every week, and between us, there weren't many things we couldn't answer for people.

Being a pundit means setting yourself up for a fall. But what you have to remember, is that you are there for a reason - that you know a lot about your subject and are appearing in front of 250,000 because the producer and director have faith in your ability. There are two things that everyone thinks they can do in life - manage the England football team and present a TV show. Sven Goren Erickson has got the first one sewn up, and the second one is far far harder than people realise.

One thing that was different this time round, was that a lot of other games were going in the NFL at the same time as our two. Nick gets updates from Kevin Duffy of score changes in each one, ready to feed to the viewers during breaks in play. The first game highlights arrive from the States shortly before half-time in the second game and Colin Ennis works miracles to get them ready for showing, with details to Nick in handwritten form for him to do the voice over. People are critical that these highlights are not as good as Channel 5's. Err, the latter have 24 hours to prepare, edit and format them - the Sky guys have a matter of minutes!

With so much going on, you often find yourself losing track of the games you are actually showing. At one point, we ran a review tape of some of the plays from the first quarter of the Miami v San Diego game, and I quickly realised I hadn't been taking enough notes! You soon get found out if that happens! Karl Baumann and his team have several 30 second clips, or "floaters" as they are known, ready to show during quick breaks in play, and all three of us always had to be ready for a "back to New York for a game break" moment when we lose the signal from the States.

The mess behind the desk we use has to be seen to be believed. Plastic cups, drink bottles, even the remnants of roast beef and potatoes that Kev and Nick had ordered from the Sky canteen littered the floor. When we get warning that we're going live in the studio, all the mess comes off the desk, my earpiece comes out, and we look a model of professionalism for the viewing public! We use eye contact off camera to alert the others to who is to talk next and for how long, and Kev has instructions coming in his ear from Jools, the director.

Finally, half an hour past midnight, the Bucs have beaten Green Bay, the show comes to an end and we call an end to our stint in the spotlight. Kev has to remain a little longer for the links for the next day's highlight show, but it's a case of trying to wind down from the high you have been on for the previous six hours. You are full of adrenalin from being under the lights, from knowing that any single mistake is going to be seen and noticed by an awful lot of people. And of course, you really want to know how you've got on. This is the simple order of, director, producer, team, family, friends, viewers. When the first five are all happy and most of the viewers are, then you go home a happy man. Because to slightly amend Abraham's line, "you can't please some of the people, ANY of the time"!

Another appearance though by yours truly? Looks like the post-season if/when the Bucs get there. Not the wild-card weekend, as Karl has got "someone special" lined up (answers on a postcard to the usual address). But when Jon Gruden's team starts its run to San Diego .... I'll be there trying to be as objective and neutral as is humanly possible for the No.1 Bucs fan on TV!