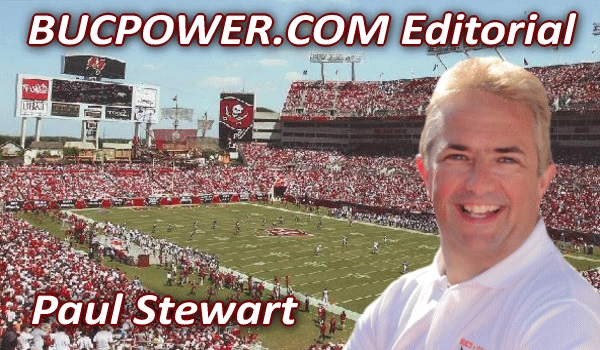 The badge of honour that is Monday Night Football
There are two things that all British Buccaneer fans do when the NFL schedule is released each April. Check for consecutive home games that would make a 10-14 day vacation encompass two home games (preferably early in the season and outside school holidays) and if there are any Monday Night games involved.

And the reason for that second schedule check is very simple - these games kick off at 1.30am here in the UK. Which means an incredibly long Tuesday at work when you have had less than two hours sleep after the game has finished but the chance to wear that proverbial badge of honour for having done it irrespective of the cost to your work or personal life.

You can of course wimp out and record it or use NFL GamePass the following morning to watch it as-live but that is like drinking Bud Lite when the real stuff is available. It is like seeing a tribute band instead of the original. It is basically being second best.

Which of course is what the 2013 Buccaneers had been eight times this season until ESPN arrived for their nationally-televised encounter with the iconic music. Incidentally, do I get a bonus point for actually having that as the ringtone on my phone? OK perhaps not.

And it was a Buccaneer reunion all over the sidelines. Warren Sapp going into the Ring of Honor, many former team-mates out there at half-time (and Brooks, where did you get that hat?) and both his coaches there too, one of whom was doing his usual Monday routine of loving every player who is currently in the NFL. There was even the sight of former Buc QBs Trent Dilfer and Steve Young throwing passes down the Tampa sideline whilst comparing their Super Bowl rings won in other cities.

But back to life under the duvet on the couch in the front room and the need to celebrate touchdowns quietly enough so as not to incur the wrath of the rest of the family. Come 4.40am, Mike Glennon has knelt down for the final time and there is Henry Doran running out to shake hands with the opposing coach at midfield and allowing coach Greg Schiano to run along with him (Henry is the Bucs' on-field security chief). It is now 1-8 and no more Schian0-for-the-season gags.

My Buccaneer badges date back to 1983 when I stayed up all night to listen to a dodgy Armed Forces Radio signal as the Bucs lost 12-9 to Green Bay in overtime in the "Capece is Kaput" game. In 1992 I awoke only at half-time with the Bucs leading the Rams 27-3 after 30 minutes of play. So naturally I was so pleased to hear the Rams' four-touchdown second half comeback in person.

There have been memorable wins (Green Bay 1998 on the return of MNF for the first time in 15 years to Tampa) to the devastating (the 2008 stampede that was the Carolina running game over Monte Kiffin's once proud defense). But win or lose, I have been there awake for each one. Which is what being an ultimate Buccaneer fan as team photographer Cliff Welch described me on Monday, does for his team.

But as for badges, well to quote Blazing Saddles. "Badges, we don't need no stinking badges". Another win would be nice though.