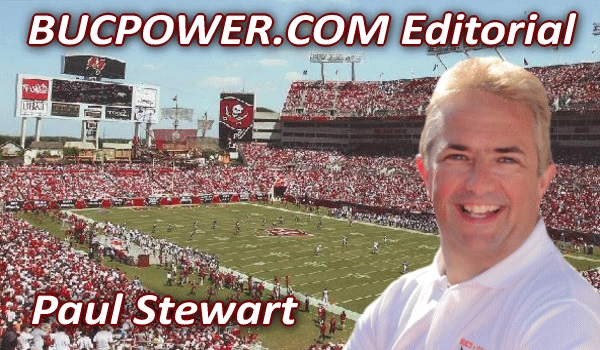 They did exactly what they promised
Exciting days indeed in Tampa Bay. Free agency started and two of ESPN's top three free agents were Buccaneers within 24 hours. Vincent Jackson will wear Joe Jurevicius' old number and Carl Nicks will attempt to surpass JD Maarleveld as the most memorable offensive lineman to wear 77.

Throw in a highly-rated free agent cornerback in Eric Wright, the necessary veteran back-up quarterback and you have one shopping list with ticks all over it. And how many of you saw this coming a week ago?

We all heard Mark Dominik talk about the Buccaneers being major players in free agency this year. Greg Schiano said that there would be no restrictions on who the Bucs would go after to improve their roster. Joel Glazer promised to do whatever it took in his January press conference. And how many of you believed them?

I did. And I did because I know how the Glazers operate. In spite of what the conpsiracy theorists and message board trolls on both sides of the Atlantic supporting both teams may think, I have seen and heard enough to know that Bryan and Joel will do exactly what they say they will to make their teams a success.

Whether it be funds for Sir Alex Ferguson to not get another decent goalkeeper or for Greg Schiano to run the ball down every team's throats, the Glazers have always done the right thing for the success of the franchise. Have you ever heard any person actually connected with either team ever complain about not having the tools to do their job?

It is all too easy to look at the failings of the 2011 team and criticise the ownership for having young (aka cheap) players to complete a 4-12 season and allegedly pocket a huge profit.


Hindsight is of course 20-20 and anyone can now look back at the inexperience on the Buccaneer roster and say that things should have been done differently.

But also think back to how every NFL pundit saw the Buccaneers going into the season. They were seen as the real up-and-coming team in the league, loaded with young talent and on their way to NFL greatness. And even at 4-2 on their way to London, everyone was still on the Buccaneer bandwagon.

What it proves is that even the best laid plans can go awry. The plan that looked so good in April 2011 did not seem so appealing at 42-0 down in the second quarter of the season finale in Atlanta. But it seemed right at the time.

Which brings us back to the current 2012 Buccaneers, seemingly the pundits' choice as the stars of free agency. Super Bowl rings are not given out for March performances but you can seriously improve a team if you do free agency right. Gary Shelton was spot on with his column about this being an improved team on paper but not on the field.

But what the past few days have proven is that the Tampa Bay Buccaneers have the right people at the helm to make it happen for their fans in 2012 and beyond. Malcolm Glazer once told me that it could not happen on the field unless it happened off it. His family and staff have made sure this philosophy has continued under the newest Buccaneer head coach of all.

You've been great, enjoy the J Geils Band.