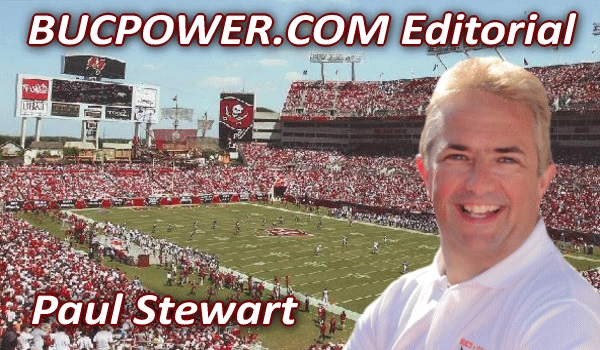 Welcome to free agency
Roll up, roll up, get your wide receivers here. Special offer on defensive linemen, two for the price of one. 20% off all linebackers today only.

Yes it is NFL free agency, designed specifically to fill the void in the off-season before the draft just for NFL Network and NFL website editors. And the chance for the likes of Roy Cummings at The Tampa Tribune to field endless calls from agents telling how their client has dreamed their whole life of playing for the Buccaneers in the hope of a story being run to promote fan interest.

What I love about this time of year is how every message board pundit out there becomes an NFL expert and recommends who the Bucs should sign and why. Even though their knowledge of that player is probably limited to three clips on Sportscenter or that they once drafted them in a fantasy league.

Our good buddy Shelton Quarles is in charge of Pro Scouting at One Buc Place. Which means he tracks EVERY player on EVERY team in the NFL in the event of them potentially becoming a Buccaneer. And his team will watch EVERY play that player was involved in during the 2011 season. Even down to how a receiver acted on a running play to the other side of the field.

And the homework does not end there. The personality and attitude of the player is paramount too. Which is why you have not heard much from Shelton on the golf course since Christmas as he has been bunkered down (sorry!) with the new coaching staff evaluating potential Buccaneer talent elsewhere around the NFL.

What the amateur pundits also forget is that a player will not necessarily fit in another team's scheme. The Rays can plug a Red Sox left fielder into their line-up with ease but it does not correlate that a Patriots' cornerback can play the same position in Tampa. The schemes and skill sets are just too different.


Case in point was the Bucs' signing of MLB Jeremiah Trotter a few years back to play behind Barrett Ruud. Trotter was a good hard-hitting middle linebacker who could fill the hole and stuff the run with the best of them. But the Tampa-2 Mac backer has to be able to drop 20-30 yards into coverage and quickly move in for tackles. And the word "quick" was not in Trotter's directory. But hey, if it worked on Madden.

So whilst every Buc fan out there has a wish list for who they would like to see in the Pewter and Red in 2012, bear in mind that a lot more goes into the process than just picking a handful of names from Pro Football Weekly's Top 100 free agent list. And I have no doubt at all that the front office will have the money to spend in the sales over the next few weeks.

News out of Indianapolis where the Colts have 28 million reasons to let Peyton Manning become a free agent, is that the future Hall of Famer is still suffering from the effects of the three neck surgeries and has no feeling on passes he throws to his left. Not to worry though as that still means he can throw properly to one more side than Tim Tebow can.

You've been great, enjoy Scritti Politti.