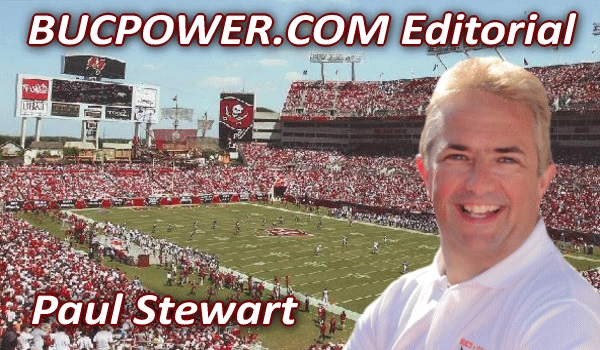 Some of your suggestions
Another traditional editorial filler at this time of the year is the one where I look at some of the suggestions and comments made on the annual questionnaire about what else we can do to improve the Bucs UK and BUCPOWER.COM. Of course all the people who said that just like Mary Poppins, it is practically perfect in every way, will have been sent their free cheerleader as way of thanks.

I will start with a few site suggestions including more stats and video clips. I don' t actually know what other stats I could add to the site. Every game has a gamebook, every season has all the individual statistics and all the player screens have all the historical information. I was going to add current and ex-players' golf handicaps though, especially when they are going the wrong way (eh Shelton?!)

In terms of video clips, this is a project I will continue working on during the off-season. There are already nearly 400 clips on the site and Nick Houllis has offered to get involved in this side of the site too. Anything I add will be detailed on the front page of BUCPOWER as I do with any other upgrades or updates.

Alex Howells and John Davies have both spoken to me about historical articles from the days of There's Always Next Year as a look back into the archives. If I can get the scanned pages to appear in a reasonable quality, then this is something I will look to introduce in due course.

For those who asked about screensavers and wallpapers, check the multimedia option from the front page of the site. Lots of great pictures and instructions on how to save them there. Willie McMartin asked about the site having the same RSS feed as the Bucs' mobile app. Outside of having no clue at all what this means, it's a great idea!

A few suggestions that I cannot accomodate include having a cheerleader of the week (when they actually win a game I will), another Super Bowl win for the Bucs and RAYPOWER.COM as well as this site. Incidentally I did get asked by a member of the Green Bay front office if I was ever interested in doing PACKERPOWER.COM one day which I took as real compliment.

If I can get hold of more interviews with players and coaches as well as "Where are they now" features, I will definitely run them. I am in contact with a lot of ex-players and usually wind up trading a couple of game DVDs of their careers in return for an interview.

Some Bucs UK ideas now including more regional get-togethers. This is actually a real bugbear of mine as it is always the same people who turn up to the golf days and meals with the overwhelming majority making no effort at all. There is a message board to help arrange things in your area but both Phil and I are of the opinion that too many people wouldn't even make the effort if half the Bucs' team were having dinner 10 miles down the road.

An arrangement to purchase Bucs merchandise at a reasonable price (not the inflated UK offerings) without incurring stupid handling and delivery charges (that often push US purchases up to UK price levels). A nice idea by Wayne Skelton-Hough but I don't see how it could ever happen. The same for a request for a discount rate for GamePass.

We did use to have a regular club shop with club merchandise on sale but it was so under-utilised that Phil wound up losing money on many of his shirt designs. So we now just do them for special events such as the Wembley game or the Houston tour. And we have a great relationship with Bucs n' Bulls Heaven in Tampa of course.

A type of Junior membership and more things for young fans were interesting ideas and something we can bear in mind for the future. I am open to suggestion what this could actually involve though.

And David Cambridge suggested combining a club meal with a game-watching event one day next season. Location would be the primary concern for people getting home afterwards but I think this is a great idea - have any of you seen how wound up I get during a game?

You've been great, enjoy the Buggles.