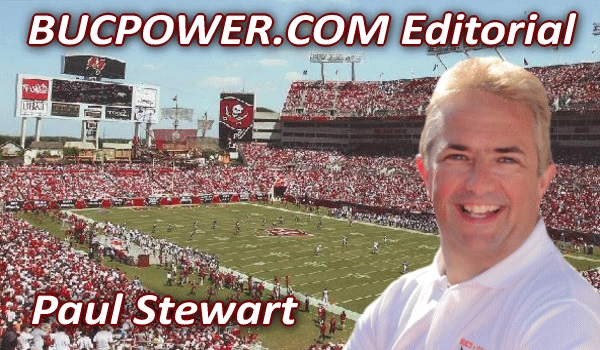 The hiring of Greg Schiano
OK I will have to admit it - "Greg who?" - my knowledge of the college game is limited to favourite head wear of Lee Corso and owning a USF polo shirt, so although I knew Rutgers were punching above their weight in the NCAA, naming their head coach was a question I would have passed on in a game of Trivial Pursuit.

But some of the comments posted around the internet about Greg becoming the ninth head coach of the Buccaneers were truly classic, most of them written by people who had less knowledge about his experience than I did.

A particular favourite was the moron on the Pewter Report forum who immediately commented that the hiring was a joke and that he would never watch a Buccaneer game again in protest against a "cheap hiring". You have to love the side effects of the worldwide web sometimes - those people in life you always ignore, sometimes now you cannot.

When Raheem was relieved of his duties, Joel Glazer said they were going to conduct an in-depth search and do whatever it took to find the right man for the job. They interviewed all the experienced NFL people, ignored the clamour to talk to "Coach" Cowher (just how long will he be called that anyway?) and the other "name" possibilities. And obviously had a reason for not talking to Brian Billick as no other NFL team talked to him either come to think of it so there must be a reason there.

The news that Chip Kelly had accepted and then turned the job was a surprise to everyone as no-one even knew he was under consideration. I do not blame him for staying at Oregon as you have to be 100% commited to a job change like that. And it's not like Oregon and Tampa are local neighbours. They are about as far apart as reality and Balotelli in English football terms.

So perhaps Greg Schiano was a second choice. You cannot fault the Buccaneer ownership for how they went about their search. If someone doesn't feel right about taking the job, better to find out straight away than have a Bobby Petrino situation in Atlanta.


And once Greg arrived at the podium at One Buc Place that so many Bucs UK members had their picture taken at last November, he said all the right things and promised all the right moves. Martin Fennelly was spot on when he said this was the easiest opponent he will face.

And I loved the way PR chief Jonathan Grella stopped the questions just when they were about to turn to individual players on the roster. "So Greg, what will you do with Aqib Talib when he tries to shoot someone else?"

The NFL media was mixed in their response to the hiring and the usual "college coaches don't win in the NFL" argument came out. Just like Jimmy Johnson and Jim Harbaugh eh? No coaching hire is a sure thing and I always remember one Bucs UK clown writing reams about why Tony Dungy was a mistake hiring and how he would never be successful.

Now comes the appointing of his staff and then Greg can sit down to evaluate every player on the roster and around the NFL with the help of our friends Mark Dominik and Shelton Quarles. Do you want "names" as co-ordinators or people he knows can do the job? How many people knew how good Lovie Smith, Herman Edwards and Rod Marinelli were going to be back in 1996 when they joined Tony's first staff.

But whatever the fans on the forums may think, Greg Schiano is the new head coach of the Buccaneers. He is undefeated and will stay that way for some time yet. And he deserves our support because after all, we are Buccaneer fans.

You've been great, enjoy Belouis Some.